Ozark's Burns lands Arkansas PWO offer
Published: Tuesday, January 18, 2022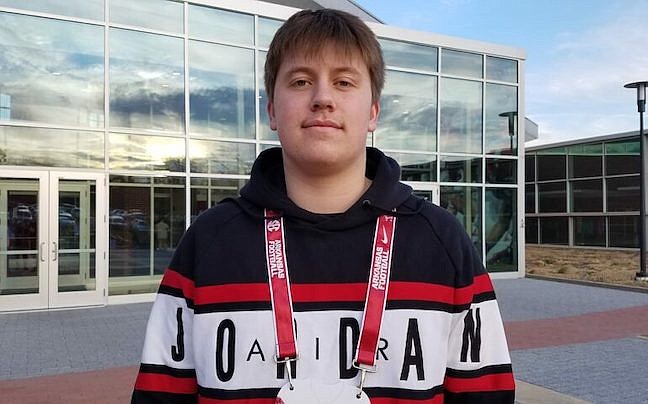 Ozark senior offensive lineman Brock Burns is on the verge of fulfilling a dream.
Arkansas offered Burns (6-4, 305), a former Kansas commit, a preferred walk-on spot on Tuesday and he will be taking a visit to check out the Razorbacks on Saturday.
Burns, who had 36 knockdown blocks and graded out at 98% this season, got news of the offer from assistant offensive line coach Ryan Yurachek.
"It's been my dream school since I was born," Burns said. "It's just crazy that it is kind of a reality now that I could be on the team. I am super excited for what the future holds. I don't know what else to say about it other than I am super pumped."
Burns will be in Fayetteville on Saturday with the goal of solidifying his future as a Razorback.
"I am going to go up for a visit to Arkansas on Saturday and after that we will see how I like it," Burns said. "I have been up there before and kind of know how things are. If it is in my heart, that is where I will be going there after the visit."
Burns initially chose Kansas over offers from Middle Tennessee State, Southern Arkansas, Southwest Baptist and Northeastern State.
He committed to Kansas on Aug. 2, 2020, then de-committed on Jan. 27, 2021, when the Jayhawks fired coach Les Miles and offensive line coach Luke Meadows and offensive coordinator Brent Dearmon left for Middle Tennessee State.
"I was committed to Kansas and then all of the coaches got fired and I had nowhere to go," Burns said. "It was kind of a down time for me. I was starting to get some D-II offers and some D-1 looks.
"Then this opportunity comes up and I love it. Just being this patient and all the things I've been through, going through the process, now I love every minute of it."
Burns believes his football IQ is one of his strengths.
"I definitely think I have real good knowledge of the game," Burns said. "Some guys can be like 7-foot and 400 pounds, but don't have any knowledge. I think I have that and my drive is really good.
"I will just keep on grinding and hopefully end up getting a scholarship."
He comes from a football family. His cousin, Bryant Burns, currently plays college football at Southwest Baptist; his dad, Jerrod Burns, is a former high school assistant coach; and his uncle, Jeremie Burns, is Ozark's head coach.
"I pretty much know everything there is to know about being an offensive lineman," he said.
Jeremie Burns is excited for his nephew.
"He has got the size," he added. "He is 6-4, pushing 6-5 and is up to 305 pounds. He has long arms and has the measureables they all look for. He'll just get in there and lift some weights, get bigger and stronger.
"He has played guard, he has played center and he has played left tackle the last two years for us. He can move around and play a couple of different spots up there, and that also helps."
Discussion
Have a comment on this story? Join the discussion or start a new one on the Forums.