2 commit to Arkansas baseball
Published: Wednesday, January 19, 2022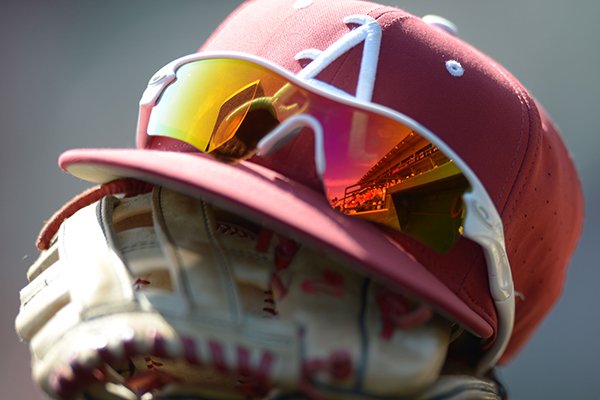 (
Andy Shupe
)
An Arkansas hat and glove sit in the dugout prior to a game against Louisiana-Monroe on Wednesday, April 4, 2018, in Fayetteville.
Arkansas' baseball program added two pledges Wednesday night.
Bryant sophomore left-handed pitcher Gideon Moates (6-2, 195 pounds) and Texarkana (Texas) Pleasant Grove eighth-grade infielder Spencer Browning (6-1, 160) committed to the Razorbacks.
Both play summer baseball with the Arkansas Sticks organization.
Moates is also a talented quarterback, according to Sticks coach Chase Brewster. He could follow in the steps of Austin Ledbetter, a freshman pitcher at Arkansas who led Bryant to three state championships from 2018-20 as a quarterback.
"Gideon is just an unbelievable athlete," Brewster said. "He has got everything you look for in a high school athlete, in general. He is a left-handed pitcher that just dominates, and is also a switch hitter. He also throws the football right handed.
"He has had a ton of success for Bryant at football and is going to lead them in the future. He is a just a winner."
Moates is considered one of the best young pitchers in Arkansas.
"He is a three-pitch pitcher — fastball, curveball and changeup — and was up to 88 (mph) and has thrown reeally well for the Sticks in his career," Brewster said. "In his last outing in October, he threw up against a WWBA 17-U in Fort Myers, Florida, against Cain's America and just dominated on the mound playing up an age group.
"It is pretty much what he has done his whole career. He just gives you a chance to win every time he goes out. He just wants the baseball."
Moates' delay in committing to Arkansas was about deciding which sport he wanted to play in college.
"He has had the the offer since about last March, but I think he was just a matter of him deciding whether he was going to play college football or college baseball," Brewster said. "If he played baseball, it was always going to be Arkansas."
Browning is Arkansas' first commit in the 2026 class.
"We live in a time where kids keep committing younger and younger, and it feels like he is a kid that is still trying to make the transition to being a high school player," Brewster said.
"But in his age group, there has never been a time when I have not seen him be the best player on the field. He is a leader. He is the kind of pitcher that always wants the ball even though pitching is his secondary position.
"He always wants to pitch and always wants the ball during a big game, but it is almost impossible to take him off shortstop."
Browning also plays football.
"He is also a talented running back and will play their football team, which is always one of the state's most successful programs," Brewster said. "He is a really, really good athlete and ran a 6.8-second (60-yard dash) at Arkansas camp the past weekend while playing shortstop.
"He is the first 2026 prospect in Texas to commit and, as far as I know, the first eighth grader to ever commit to Arkansas since we started the Sticks. It speaks to the time that we are in and his talent and all the work that he has put in."
Discussion
Have a comment on this story? Join the discussion or start a new one on the Forums.