Former Georgia safety impressed on Arkansas visit
Published: Wednesday, January 19, 2022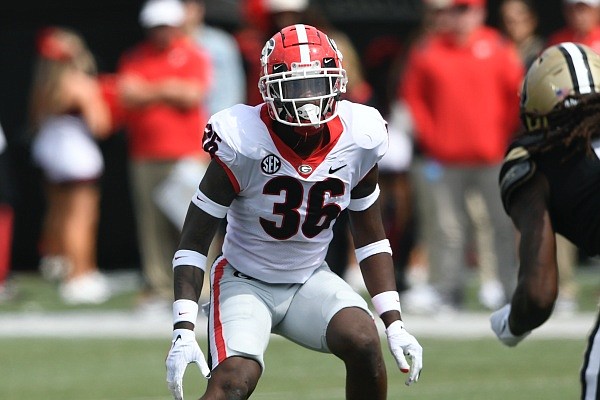 Georgia defensive back Latavious Brini (36) plays against Vanderbilt during an NCAA college football game on Saturday, Sept. 25, 2021, in Nashville, Tenn. (AP Photo/John Amis)
Arkansas' desire to acquire defensive talent for its 2022 roster continued the last couple of days with a visit from a player who soon will be wearing a national championship ring.
Georgia safety Latavious Brini (6-2, 210), who started 11 games for the Bulldogs and had 38 tackles and 8 pass breakups this past season, visited Arkansas on Tuesday and Wednesday.
The obvious connection is former Georgia offensive line coach and current Razorback coach Sam Pittman.
"Coach Pittman is great coach and even a better person," Brini said Wednesday at the conclusion of his visit. "He is always going to be there for his guys and make sure they are straight at all times."
Brini, a former ESPN 3-star prospect and No. 42 cornerback in the nation in the 2017 class who played high school football at Hialeah (Fla). Mater Academy Charter, was impressed with what he found in Fayetteville.
"Arkansas, like I told the coaches, it was different than I thought," he said. "Coming here, I had never been to Arkansas. I had a different aspect on everything. The stadium looked beautiful and everything looked more different than I thought it would."
Brini started and had 1 tackle in Georgia's 38-0 win over visiting and then-No. 8 Arkansas on Oct. 2, but he sees a resurgence that allowed the Razorbacks to go 9-4 last season.
"The Georgia team was a pretty elite team, but (the Razorbacks) are getting it done," Brini said. "They are going to be something to reckon with in the (SEC) West. They are getting it done, truthfully."
Brini got to experience the glory of a national championship when Georgia defeated Alabama 33-18 on Jan. 10 in the national title game.
"It was an unreal moment," Brini said. "It was like a moment you will never forget and never have again. It was a really crazy moment."
He will take a look at two or three other schools before deciding on his next destination by the end of this week or early next week.
"I am going to go visit Texas, Mississippi State and maybe Louisville, too," Brini said. "That is kind of where I am in the process right now."
He does plan to be enrolled at a school for the second semester and go through spring practices.
Arkansas is hoping he will join its five transfer portal additions already enrolled.
A fifth-year player who was a back up to senior William Pool III the last four games of the season, Brini is looking to land at a program he can shine in his last season of college football.
Razorbacks defensive backs coach Sam Carter got across to him that Arkansas could be that place.
"I am looking to just make an impact in the 11 months that I will be at the next place," Brini said. "I just want to make sure I leave an imprint on the players that I will be around and show them what it takes to get where we went last year – where Georgia went last year."
Discussion
Have a comment on this story? Join the discussion or start a new one on the Forums.