Hogs' 2023 recruiting in national spotlight
Published: Thursday, January 20, 2022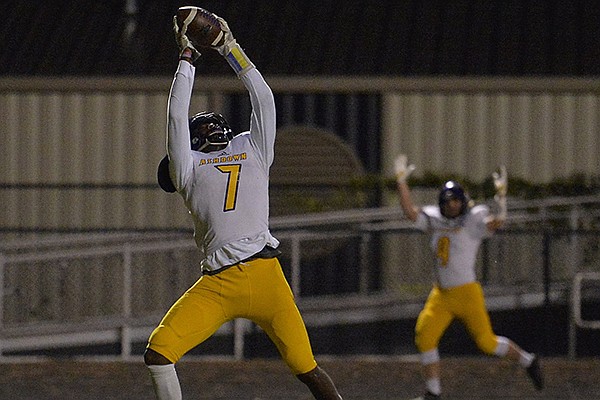 ( Jimmy Jones )
Ashdown tight end Shamar Easter (7) catches a touchdown pass during a game against Robinson on Friday, Oct. 30, 2020, at Charlie George Stadium in Little Rock.
If the start is any indication, the 2023 Arkansas football recruiting class that is currently in the top five nationally has a chance to be one of the best in recent memory.
Former Fort Worth (Texas) Nolan Catholic and current Mansfield, Texas, 4-star junior defensive lineman Kaleb James (6-4, 250) became the Razorbacks' sixth pledge of the class on Tuesday, his 17th birthday.
James joins 4-star tight ends Shamar Easter (6-5, 225) of Ashdown and Jaden Hamm (6-6, 225) of Eudora, Kan., Bentonville offensive lineman Joey Su'a (6-4, 319), Converse (Texas) Judson wide receiver Anthony Evans (6-0, 170) and Gardendale defensive back Dallas Young (6–1, 180) as juniors committed to the Razorbacks. Arkansas is hopeful that former Oklahoma four star commit Luke Hasz (6-3, 220), the nation's No. 2 tight end in the 2023 class and a top 60 player nationally, will pledge soon for what would arguably be the greatest tight end haul in the school's history.
Oklahoma's top junior prospect, Hasz visited Arkansas last weekend and is reportedly near a decision after de-committing when former Sooners head coach Lincoln Riley left for USC.
Hasz, whose sister Jenna and aunt Jennifer Rouse are both Arkansas graduates, tweeted "918->479??" after his visit, referencing his current and possible future area codes.
James' addition vaulted Arkansas' class to fourth nationally, per 247 Sports, and fifth, according to Rivals, with both of them viewing the 2023 start second in the SEC behind national champion Georgia. For historical perspective, the highest ranked Razorback recruiting class, per 247 Sports, in the modern era was No. 18 in 2004 and fifth in the SEC.
Arkansas has finished in the top 20 just twice in the last 20 years, per 247 Sports, but has had 11 classes in the top 25 during that same time.
The worst? That would be Chad Morris' 2018 class, which was 45th nationally and last in the SEC. Arkansas' 2022 recruiting class is ranked 15th by Rivals, 18th by ESPN and 21st by 247 Sports.
While those recruiting services don't include portal additions, 247 Sports does have the Razorbacks' acquisitions of five transfers as the eighth-best haul so far.
That success – plus a 9-4 record last season, an Outback Bowl win over Penn State and No. 21 finish in the final Associated Press rankings – has Razorbacks coaches, fans and commits excited about the future.
The college football world has taken notice, as evidenced by positive tweets from Fox Sports' Bruce Feldman and The Athletic's Stewart Mandel and a glowing review from 247 Sports college football analyst Josh Pate on his Late Kick podcast.
"Think about where they are relative to where you thought they were coming into this past year," Pate said. "If you're just a generic Nebraska fan or Oregon State fan, and you're just watching Arkansas from afar, there's no way you thought they were going to make a bowl game. There's certainly no way you thought they were going to make any discernible noise on the recruiting trail.
"And yet there they were, 9-4 with an Outback Bowl victory on New Year's Day, playing in a lot warmer climate than your team probably played in. And not only that, that 9-4 record was compiled as they played both participants in the national championship game. That 9-4 is good for about a 1-loss playoff berth in some other conferences. Arkansas is really good this year. And it's only a tip of the iceberg thing relative to what many people around that program think they could become."
Evans thinks there is more good news to come.
"I'm excited about what we're building in our class so far. It's early, but it's looking real good," Evans said. "I think this season has set the new standard for Razorback football to come and hopefully we can continue to build on that.
"Coach Pitt and the staff are doing a great job and the fan support is unbelievable. We're definitely working and recruiting. We want to be the best class yet."
Young chose Arkansas over Georgia, Penn State, Mississippi State, Ole Miss, Florida State, Colorado and other programs.
"We've still got a lot of building to do," Young said. "I want this to be the class that changes Arkansas forever, so I will be doing my best to get some dogs. I'm recruiting hard 24/7."
Su'a was on hand last Saturday for one of three junior days that the Razorbacks are hosting in January, while also finishing their 2022 class through NCAA transfer portal and high school recruiting.
Su'a, who moved from California to Bentonville last year, has a lofty goal of this class helping Arkansas get to the College Football Playoff national championship game.
"It looks like everything is going as planned for Coach Pitt and the Razorback staff," Su'a said. "We're just glad to be a part of this upcoming class. You can trust whoever the staff brings in is going to help us compete for a playoff spot."
Discussion
Have a comment on this story? Join the discussion or start a new one on the Forums.