'He deserves all the credit': Battles plays for late youth coach
Published: Friday, June 10, 2022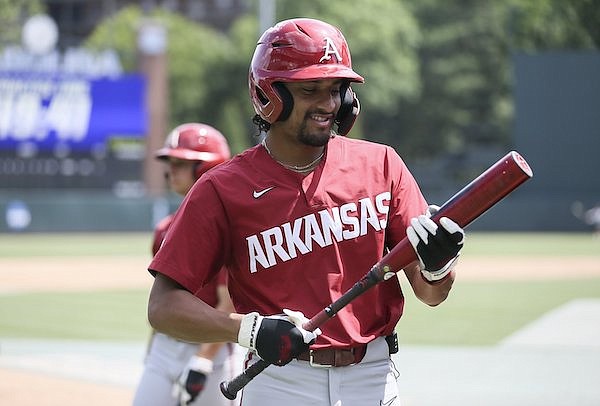 (
Charlie Kaijo
)
Arkansas shortstop Jalen Battles is shown during practice Friday, June 10, 2022, in Chapel Hill, N.C.
FAYETTEVILLE — In December 2020, Jalen Battles attended a going-away party in his honor hosted by his long-time youth baseball coach, Ed Perez.
During the party, Perez told Battles of his plan to travel to Arlington, Texas, to watch him compete in the College Baseball Showdown two months later. It was there, in the same house he broke countless glass frames playing baseball inside, that he last saw the man who taught him everything he knew about the sport.
Perez died from covid-19 on Jan. 23, 2021, after a 20-day stay at Methodist Hospital Stone Oak in San Antonio. Following his death, the hospital staff handed his cell phone to his wife Melissa. For a reason she can't remember, she clicked on his Safari app and was floored by the result.
Staring back at her was Ed's final search: the 2021 Arkansas baseball schedule.
"In his mind, he was coming home," Perez said. "He wasn't looking at that schedule for hope. He was trying to figure out how much time he had to recover and watch Jalen play."
Perez was the only select-league baseball coach Battles ever had. He watched 9-year-old Jalen sling a football at practice on a local baseball field and made a beeline to his mother on the sidelines. He urged his parents to get their son on the diamond.
"Ed saw something in that scrawny, tall kid and he molded him," said Fred Battles, Jalen's father. "He deserves all the credit, there's no doubt about it."
The 2021 Razorback baseball season began one month after Perez's death, so Battles had little time to turn his grief into motivation. He decided to make sure his former coach would never be forgotten.
Before every game, he trots to the third-base side of the infield and writes in the dirt. His mother, Michelle Banda, told Perez that she is certain her son is writing "LLCE" for Long Live Coach Ed.
"I didn't even have words, just tears," Melissa Perez said. "That is just so special."
Battles posted a solid .269/.371/.407 slash line in his first season as a Razorback. His stock was as high as ever after being named the most valuable player of the 2021 SEC Tournament.
But MLB teams did not meet his asking price. There was also another significant factor that fueled Battles' return to Arkansas: his competitive nature.
The top-ranked Razorbacks were one win away from the College World Series when they were upset 3-2 by North Carolina State in their final game of 2021. Battles recorded the final out and that memory haunted him.
"It's not that he lost them the game, but he did not have a good swing," Fred Battles said. "We were close to signing a contract, but I don't think it would have felt right in his heart. The ultimate goal is Omaha."
"He just couldn't leave," Perez said. "He needed to accomplish the goals he set and that's what Ed would have wanted."
Once again, the Razorbacks are on the brink of a College World Series berth after advancing through a historic tournament run in Stillwater, Okla. The Stillwater Regional was the highest-scoring regional ever with 148 total runs.
In Game 4, Arkansas trailed Oklahoma State 10-8 in the eighth inning before exploding for eight runs. With family in the stands, Battles crushed a grand slam over the wall in left field that blew open the game.
"I know my husband was looking down after that smiling and saying, 'Damn it, Jalen. You've done it again,'" Melissa Perez said.
Battles' success on the field has drawn attention not only from professional scouts, but also younger kids who aspire to be in his shoes.
According to Fred Battles, he received a recent text that read: "Hello sir. I just wanted to say your son has been an inspiration to me and many others. I am a JUCO middle infielder who played with the Sliders. Watching Jalen go all the way to the biggest stage in college baseball is a blessing to witness."
Many changes come with the transition from collegiate sports to the professional ranks. However, Battles' support system is one constant he can always rely on.
He will always have his parents and siblings. He will always have the Perez family and he will always have his angel in the outfield.
"I know that Ed is in the outfield for every single game that JB plays," Banda said.
Discussion
Have a comment on this story? Join the discussion or start a new one on the Forums.