Arkansas signee Nick Smith begins title quest
Published: Friday, March 4, 2022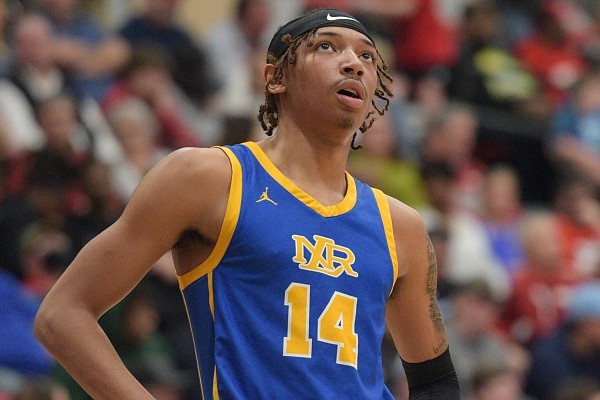 ( Hank Layton )
Nick Smith watches a free throw shot by a Fort Smith Northside player on Tuesday, Feb. 15, 2022, during the third quarter of the Charging Wildcats' 77-45 win at Grizzly Arena in Fort Smith. Visit nwaonline.com/220216Daily/ for the photo gallery.
Arkansas signee and North Little Rock hoops star Nick Smith Jr., (6-5, 185) has a lengthy list of accomplishments, but one thing has eluded his grasp – a state championship.
Smith will get a chance to change that beginning Friday at 5:30 p.m., when the Charging Wildcats (25-3) meet Springdale in a Class 6A state tournament quarterfinal matchup at Little Rock's Southwest High School.
Smith, averaging 26.5 points, 8 rebounds and 7.3 assists per game this season, would appear to have his best shot win a title after playing the previous three seasons at Sylvan Hills.
"It is super important to me to win it this year," Smith said. "This is my last year and I just have a few more high school games left in my career. It is kind of emotional, but I have been wanting to win a state championship since I was in the ninth grade."
North Little Rock, which also features Oregon signee and McDonald's All-American Kel'el Ware (7-0, 220), needs three wins to grab back-to-back titles.
"I have been watching everybody else celebrate and I kind of want that feeling now," Smith said. "I am tired of being second and losing. I'm tired of falling short. I want to get that on my belt and just go to college on a good note."
Smith is a 5-star prospect who is one of five Naismith Award finalists for boys high school player of the year, a McDonald's All-American Game selection and will also play in the Nike Hoop Summit against the world's best 19-and-under players.
He will then arrive in Fayetteville as part of a stellar signing class that includes fellow 5-star prospect Jordan Walsh (6-7, 200) of Branson (Mo.) Link Academy and three other top 100 players nationally in Magnolia guard Derrian Ford, Morrilton small forward Joseph Pinion and Mobile (Ala.) McGill-Toolen star forward Barry Dunning Jr.
Smith and Walsh are also hoping to add fellow 5-star and McDonald's All-American guard Anthony Black (6-7, 198) of Duncanville, Texas, to the signing class.
"Me and Jordan have talked to him during his recruitment process," Smith said. "We haven't wanted to pressure him, but we have just told him, 'Hey, man, if you come here, we are going to win a lot of games.
"We didn't lie to him. We told him what is going on, telling him about the situation. Me and AB were brothers before all this stuff and us being recruited by Arkansas. He was asking me a lot of questions and I just kept it real with him.
"Whatever decision he makes, we are still going to be brothers and I am sure that is the same thing with him and Jordan. I am sure AB will make the best decision for him, but if he does come here, we are all going to get to work right away."
Smith is excited about the incoming group and joining current Razorbacks Davonte Davis and Jaylin Williams next season.
"It makes me super excited that there will be veterans, older guys who have won and had success to lead me and Jordan and the other guys," Smith said. "They will get to teach us things, mentor me, because I will be a freshman and know I have a lot to learn.
"I am looking forward to looking to competing at a high level in practice even before the games. It should be fun."
Smith will remember his team's senior night for a long time as five senior reserves started and got their moment in the spotlight in a 87-52 win over Cabot.
"Seeing that was very emotional," Smith said. "I felt like that night was not about basketball. It was way bigger than that, obviously. On senior night, you are playing your last home game and then the people who don't get to play a lot during the season get to have their moment. Just seeing them out there playing just really warmed my heart.
"They were having fun and I was having fun cheering them on. Our manager got a chance to go in and make a shot and he had been talking about that all year.
"We just tried to have fun with it and the fans came out and showed crazy love. I feel like we will never forget that moment and that as special of a moment that we have had in a long time. It was one of the best feelings I had playing basketball."
Discussion
Have a comment on this story? Join the discussion or start a new one on the Forums.