Kansas playmaker Edwards sizes up Arkansas
Published: Saturday, March 5, 2022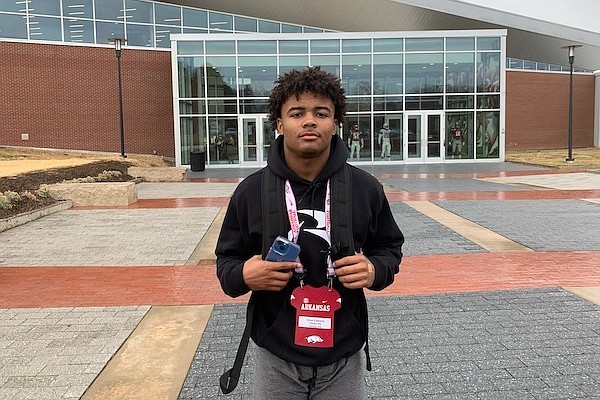 One of Arkansas' guests during Saturday's Junior Day was an electrifying and productive junior tailback in Dylan Edwards of Derby, Kan.
Edwards (5-9, 165), the Kansas Gatorade Player of the year in 2021 with 26 offers, has rushed for nearly 4,500 yards and 66 touchdowns the last two seasons.
"It was a great day," Edwards said. "I met a lot of coaches, and, you know, through this process you're just building relationships and having a good time."
Edwards, who is friends with Razorbacks 2023 quarterback recruiting target and fellow Wichita area standout Avery Johnson of Maize, Kan., is a 3-star prospect viewed as the 24th-best tailback in the country by 247 Sports' composite rankings.
He learned of Arkansas' list of powerful boosters and its robust NIL program, which the Razorbacks staff had a session detailing with the prospects.
"Just the backing the school has," Edwards said of surprises during his visit. "They have Tyson chicken, (Dallas Cowboys owner) Jerry Jones, Walmart, places like that – Dillards – that really support this team and it's a very family oriented program, and I can't wait to be back."
Edwards had a spectacular junior season with 2,603 rushing yards and 38 touchdowns in addition to 8 catches for 101 yards and 1 score while leading his team to an 11-1 record and the Class 6A state title game.
He was made well aware of the fact that Arkansas, whose 9-4 season in 2021 was capped by an Outback Bowl win over Penn State on Jan. 1, led Power 5 schools in rushing yards per game last season.
"Two-hundred ninety-eight yards per game," Edwards said. "That's crazy, so it definitely opened my eyes to new opportunities and I can't wait to see what the future holds."
The visit helped the chances of Arkansas, whose 2023 class is ranked third nationally by 247 Sports' composite rankings, of landing Edwards, who has now visited 14 schools on unofficial visits.
"They sit pretty high," Edwards said of the Razorbacks. "I have some great people here that I know that like it here already, so it all depends on when I'll be back. And I will be back."
One of those is Arkansas freshman linebacker Jordan Crook, an early enrollee.
"He's a great guy I met today and he said he liked it," Edwards said. "He was a mid-year guy and I'm going to be a mid-year guy, too, so I can't wait to be back."
Edwards hauled in 24 passes for 305 yards and 3 scores in his career.
That has Hutchinson head coach Mike Vernon looking forward to Edwards moving on to college.
"Dylan Edwards is the best player I've seen in person at the high school level," Vernon said in the Gatorade Player of the Year press release. "He's very dangerous. I can't wait for him to graduate."
Edwards, who maintains a 3.30 grade point average, wants to cap his high school career in style.
"I just want to get bigger," Edwards said. "That's going to come with time, though. It's nothing major, but I'm going to do what I need to do."
Edwards has offers from Oklahoma, Michigan, Kentucky, Kansas, Kansas State, Nebraska, Arizona, Arizona State, Illinois, West Virginia, Washington, Purdue, Memphis, Arkansas State, Jackson State and Bethune-Cookman.
Edwards' dad, Leon, played at Kansas State with current Oklahoma coach Brent Venables.
"Right now, I'm looking at Oklahoma, K-State, Nebraska, Jackson State, Washington, places like that," Edwards said. "I'm just weighing all my options and my recruitment is fully open.
"I'm not down to a few schools. I'm open to everybody."
Discussion
Have a comment on this story? Join the discussion or start a new one on the Forums.