Dean's versatility adds to Arkansas' 2023 class
Published: Wednesday, March 9, 2022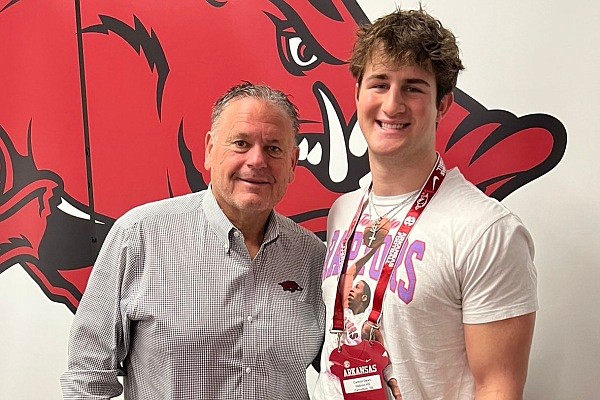 Arkansas coach Sam Pittman and Razorbacks linebacker commit Carson Dean during his March 5 visit.
Arkansas' 10th commitment in its 2023 football recruiting class will bring a lot of versatility to the Razorbacks, according to Carrollton (Texas) Hebron coach Brian Brazil.
Hebron star Carson Dean (6-4, 235), fast enough to run on his school's track relay teams, has lined up at inside linebacker, outside linebacker and as a rush edge defensive end the last two seasons.
Dean announced Monday night he had chosen Arkansas over Texas, LSU, Ole Miss, Baylor, Colorado, Missouri, Houston, Indiana, TCU, Texas Tech and other programs. He was also receiving interest from Notre Dame, Oklahoma and Wisconsin.
"Going through the recruiting process, people would come by and ask, 'Do you think he is a better inside or outside linebacker or defensive end?'" Brazil said. "I would just tell them that he is so versatile. You can put his hand down in the dirt and he would be like (Los Angeles Ram star) Joey Bosa, just come off the edge and rush the passer.
"You could also play him outside and drop him off in space as well as have him come up and rush the passer and chase things down."
Dean's strengths allow Brazil to assess what is best to put around his star. Brazil coached former LSU and current NFL star Jamal Adams and has been the school's football coach since the school opened in 1989.
"That is kind of our dilemma this year – where do we play him?" Brazil said. "I like him at inside because you can't run away from him, and I like him outside because of his ability there. He is a smart kid and can adapt to any of it."
Dean had 86 tackles, 10 sacks, 2 forced fumbles, 1 interception returned for a touchdown, 5 pass breakups, 25 tackles for lost yardage and over 30 quarterback pressures.
He is the anchor on Hebron's 400-meter relay team with a 10.74-second split and a 22.1-second split in the 800-meter relay.
"He started for us as a sophomore at inside linebacker," Brazil said, "then this past year we moved him to outside and thought it would be the best thing we could do for him and let him get on the perimeter. That freed him up just to be an athlete for us.
"The main thing is that he is just a dominant, explosive player on the field and just has the ability to make plays that not a lot of kids can make. That's what makes him such a commodity as a D-I football player."
Dean joins an Arkansas 2023 recruiting haul that is ranked third nationally by Rivals, ESPN and 247 Sports.
He is a 4-star prospect, per Rivals, and a 3-star by ESPN and 247 Sports. The Razorbacks have five players ranked as 4-stars across the three recruiting platforms.
Brazil is familiar with Arkansas coach Sam Pittman. His daughter, Danielle, formerly worked for the Razorbacks' video department.
"I got to know Coach Pittman during that time," Brazil said. "She started as an undergrad, got her masters (degree) there when Coach (Bobby) Petrino was there and finished with Coach (Bret) Bielema.
"Her and Coach Pittman went to church together and he actually would talk to her about going to Georgia when he did, but she decided to finish at Arkansas.
"She calls the Hogs and is all about it. She has a young daughter and has her calling the Hogs, too. I have known Coach Pittman and always appreciated that he took care of my little girl and the fact that he is just a good man.
"I know (offensive coordinator) Kendal Briles a bit, too, and he coached our quarterback that played at Houston in Clayton Tune. I have known Kendal for a while and known his dad (Art Briles) as we were both coaches in high school against each other through the years."
Brazil noted that Arkansas did a great job recruiting Dean.
"I think there are a lot of schools that made great cases for their school being the place he should go and I don't think he was ever locked in to staying in one region of the country or another," Brazil said. "But it's really just about what he thought was the best opportunity for him.
"He is eaten up with football and wants to be a great player. He has done his research."
Dean has a great support system, per Brazil.
"He is a sharp kid, has a good, good family and is the middle child of three kids with a younger brother and older sister," Brazil said. "The parents are very involved with him and he has a good head on his shoulders."
Dean is in line to be the third Hebron star turned Razorback after defensive lineman Deatrich Wise and offensive lineman Zach Rogers.
"They were both devastated when Coach Pittman left (for Georgia), especially Zach, because the main reason he went to Arkansas is to play for Coach Pittman," Brazil said. "I know what a great job Coach Pittman has done since he has taken over and I know the excitement there at Arkansas now.
"I know the kids love him and he is a guy that is definitely a player's coach and one that kids love playing for, for sure."
Discussion
Have a comment on this story? Join the discussion or start a new one on the Forums.