Anthony Black has state title in his sights
Published: Friday, March 11, 2022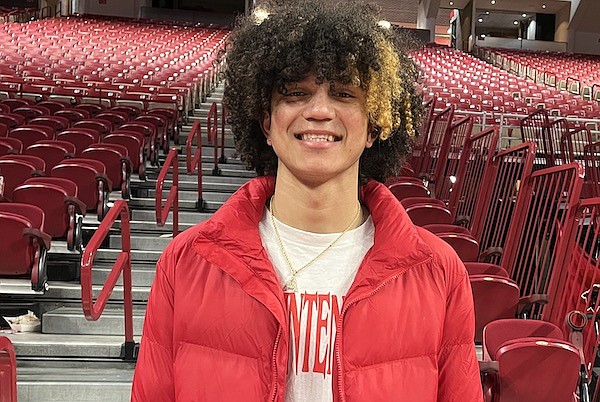 After a disruptive regular season, Arkansas 2022 hoops 5-star recruiting target and McDonald's All-American Anthony Black has a chance to close out his Texas high school season in style.
Black (6-7, 198) and Duncanville (33-1) will play Humble Atascocita (34-6) in a University Interscholastic Leagues Class 6A state semifinal round game Friday at 8:30 p.m. in San Antonio.
The winner of the Duncanville-Atascocita game will play the Austin Westlake (36-1) vs. McKinney (33-6) semifinal victor in the state championship on Saturday.
"We are getting ready to play a really good team," Duncanville coach David Peavy said. "It is a team that I think has 12 seniors that play really well together, are constantly moving offensively, all can shoot and they are really well coached. We have got our hands full."
Duncanville, ranked No. 1 nationally by MaxPreps, has won 18 straight games since a 60-58 overtime loss to Richardson.
Richardson (33-2) was replaced at No. 1 by Duncanville after losing 54-52 to McKinney, which made its first state tournament in 94 years, last week in the Class 6A quarterfinals.
"I think a lot of our fans were looking forward to playing them and some of our players were and there are a lot of people around here that are upset we are not going to get a chance to avenge that loss," Peavy said. "But I am only focused on winning the next game no matter who it is."
Black played just 15 regular-season games due to ongoing UIL legal wrangling surrounding his eligibility, but has played in all three of his team's postseason games after his latest favorable ruling.
"We just got to the point now that he has been working his butt off, he's done so much for us and he deserves to play," Peavy said. "We just made a decision that it was time and he has had enough.
"He's a game-changer for sure and he makes everybody on the floor better. For sure we are a better team, because he makes other players better and gets them in the right spots."
Black came up big in the regional final as he limited Kansas signee Zuby Ejiofor to 13 points below his average as Duncanville ended Garland's 22-game win streak with a 61-38 win.
"Defensively, Anthony is a load at 6-7 or 6-8 and he can defend every position and just makes it real tough for other teams," Peavy said.
Duncanville can become the first team to win three consecutive state titles in Texas' largest classification since Houston Wheatley did so from 1968-70.
Black averaged 13.5 points, 5.8 rebounds, 4.0 assists and 2.2 steals during the regular season.
He has narrowed his list down to Arkansas, Gonzaga, Oklahoma State, Memphis, TCU, Georgia and possibly turning professional and playing in the NBA G-League.
He took an unofficial visit to Arkansas on Feb. 19 to see the Razorbacks down Tennessee 58-48 before a packed house at Bud Walton Arena.
"I wish I could give you some insight, but I really don't know how it is going to go," Peavy said. "I do know he loves a lot about Arkansas. He loves the coaching staff, he loves the style of play. I know he has been watching a lot of their games.
"I am waiting to hear who he chooses in the next couple of weeks, but Arkansas is definitely in the mix."
Arkansas hopes Black will join a pair of fellow McDonald's All-Americans and 5-star prospects – Razorbacks signees Nick Smith, Jr. and Jordan Walsh – and play his his college basketball in Fayetteville.
The trio is among 24 players selected to play in the event in Chicago on March 29, a date around when Black, who is the only uncommitted player in the game, has said he will likely announce his decision.
"I am really proud of him and he has worked really hard to get here and it means a lot to him," Peavy said of Black's selection to the game. "For him to do the things that he needed to do to earn his spot, I am just really proud of him.
"I have let him know that, 'You have accomplished this goal, but this isn't the end, because you have so much more to accomplish,' and I know he will."
Discussion
Have a comment on this story? Join the discussion or start a new one on the Forums.