Wade's technical beginning of the end for LSU
Published: Friday, March 11, 2022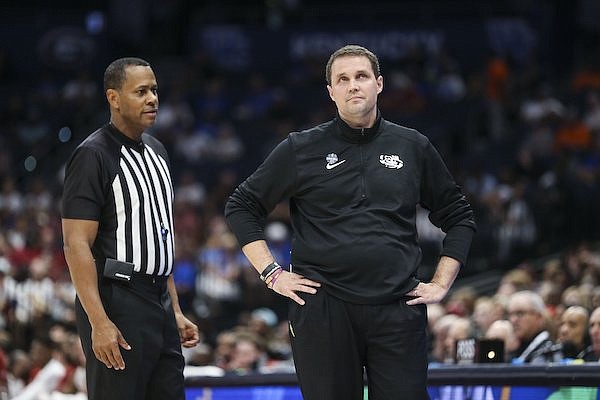 (
Charlie Kaijo
)
LSU coach Will Wade (right) stands with an official during an SEC Tournament game against Arkansas on Friday, March 11, 2022, in Tampa, Fla.
After Arkansas' 79-67 win over LSU on Friday at the SEC Basketball Tournament in Tampa, Fla., Tigers coach Will Wade was convinced of one thing.
"Got to face the music," Wade said. "Arkansas is just better than us. Beat us three times this year. Just flat better than us."
LSU's Brandon Murray saw a hungrier group of Razorbacks than Tigers.
"I think they just played harder than us honestly," Murray said. "I don't think there was a matchup difference that made it hard on us. I think a lot of times we just beat ourselves. I think they just played a lot harder than we did the majority of the game."
Arkansas (25-7) downed LSU 65-58 on Jan. 15 in Baton Rouge, 77-76 in Fayetteville on March 2 and again on Friday in a game in which the Razorbacks scored 19 unanswered points that bookended halftime.
That run started when Wade got a technical foul with 22 seconds left before intermission. Chris Lykes hit four free throws and a short jumper right before the buzzer to send Arkansas to halftime with a 29-26 lead.
That advantage grew to when 42-26 on three JD Notae free throws with 16:41 left in the game.
"I thought at the end of the first half that the game got away from us," Wade said. "In the second half, we gave up 50 points. We got killed on the glass. We gave up 14 offensive rebounds on about 30 missed shots…And they got half their shots back. That's killed us all season."
Wade was surprised when he got the technical from referee Joe Lindsey as Lykes was getting ready to shoot free throws after an LSU (22-11) foul.
More from WholeHogSports: How to watch, listen to Arkansas-Texas A&M in SEC Tournament semifinals
"I asked him why there was 20 seconds left on the shot clock, because there was 22 seconds left in the half," Wade said. "I found out at halftime that (the shot clock) would go black if we got the rebound and to 20 if Arkansas got the rebound.
"All I did was ask him why there were 20 seconds on the shot clock. I swear to God. That's all I did. I promise you. Now, whether you think that deserves a technical or not, that's up to your interpretation."
Wade admits that it may have been that the technical was for his body of work yelling at officials throughout the first half.
"Now before that, I got after it pretty good," Wade said. "But I guess the last straw was that I asked why there were 20 seconds on the shot clock. It may have been retroactive.
"I do think Joe Lindsey is a hell of an official. He T'd me up. He is a great official and is one of the top officials in this league and he will probably work the championship game."
Wade expected to be on top at the break, especially after rallying from a 12-4 deficit to take a 26-23 lead on Mwani Wilkerson's rebound dunk with 1:05 left in the first half.
"I thought we should have been up at half," Wade said. "But we didn't make a basket for the last four minutes of the first half and the first four minutes of the second half. We went like eight minutes without making a basket.
"We hit a couple free throws, but when our offense gets that stagnant, our defense can't hold that long."
Wade also pointed out that LSU didn't take advantage of Arkansas leading scorer JD Notae being on the bench the final 7:30 of the first half with two fouls.
The Razorbacks led 17-15 at the time of Notae's exit.
"The key to the game was when Notae went out with two fouls in the first half and we couldn't stretch the lead like we needed to," Wade said. "That was the whole key to the game. We can't play from behind that much against Arkansas.
"We were down so much and just kept getting driven, driven, driven. But we wouldn't have been down so much if we had executed better…You have to keep it in that working margin. When it gets out of that working margin, it is hard for us to come back."
More from WholeHogSports: Analyzing Arkansas' win over LSU in the SEC Tournament quarterfinals
Au'Diese Toney, who missed Arkansas' loss at Tennessee last Saturday with an ankle injury, opened the game with a three-pointer and finished with 22 points and 10 rebounds.
Notae had 19 points and Lykes added 11 of his 18 points in the second half with just 1 turnover in 29 minutes off the bench.
"Chris Lykes killed us in the second half and Toney hurt us in the first half," Wade said. "I think Toney hit six threes all year in SEC play and he hits two tonight. He has been a thorn in our side and did the same thing at (Fayetteville)."
Tari Eason had 15 points to lead LSU while Darius Days added 14 and Murray 13.
"They were playing harder than us and just wanted it more than us," Days said. "They were just making shots and getting second chance points. They killed us on the offensive glass as well. Those second chance points hurt us and we just didn't execute."
The game ended with Toney dunking and Notae stealing a pass and trying for another basket that seemed to lead to some hard feelings afterward, but Wade shrugged it off.
"We can't let it bother us when they whip our ass three times," Wade said. "It is what it is. We should have (stopped it). Look, that stuff, I don't let that stuff bother me.''
Days believes LSU is capable of having success in the NCAA Tournament.
"We're definitely going to go on a run," Days said. "More than likely we are going to be a five or six seed. We're excited and coach is going to do the best to his ability to get us ready."
Discussion
Have a comment on this story? Join the discussion or start a new one on the Forums.