Alabama grid trio gets look at Arkansas
Published: Saturday, March 12, 2022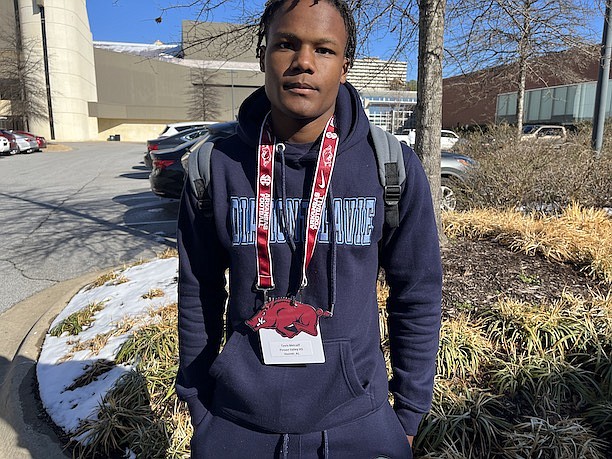 Arkansas hosted a trio of Hoover (Ala.) high school football standouts on Saturday and they left with a better appreciation of what the Razorback program has to offer.
Pinson Valley junior safety TJ Metcalf (6-1, 180) and sophomore athlete Tevis Metcalf (5-11, 175), his younger brother, joined Spain Park junior defensive end Brian Alston (6-2, 230) on Arkansas' campus.
The Metcalf brothers, who are the second cousins of former Ole Miss and current Seattle Seahawks receiver DJ Metcalf, met with Arkansas head coach Sam Pittman and defensive backs coach Dominique Bowman.
TJ Metcalf has over 20 offers, including from Arkansas, Georgia, Ole Miss, Michigan and others.
Her got his Razorback offer on Feb. 7 and Tevis got his 16 days later.
"The visit went very well," TJ Metcalf said. "The highlights of the visit were the meetings with Coach Bowman and Coach Pittman. In the defensive back meeting Coach Bowman gave great examples of what they are expecting out of the players. While meeting with Coach Pittman he emphasized the importance of family and dedication to the players during and after football.
"He mentioned that they will help each player with internships/jobs after football. I thought that was cool. As of now Arkansas did a great job so they're standing in a good position. As I stated before, offering my brother and myself is big to me and my family."
Tevis Metcalf, who is also an outstanding baseball player, has offers from Arkansas and Jackson State.
"This was my first visit here and I am so impressed," Tevis Metcalf said. "It is just such a special place with big-time facilities.
"I love the stadium and the the fact that the weight room is 100 yards long. It's also really cool that the practice field has a parking garage under it."
Tevis Metcalf admits to being surprised about Arkansas.
"The visit was better then I expected," Metcalf said. "It was a very welcoming atmosphere. The highlights of my visit were actually getting to meet the coaches and staff in person and seeing the facilities/campus. Arkansas stands high in my recruitment right now and I would love to keep a solid relationship with Coach Bowman and the rest of the staff as well."
He enjoyed visiting with Pittman, who informed Metcalf he planned to end his coaching career at the helm of the Razorbacks.
"One thing that is really cool is that if I commit and come to Arkansas I wouldn't have to worry about Coach Pittman going anywhere else," Metcalf said. "He said he is locked in here and will always be coaching here as long as he is coaching."
"When I begin to think hard about where I want to go, I will want it to be a place with great academics that can set me up for life and not just football.
"I want to know that I have that support after I graduate. It has to be more than just about football, but that is important, too."
• • •
Alston has offers from Michigan, Louisville, Mississippi State, Miami (Ohio), Southern Miss and interest from Arkansas, Auburn, Georgia, Ole Miss,Tennessee and Central Florida.
"The visit to Arkansas was a lot better than I thought it was going to be," Alston said. "The coaches are great and they made it feel like home. The facilities are also fantastic, as good as I have seen."
Alston is in no hurry to make a decision as his recruiting picture changes daily.
"I go back and forth, leaning one way or the other as things just keep changing and the recruiting process goes on," Alston said. "This visit and seeing what Arkansas is like has really opened my eyes. It certainly has helped. Things look great around here and everything seems to be on the rise here."
His summer plans are in flux right now.
"I haven't really thought much about what I am going to do this summer yet, but I would guess I would go see some schools."
Alston and Spain Park (4-6) ended their 2021 season with a wild 63-62 win over Hueytown, stopped on a 2-point conversion with 13 seconds left that decided the game.
Spain Park had 620 yards total offense in the win, its second late rally to win in their last two games.
"We have a lot of seniors coming back so we should be really good," Alston said. "I feel like we have a chance to do some great things next season."
Discussion
Have a comment on this story? Join the discussion or start a new one on the Forums.