Arkanas wows top Louisiana sophomore Singleton
Published: Monday, March 14, 2022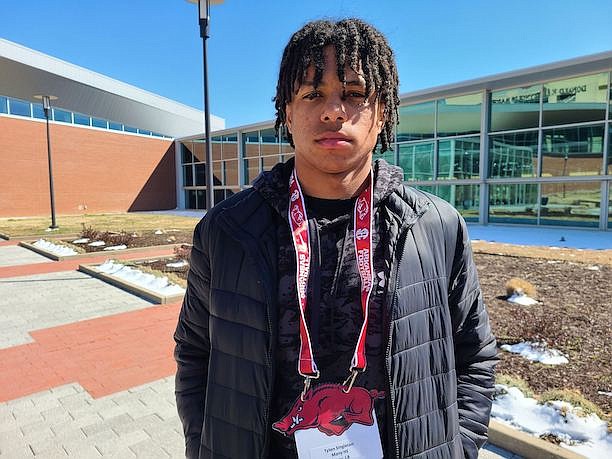 There are not many prep football prospects like Many (La.) 4-star sophomore safety Tylen Singleton, who took an unofficial visit to Arkansas on Saturday.
Singleton (6-2, 190 pounds) is viewed by 247Sports' composite rankings as the 38th-best player nationally in the 2024 class, the No. 3 safety and the top player in Louisiana.
He got his first look at the Razorbacks over the weekend and visited with Arkansas coach Sam Pittman and defensive backs coach Dominique Bowman, checked out the facilities and heard about the Razorbacks' Name, Image and Likeness program.
"It went amazing," Singleton said. "Coaching staff, the head coach, DB coach and I even learned a lot just talking to them. This was my first time. The facilities are amazing. This is my first visit and best facilities I've seen."
The recently-hired Bowman is leading the recruiting push for Singleton, whose team won the 2020 state championship and played in the title game again in 2021.
"Talking to the DB coach and him showing us what he expects and what he wants us to do," Singleton said when asked about the trip's highlights. "It went good. He's one of the favorite coaches I'm talking to. He taught me some things I can go back and work on for next year.
"He's a really cool coach and I would really like him to be one of my coaches."
Singleton, teammates with 2023 Arkansas linebacker recruiting target Tackett Curtis (6-2, 220), also donned a jersey for pictures.
"I like the jersey, all white, with the chrome red helmet," Singleton said. "I like that a lot."
Singleton has offers from Arkansas, LSU, Texas A&M, Ole Miss, Mississippi State, Oklahoma State, Florida State, Louisiana Tech and Louisiana-Monroe.
Arkansas was his first of those offers on March 11, 2021, four days before Mississippi State and five months ahead of LSU.
He is coming off a sophomore season in which he had 75 tackles — the third-best number on his team — 4 tackles for lost yardage, 1 sack and 4 interceptions, 2 of which he returned for touchdowns.
Singleton, who played varsity football in the ninth grade as part of a 12-0 squad, talked about his early thoughts on a future destination.
"College that best suits me and they have a spot that I can play and grow from it," Singleton said.
Discussion
Have a comment on this story? Join the discussion or start a new one on the Forums.