Fleming, Rainer make trek from Virginia to Arkansas for visit
Published: Wednesday, March 16, 2022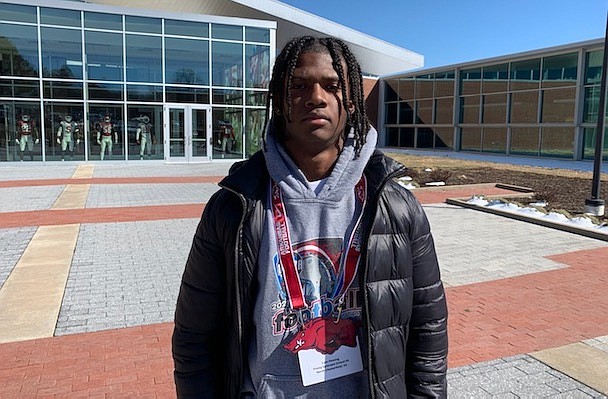 It is not often that Arkansas' football program gets a couple of talented young prospects from Virginia to visit Fayetteville in the spring, but Saturday was one of those times.
The Richmond Trinity Episcopal defensive back duo of junior Cameren Fleming (6-0, 185) and sophomore Zahir Rainer (5-10, 180) were already familiar with new Razorbacks defensive backs coach Dominique Bowman, who offered them in his time at Marshall.
Both players have 10 scholarship offers, including ones from Arkansas. Fleming received his from the Razorbacks on Saturday.
"The visit was awesome," Fleming said. "I love the atmosphere down there, the people are awesome and genuine. But mostly the coaches, they are real guys and are passionate about what they do. The highlights were definitely the weight lifting meeting and the campus tour."
Fleming also has offers from Virginia Tech, Virginia, Tennessee, Indiana, James Madison, Liberty, Marshall, Kent State and Howard.
"I am pretty much open to any and every school as of now. My recruitment just started," Fleming said. "But I loved the visit and I'm definitely going to get back down there."
Rainer lauded the realness of Bowman.
"He's a very relatable guy," Rainer said. "Very funny. He's always on point with his technique. He speaks nothing but facts. He commands your respect at all times, and I respect that."
Rainer believes his game is similar to Arkansas safety Jalen Catalon.
"Man, I play violent," Rainer said. "I play violent, I play fast and I play physical. I also understand coverage. I also understand route progressions and concepts.
"A player here I can definitely relate to is Jalen Catalon. That's my inspiration. That's one of my favorite players in college football."
Rainer believes his style of play fits with Arkansas defensive coordinator Barry Odom.
"The only way you play football, especially defense, is violent," Rainer said. "Play fast, play physical and play violent and believe in one another. I feel like they do that here."
Arkansas made a big impression on Rainer.
"The highlight of the visit was definitely speaking with the coaching staff and hearing how high they are on me and how I feel like a top priority," Rainer said. "I'm not going to lie, Arkansas is probably No. 1 on my list as of right now. I feel very high on them as a program."
Rainer, who has other offers from Penn State, North Carolina, Virginia, Virginia Tech, Minnesota, Duke, Ball State, East Carolina and Marshall expected to be impressed by the Razorbacks' program.
"I kind of had high hopes, though, because it's an SEC school," Rainer said. "It's a powerhouse SEC school and I know SEC schools take football very serious and take their athletics very serious, so I already knew it was going to be nice. It's definitely nicer than I expected."
Rainer took notice of Arkansas' six-win improvement in 2021 that was capped by an Outback Bowl win over Penn State.
"I thought it was great," Rainer said. "I thought the way they did it was in style. They ran the ball hard and ran the ball effectively. They played smashmouth football on both sides of the ball, and I can respect that.
"That's why I see myself here. Coach (Sam) Pittman is building something special here. I love it."
Discussion
Have a comment on this story? Join the discussion or start a new one on the Forums.