Arkansas vs. Utah at NCAA Tournament: How to watch and listen, team comparisons
Published: Thursday, March 17, 2022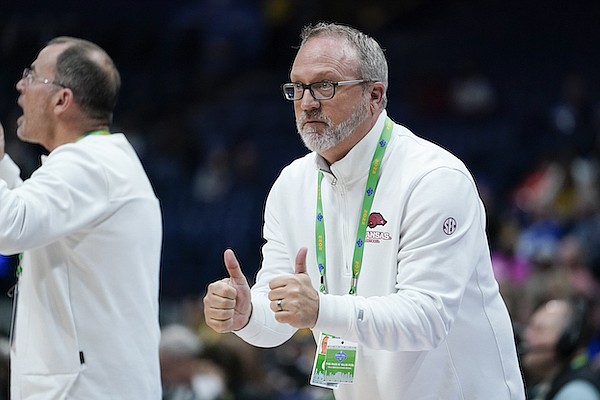 Arkansas head coach Mike Neighbors, right, watches from the sideline in the first half of an NCAA college basketball game against Missouri at the women's Southeastern Conference tournament Thursday, March 3, 2022, in Nashville, Tenn. (AP Photo/Mark Humphrey)
WHEN Friday, 4:30 p.m. Central
WHERE Erwin Center (16.734) in Austin, Texas
RECORDS Arkansas 18-13; Utah 20-11
COACHES Arkansas: Mike Neighbors — 96-63 in fifth season at Arkansas and 194-104 in ninth season overall; Utah: Lynne Roberts — 111-98 in seventh season at Utah and 332-273 in 20th season overall. 
SERIES Arkansas leads 2-1
LAST MEETING Arkansas defeated Utah 57-56 on Dec. 20, 2011, in Fayetteville.
TELEVISION The game will be televised by ESPNEWS and streamed on the ESPN app and WatchESPN.com (carrier login required).
RADIO The game will be carried on Razorback Sports Network affiliates for women's basketball, which include KQSM-FM 92.1 and KYNG-AM 1590 in Fayetteville; KFPW-AM 1230 and KHGG-AM 1580 in Forth Smith; and KURM-FM 100.3 and KURM-AM 790 in Rogers. The game audio can also be accessed on the Razorback GameDay App.
NOTABLE The winner of Friday's game will play Sunday in Austin against the winner of a game between Texas and Fairfield....The Razorbacks are the No. 10 seed and the Utes are the No. 7 seed in the Spokane (Wash.) Region....Arkansas lost 66-62 to Wright State in the first round of the NCAA Tournament in Austin last March.
UTAH PROBABLE STARTING LINEUP
POS. NAME, HT, YR; PPG; RPG
G Dru Gylten, 5-11, Sr.; 4.9; 2.9
G Gianna Kneepkens, 5-11, Fr.; 12.0; 4.4
G Kennady McQuuen, So.; 9.0; 3.6
F Kelsey Rees, 6-5, So.; 4.4; 4.6
F Jenna Johnson, 6-2, Fr.; 11.9; 4.2
ARKANSAS PROBABLE STARTING LINEUP
POS. NAME, HT, YR; PPG; RPG
G Samara Spencer, 5-7, Fr.; 12.0; 3.6
G Sasha Goforth, 6-1, So.; 11.7; 4.8
G Amber Ramirez, 5-9, Sr.; 15.1; 4.7
G Makayla Daniels, 5-9, Jr.; 13.8; 5.4
F Jersey Wolfenbarger, 6-5, Fr.; 7.8; 4.3
TEAM COMPARISON
Utah – Arkansas
76.0 Points for 73.7
67.9 Points against 65.7
+5.3 Rebound margin -3.0
-0.7 Turnover margin +4.3
43.3 FG pct. 41.0
35.3 3-pt pct. 32.3
78.2 FT pct. 67.3
Discussion
Have a comment on this story? Join the discussion or start a new one on the Forums.