Arkansas' second-round opponent not lacking confidence
Published: Friday, March 18, 2022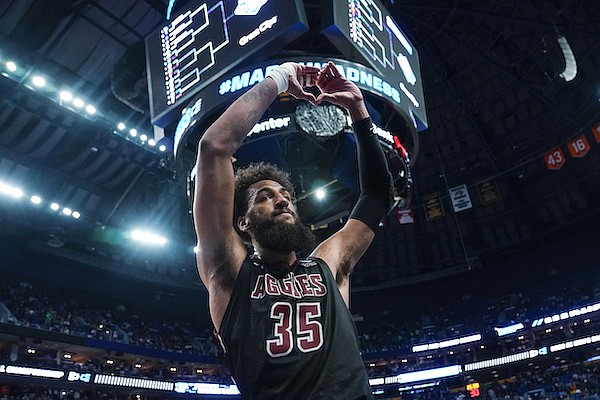 New Mexico State forward Johnny McCants gestures to fans after the team's win over Connecticut in a college basketball game in the first round of the NCAA men's tournament Thursday, March 17, 2022, in Buffalo, N.Y. (AP Photo/Frank Franklin II)
New Mexico State basketball coach Chris Jans has seen a lot of basketball in 26 years of coaching and knows Friday will present a big challenge for his team.
The 12-seed Aggies (27-6) will face fourth-seeded Arkansas (26-8) on Friday at approximately 7:40 p.m. Central in a second-round NCAA Tournament clash in Buffalo, N.Y.
"I have got a lot of respect for their program, for their coach and for their team," Jans said, "and we are going to have our hands full tomorrow night."
Arkansas downed Vermont 75-71 on Thursday after Terry Allen scored 37 points to lead New Mexico State to a 70-63 victory over fifth-seeded Connecticut.
Jans is not sure how the Razorbacks will try to defend Allen, a 6-6, 212-pound guard who has averaged this season.
"I don't have a crystal ball so I don't know how the game is going to go," Jans said. "I can't predict the future so I don't know how the game will unfold. That is the beautiful thing about sports. We don't know what they are doing, how they are thinking, how they are game planning, how they will adjust on the fly.
"Everybody has a game plan until they get punched in the mouth when the game starts. It makes it better. Do we have to have Teddy have a big game? I don't think so. We have won plenty of games where he didn't, but I know he is going to they and they are going to do their best to stop him."
Asked how his day was going after upsetting the Huskies, Jans was understandably upbeat Friday.
"So far, so good," Jans said. "You wake up with a little more bounce in your step and the coffee tasted wonderful this morning. It's been a good day so far."
Jans waved off talk of any pressure on his team.
"I didn't feel any pressure last night and I don't feel any more today," Jans said. "We are trying to enjoy it. As a head coach, this is my third go around, and I have learned from the past that maybe we were a little tight and we just wanted it so bad and we were just purely business.
"This year, I am telling them soak it up. Smile, enjoy it, bring your camera, your phone to practice and take pictures….I think it is a part of it. You never know how long you are going to last in the tournament and I just think it would be a darn shame not to soak it up and not to have those memories."
Jans has turned the New Mexico State program around in three years.
"We wanted to be the staff that took us to the next phase or got us back to where the were in the early '90s when they made the Sweet 16 and won a game in the tournament," Jans said. "But at the same time, we have accomplished a lot and we are going to compete and try our best.
"I don't feel like we are playing with house money, I don't feel pressure. We are excited to be here and excited for the opportunity tomorrow night."
Jans respects what Arkansas coach Eric Musselman has done in the same amount of time in Fayetteville.
"They have great tournament experience, he's got great tournament experience, been there and done that," Jans said. "Nothing is gong to rattle him or his team. They have really good individual talent and he does a tremendous job of spacing the floor and putting their players in positions where then can be successful."
He is impressed with Arkansas forward Jaylin Williams, who has taken 50 charges this season. Jans used a baseball reference to laud Williams.
"I think they have good spacing, they have got guys that are good cutters, got guys that are good shooters and aewWilliams is maybe the heart and soul when I look at it on the floor," Jans said.
"He is like the catcher on a basketball team. He is just running the show defensively. There is much to be talked about on how he takes charges, his anticipating and how he is so good at it. He just seems like a battery for them, especially on the defensive end. On the offensive end, he is a great passer, has a great midrange game, a great pivot game."
Aggies redshirt junior Sir'Jabari Rice was able to watch Arkansas and relishes the challenge off guarding All-American JD Notae, who scored all 17 of his points in the second half against Vermont.
"I think they are a pretty good offensive team," Rice said. "They play a lot of (isolation) ball and don't have a lot of sets. They go through No. 1 (Notae)...and No. 1 is their guy. That is who I am going to be matched up and I will take the challenge personally and have my team behind me.
"They are a good team, have fire just like us and got players that come off the bench and make plays. And obviously they are athletic, but we just played an athletic team.
"I think if we just keep it a grind game like we did this last game and fight and claw on every possession and do it every single time, we'll have a chance."
Jans' assistants had already scouted Arkansas and Vermont before the Aggies beat UConn.
"They do all that work like we are playing them right away, and so obviously they are ready as soon as the game is over last night," Jans said. "And they try to get me up to speed as soon as possible."
Jans doesn't expect his team to be fazed by Saturday's big stage.
"We have got some guys that are older and have been around," Jans said. "You are talking about some guys that have played in the NCAA Tournament and played a lot of college basketball.
"And they have a lot of confidence and believe in themselves. They have a swagger about them. I don't think there is a game that they can walk into now on in the future that they would fear. I think they would respect the team, but I don't think they are going to fear anybody that we play. If we are fortunate tomorrow to win and advance, no matter who we are playing then, they are going to get after them."
Rice wants to continue making history the Aggies program.
"Everybody wants to win one game, but why would you then go lose the next?" Rice said. "I think we are just locked in more than ever. If we make it to the Sweet 16, that's more history. If we make it to the Final Four, that's more history."
Discussion
Have a comment on this story? Join the discussion or start a new one on the Forums.