Vermont's magic disappears against Arkansas
Published: Friday, March 18, 2022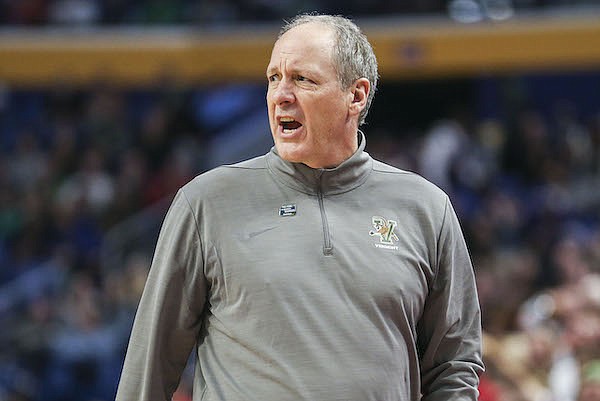 (
Charlie Kaijo
)
Vermont coach John Becker is shown during an NCAA Tournament game against Arkansas on Thursday, March 17, 2022, in Buffalo, N.Y.
It was a magical season for the America East Conference champion Vermont basketball team, which had won 21 of 22 games prior to the NCAA Tournament.
But faced with an Arkansas team that has been pretty successful, too, the Catamounts' best was simply not good enough in a 75-71 loss to the Razorbacks in the first round of the tournament Thursday night in Buffalo, N.Y.
Vermont coach John Becker said his Catamounts (28-6) did all they could to take down the Razorbacks (26-8).
"I could not be more proud of our team and the way they competed tonight," Becker said. "I wish we could have shot free throws better (10 of17) and rebound a little better at the end, but these guys left it all out on the court against a really, really good Arkansas team, and I congratulate them and wish them luck.
"But as a coach and a leader of these people that I had the pleasure of being around this year, I could not be more proud."
More from WholeHogSports: Full coverage from our team in Buffalo
Becker said playing an SEC team was a major challenge.
"We were playing above our weight class," Becker said. "That's just the truth and what we are dealing with.
"They are really good offensively and we couldn't finish defensive possessions. But our guys fought like hell."
Vermont forward Ryan Davis hit 4 of 5 three-pointers and scored 20 points, and Ben Shungu added 20 to lead the Catamounts.
"As Coach said, we may have left some out on the court, but when all is said and done, I thought we left our best out on the court both on offense and defense," Davis said.
Vermont was 26-of-58 shooting and 9 of 24 from three-point range.
"I think they did a good job in in the second half trying to limit our threes (5 of 14)," Becker said. "There were plays where we should have executed better."
It was Vermont's third straight loss in the NCAA Tournament. The program has an all-time record of 2-8 in the tournament.
"I just feel bad for the kids and our program that we couldn't find a way to win," Becker said. "Arkansas is really good and we knew we would have to play near-perfect basketball. We did not do that.
"But really I am just so proud of these kids and this program. They have been a pleasure to be around, and it just hurts when there are going to be a lot of kids who are not going to be here from now on."
VIDEO: Eric Musselman, players recap postseason win over Vermont
Becker said Vermont came in with the mindset of winning.
"We came here with high expectations because we had not lost a lot of games," Becker said. "But obviously there is only one team in this tournament that doesn't lose its final game."
Discussion
Have a comment on this story? Join the discussion or start a new one on the Forums.