Aggies left lamenting woes before halftime
Published: Sunday, March 20, 2022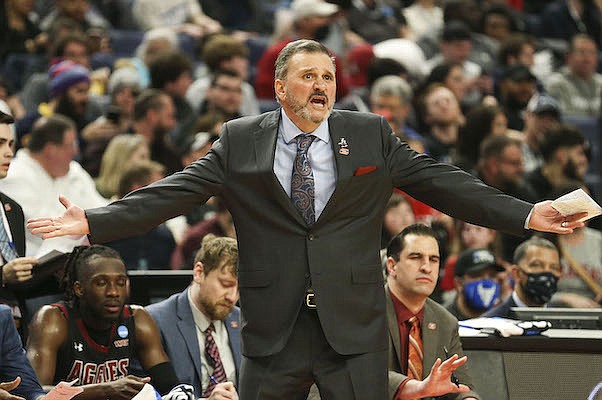 (
Charlie Kaijo
)
New Mexico State coach Chris Jans is shown during an NCAA Tournament game against Arkansas on Saturday, March 19, 2022, in Buffalo, N.Y.
An NCAA Tournament loss brings finality to a season, no matter how good the run was.
It was tough post-game scene for New Mexico State, which rallied from a 13-point, first-half deficit to take the lead Saturday, only to see Arkansas snatch it back and down the Aggies 53-48 in the second round of the NCAA Tournament.
New Mexico State coach Chris Jans saw his team come up just short of a Sweet 16 berth, one that Arkansas (27-8) nabbed instead to set up a Thursday night clash with No.1 overall seed Gonzaga in San Francisco.
"As you would expect, very somber and a lot of disappointed people in the locker room," Jans said. "That's pretty normal when your season is over. When most people's season ends, it's hard. It is really hard.
"I just told them how proud I was of them. I told them we didn't lose the game because of lack of effort."
More from WholeHogSports: Full coverage from our team in Buffalo
New Mexico State (27-7) felt it could make a deep run in the tournament.
"We weren't shy about talking about San Francisco and beyond," Jans said. "We thought this team had a chance to make one of those special runs, but it just didn't happen."
Arkansas led 26-13 on Jaylin Williams' two free throws with 1:09 left in the first half, but Clayton Henry's four-point play cut that to 26-17 at halftime.
Considering his team's 5-of-25 shooting struggles before intermission, Jans was pleased to still be within striking distance at halftime. He said the locker room was "very positive" during the break.
"We got together and went in there as a staff and I just told them that we were in great shape, we're good, we will play better and we are going to figure some stuff out, and there is a lot of basketball left," Jans said.
"I looked at stat sheet and I thought we should be up 10. We guarded. They only scored 14 baskets all night long. Certainly they made some key shots and made their free throws regardless, but I thought it was as positive a situation as it could considering the situation we were in."
More from WholeHogSports: 'Perfect' HR pass key in decisive run
The Aggies took a 33-32 lead on Johny McCants' three-point play with 8:06 left in the game.
"I knew they would come back out and fight and punch and scratch, and they did," Jans said. " We took the lead...and it became a possession game and we had some crucial mistakes down the stretch that allowed them to get some separation."
New Mexico State star Terry Allen had 37 points in his team's 70-63 upset of Connecticut on Thursday, but was limited to 12 points against the Razorbacks on 5-of-16 shooting.
"They just sent a double pretty much whenever I had the ball in any kind of attacking position," Allen said. "They had a good game plan. We still could have executed better, but sometimes it just doesn't work out."
Jans wasn't surprised to see Allen getting lots of Arkansas defensive attention.
"I needed to help them more in the first half," Jans said. "We fully expected them to run at Teddy. Probably should have went inside a little more in the first half."
PHOTO GALLERY: Hogs beat Aggies at NCAA Tournament
In the second half, McCants, a senior from Las Cruces, N.M., had 16 points and 12 rebounds to lead the hometown team. McCants said he left everything he had on the court.
"I think I gave my all every possession," he said. "There are going to be possessions where I mess up and bad possessions, but I think I played my heart out for my team, my family, the fans. I just love basketball. I love my team and they make me play a lot harder."
Jans will look back at the first half for a long time.
"We struggled in the first half, had too many turnovers (12)," Jans said. "In the second half, we just had a bad run after we took the lead. They made their free throws, 22 of 25. They stepped up and made them when they really had to."
Discussion
Have a comment on this story? Join the discussion or start a new one on the Forums.