Domineck's pledge to Arkansas remains strong
Published: Sunday, March 20, 2022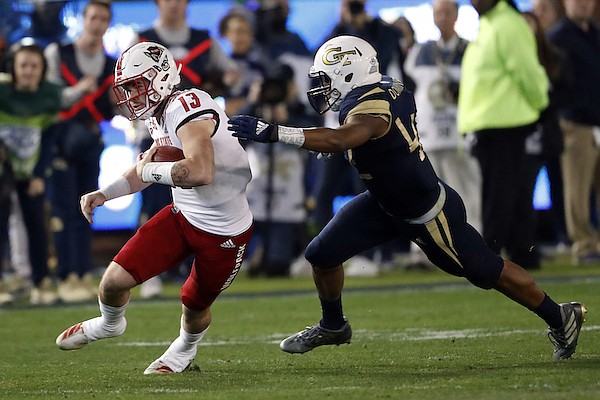 North Carolina State quarterback Devin Leary (13) tries to escape from Georgia Tech linebacker Jordan Domineck (42) during the first half of an NCAA college football game Thursday, Nov. 21, 2019, in Atlanta. (AP Photo/John Bazemore)
Arkansas defensive line commit Jordan Domineck took an unofficial visit to Central Florida on Saturday.
While Domineck (6-3, 253 pounds) had nice things to say about UCF coach Gus Malzahn and his program, he said Sunday he remains a solid Arkansas commit.
"The relationship I have with the Arkansas coaches is extremely strong and important to me, and we've been staying connected throughout this whole process," said Domineck, who is transferring from Georgia Tech.
"Visits are all good and fine, but it's going to take a whole lot to get me to flip from Arkansas. As I said earlier, I'm locked in and nothing short of a miracle is going to change that."
Domineck took the one-day visit to UCF along with his girlfriend and fellow Florida native Champ Jenkins, a freshman outside linebacker from New Mexico Military Institute who had 27 tackles with 3 sacks and 1 fumble recovery last season.
"The visit was amazing," Domineck said. "I went with my boy Champ and my girlfriend to see the campus, the team and the atmosphere, since she was already there to begin with.
"I'm in Florida right now, left Orlando earlier today and am back in Lakeland today."
Domineck, who has two years of eligibility remaining, committed to Arkansas over Auburn, Iowa State, Nebraska, Penn State, Kansas State, Central Florida, South Florida and other programs.
Along with LSU defensive tackle transfer Landon Jackson (6-7, 275), he will be looked upon to help replace Arkansas' departed defensive linemen John Ridgeway, Tre Williams and Markell Utsey.
The former Lakeland George Jenkins High School standout took an official visit to Arkansas on March 4-6, committed the following day and does not have any plans to take any other official visits.
Domineck, who graduated from Georgia Tech in December, is taking a pair of online classes this spring semester to prepare for his plan to enter Arkansas as a physical therapy major.
His desire to get into a physical therapy program, which Georgia Tech does not have, was his main reason on announcing his transfer in February.
"My days are pretty consistent, working out and staying in shape," Domineck said, "while also trying to do the best I can in the classes I have so I have a couple of (prerequisite classes) covered for PT once I get to Arkansas."
Domineck had 38 tackles, 5.5 tackles for loss, 3.5 sacks, 3 forced fumbles and 1 deflected pass while starting 8 games and playing 12 as a junior.
As a redshirt sophomore, he recorded a 15.2% pressure rate, according to ESPN. That figure ranked eighth among defensive players at Power 5 schools.
Discussion
Have a comment on this story? Join the discussion or start a new one on the Forums.