Future Razorbacks locked in on success of hoop Hogs
Published: Monday, March 21, 2022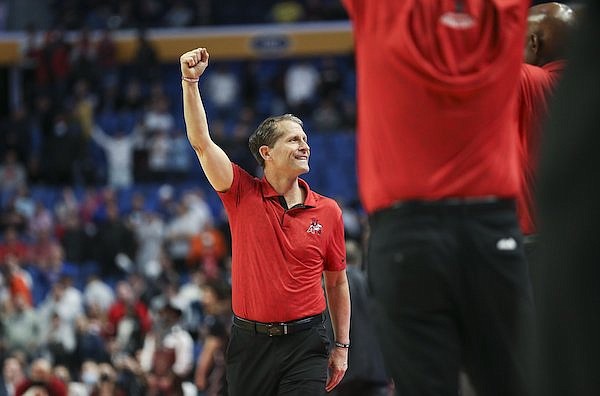 (
Charlie Kaijo
)
Arkansas coach Eric Musselman celebrates near the end of a 53-48 victory over New Mexico State at the NCAA Tournament on Saturday, March 19, 2022, in Buffalo, N.Y.
Arkansas' second consecutive run to the Sweet 16 of the NCAA Tournament doesn't only have the fans excited.
It also has the Razorbacks' highly regarded 2022 basketball class — ranked third nationally by ESPN, 247Sports and Rivals — revved up as well, said Arkansas coach Eric Musselman.
Musselman spoke about that as he previewed the matchup between fourth-seeded Arkansas and top-seeded Gonzaga on Thursday in San Francisco at 6:09 p.m. Central.
"They are all following this NCAA run and texting before games and after games," Musselman said. "I know that all of them are extremely excited to get on campus as soon as possible."
PODCAST: Arkansas is SEC's last team standing, back in Sweet 16
The class consists of McDonald All-Americans Nick Smith Jr. (6-5, 185) of North Little Rock and Jordan Walsh (6-7, 200) of Branson (Mo.) Link Academy; Magnolia guard Derrian Ford (6-5, 205); Morrilton small forward Joseph Pinion (6-6, 180); and Mobile (Ala.) McGill-Toolen forward Barry Dunning Jr. (6-6, 210). All are rated top 100 players.
Smith, Walsh and 2022 recruiting target Anthony Black (6-7, 198) of Duncanville, Texas, are on the West squad for the McDonald's event, which will be played March 29 at 8:30 p.m. in Chicago and will be televised by ESPN.
"Obviously to make a McDonald's game and to have the talent level coming in across the board is exciting," Musselman said. "I think last year with the Elite Eight run, and I don't think there is any doubt, that it coincided with the great recruiting class we have coming.
"I think it is a really exciting class, but there is also an adjustment period, too, one with our philosophy and the way we do things in the summer."
Musselman made it clear that he is only looking to recruit players who are not afraid of competition.
"What happens when you win like this, some guys are scared," Musselman said. "Not sure I should say scared, but some recruits might not want to compete. Others, like the guys we got, want to compete and play with really good teammates and want to play for Sweet 16s.
"But I think it really, really helps for the true competitors. Like I said, some other guys might not want to be in the situation where they are playing with other good teammates and teams that don't make NCAA Tournaments and stuff.
"We feel like the guys that have committed here, they have watched the Elite Eight run last year, and now they are watching this one and hopefully that helps motivate them for what is in store for their summer."
Discussion
Have a comment on this story? Join the discussion or start a new one on the Forums.