Future Razorbacks see takedown of Blue Devils coming
Published: Friday, March 25, 2022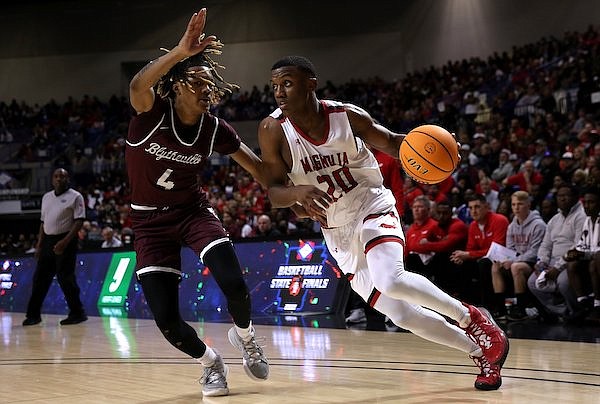 Magnolia's Derrian Ford (20) drives toward the basket during the Class 4A boys state basketball championship game in the Bank OZK Arena in Hot Springs on Saturday, March 12, 2022. Ford was awarded the MVP trophy after the game. (Arkansas Democrat-Gazette/Colin Murphey)
Some future Arkansas basketball players are convinced the Razorbacks will end Duke's season Saturday.
The Razorbacks (28-8) and Blue Devils (31-6) will meet in San Francisco at approximately 7:50 p.m. Central with a trip to the Final Four on the line.
It will come two days after Arkansas defeated top-ranked Gonzaga 74-68 in the Sweet 16. It was a victory that left signee Derrian Ford (6-5, 205) of Magnolia ready to get in on the action.
"Seeing that game last night gave me chills," Ford said Friday. "Not that I was nervous or I don't know if I can do it, but just chills of excitement and motivation....I am just excited to be a part of the Arkansas program because the coaching is so amazing, so there should not be any excuse that I can't get the job done or anything that I want to achieve.
"I feel that Arkansas is prepared. They compete so hard. The players and coaches are ready. It will be a battle but that's what makes them play better. They play through adversity so well. I love it. The program is amazing."
Ford, who led his team to three state titles in four seasons, had 13 points, 8 rebounds and 8 assists as he helped lead Arkansas over Tennessee 91-73 on Friday in the ninth annual Mike Conley Challenge at Little Rock's Southwest High School.
Moments after the all-star game that matches some of the top seniors in Arkansas and Tennessee, Ford was inducted as the first player in Real Deal in the Rock Hall of Fame. He was a three-time MVP of the event that began Friday.
"I wasn't really worried about scoring, just trying to be aggressive and having fun," said Ford, the only Power 5 signee who played in the contest. "Then to be inducted into the Real Deal Hall of Fame…I was just trying to have a good time with some guys I grew up with and it was an amazing experience."
Ford led Magnolia to a 102-6 record in his school career, including wins in 82 of his team's last 83 games.
"I want to keep my winning streak going," Ford said. "I don't like to lose. I am very competitive and a loss does teach you to never be satisfied."
Arkansas signee Barry Dunning Jr. (6-6, 210) of Mobile (Ala.) McGill-Toolen is revved up about the Arkansas-Duke game.
"It will be a game for the ages," Dunning said. "The Razorbacks are up for the task. We will keep dancing. We worked to get to this point, but not only that, to get past this point and keep dancing to the very end. We let our play do the talking and win with class."
The Arkansas toughness is a factor for Morrilton star Joseph Pinion (6-6, 180), one of five Arkansas 2022 signees who are ranked in the top 100 nationally by ESPN.
"They have been the tougher team in every game and it's the reason they have won," Pinion said. "They have taken everything that they wanted.
"Very winnable game. Excited to see how it goes. If we hit them in the mouth (early) we should do fine for the rest of the game."
Wichita (Kan.) Sunrise Academy junior point guard Layden Blocker was tuned into the Arkansas-Gonzaga game. Blocker previously played at Little Rock Christian.
"I think it was a good game," Blocker said. "Arkansas guarded really well and played aggressive and physical on both ends. They also executed on offense and got Chet (Holmgren) in foul trouble. It's good that they made it back to Elite Eight because it just shows that they are a well-coached team."
Discussion
Have a comment on this story? Join the discussion or start a new one on the Forums.