Boateng comfortable with high expectations
Published: Saturday, March 26, 2022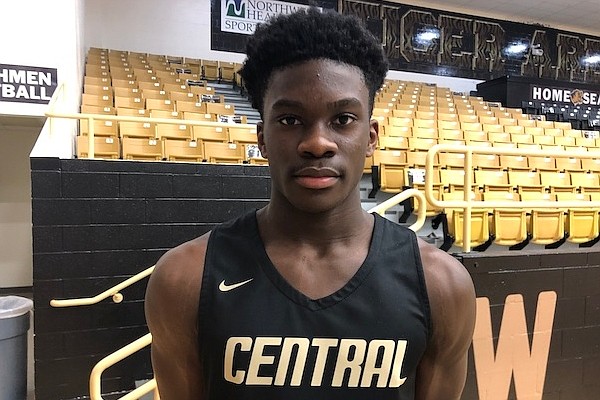 As the only underclassman of seven players nominated for KATV's Full Court Player of the Year, Little Rock Central sophomore guard Annor Boateng (6-5, 203) knows expectations are high any time he takes the court.
Boateng, participating in this weekend's Real Deal in the Rock in Little Rock, has offers from Arkansas, Auburn and Mississippi State, and he welcomes the expectations.
"I like the fact that I am getting offers and I am looking forward to the next phase and getting more of those, getting to the next level and improving from there," Boateng said.
Memphis, Oklahoma State, Texas Tech and Georgia are other programs who have shown interest in Boateng, who averaged 17 points and 6 rebounds per game this season.
He got his AAU season underway this weekend while playing for the Arkansas Hawks 16-under team at Real Deal in the Rock.
"I get to go against guys just a big as me and just as tall and guys working just as hard as I am," Boateng said. "That just motivates me to work even harder."
Boateng got his first offer from Arkansas on Oct. 8, 2020, before his played his first high school basketball game.
He has been impressed with this season's Razorbacks (28-8) heading into Saturday's NCAA Tournament Elite Eight game against Duke (31-6).
Arkansas opened the season 10-5 overall and 0-3 in SEC play, but have won 18 of its last 21 games.
"They have really fought real hard," Boateng said. "They were counted out, but just improved themselves, even against Gonzaga. Their defense is pretty good and that's good because defense wins games."
That is a similar path that Little Rock Central, which made its fourth straight Final Four this season after starting 7-8 and rallying to finish 18-12.
Three of those losses came to eventual state champion North Little Rock, which had a pair of McDonald's All-Americans in Arkansas signee Nick Smith, Jr. (6-5, 185) and Oregon signee Kel'el Ware (7-0, 225).
"We started off a little bit rough, but overall we stuck together pretty well and just improved together," Boateng said. "I think we will be pretty good next year and compete for the state title."
He was named Class 6A All-State and to the Class 6A all-tournament team.
"I stayed inside the gym, worked a lot basically just put as many hours in of practice that I could," Boateng said. "The more I got to the gym and worked on my offensive game, getting out not the perimeter, and working on my defense, I think it will improve my game a lot and open up the floor for me and not only me, but my teammates."
Discussion
Have a comment on this story? Join the discussion or start a new one on the Forums.