Jordan Walsh covets Geico national title
Published: Wednesday, March 30, 2022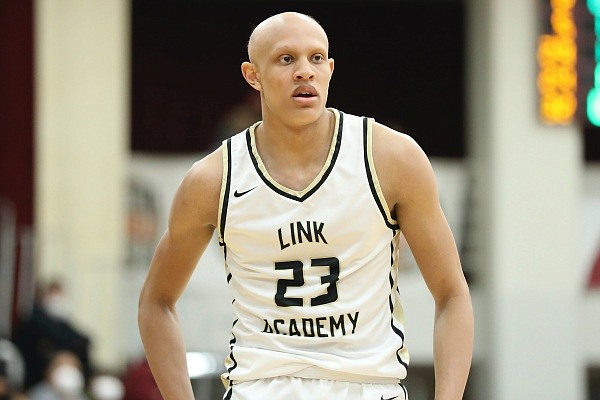 Link Academy's Jordan Walsh is shown against Prolific Prep during a high school basketball game at the Hoophall Classic on Monday, January 17, 2022, in Springfield, MA. (AP Photo/Gregory Payan)
After achieving a dream by playing in the McDonald's All-American Game on Tuesday, Arkansas basketball signee Jordan Walsh will turn his attention to winning a national title.
Walsh (6-7, 200) and Razorbacks junior target Omaha Biliew (6-8, 205) will lead USA Today's No. 2 Branson (Mo.) Link Academy into a Thursday battle with No. 9 Oak Hill Academy (Va.) at 11 a.m. on ESPNU.
It is the opening game of the Geico High School Championship, an eight-team, three-day event at Suncoast Credit Union Arena in Fort Myers, Fla., with all games being televised by ESPNU.
"Getting to Geico and winning it all has been the goal since Day 1 when we all came together," Walsh said. "I think we have put ourselves in position to do that."
Many of the 24 McDonald's All-Americans will be participating in the Geico tournament after being in Chicago and battling each other in practice the last few days.
"It's good to get away from just like the pure competitiveness of somebody always going at your throat and just chill with the best of the best and just be able to relax a little bit instead of competing with those same dudes," Walsh said.
"But at the end of the day, I know I am competing with them at Geico and they are competing with me, so that competitive edge is still there. I am still wanting to be the best out of the group, for sure."
The other first round matchups have No. 14 Chandler (Ariz.) Compass Prep (24-4) meeting No. 5 Montverde (Fla.) Academy (20-4) at 1 p.m., No. 6 La Pointe (Ind.) La Lumiere (21-4) battling No. 4 Bradenton (Fla.) IMG Academy (20-4) at 3 p.m. and No. 1 Wichita (Kan.) Sunrise Academy (24-1) facing Napa (Calif.) Prolific Prep (25-4) at 5 p.m.
Former Little Rock Christian star Layden Blocker, who has an Arkansas offer, is a junior point guard for Sunrise Christian, who handed Link its only loss this season.
Walsh is originally from Desoto, Texas, but chose to attend his final year of high school at Link Prep, a first-year school.
"I wanted to go to prep school because I wanted to be around D-I players all day every day," Walsh said. "I wanted to play with them, practice with them, just be around them. Going to Link set me up for that, for sure.
"We played a national schedule, we are in Geico the first year, these are things that nobody expected us to do that we are doing. It is a great accomplishment. But it set me up good for the next level and I am proud I made the decision to go there."
That's the same way he feels about signing with Arkansas, where he will join fellow 5-star prospects Nick Smith and Walsh and a trio of 4-star prospects in Derrian Ford, Joseph Pinion and Barry Dunning, Jr., in a class ranked second nationally by ESPN, 247 Sports and Rivals.
"First of all, their fans are crazy, first of all," Walsh said. "They support you no matter what. The support they are giving me off the court and I am not even there yet, that just says what it could be like when we are there making a run in the tournament.
"(Arkansas fans) are all buying tickets coming to the (NCAA Tournament) games, flying out to see us, the support is just ridiculous. I love it. I fell in love with the coaches they have. I love the fans, I love the coaching staff. Everything about Arkansas is just a great fit for me, fore sure."
Walsh noted that former Razorbacks and current professionals Moses Moody and Mason Jones have led the way for this current recruiting class.
"There have definitely been some guys before me that have done it and set the way for this like Moses Moody and Mason Jones, two of my favorite guys," Walsh said. "They started the culture when Coach Muss got there and he built it with those guys so they kind of set the foundation and standard for us when we get there next year it will be like, 'OK, we have got to be better.
"If they got to the Elite Eight, we need to get to the Final Four and try to win it. With a good coach like Coach Muss, it is possible, especially with the talent coming in."
Walsh got a good look at Smith this week.
"I think he is just a pure hooper," Walsh said. "He can hoop, he is a dawg. I love playing with him and he is a great guard for sure. He is going to be able to help us tremendously next year coming in. I love playing with him and he is a great guy off the court.
"He's a little crazy and hilarious, but he's my boy. He is a great player and I feel there is like a high potential for Arkansas and the years after that."
Being a McDonald's All-American had always been a dream for Walsh.
"It means a lot to me because now it feels like I am in this fraternity of the greats and who have gone on to do big things," Walsh said. "It's a great thing, a great achievement and also a dream for me. It was always kind of my leading motivation and one of the reasons I wanted to play basketball. I wanted to be here."

Walsh and Smith started for the West team while Black came off the bench in the East's 105-81 win in the McDonald's game.
Smith finished with 8 points, 4 assists and a steal while Black chipped in 4 points, 4 assists and 3 rebounds and Walsh had 4 points and 3 rebounds.
North Little Rock center and Oregon signee Kel'el Ware shined with 8 points, 10 rebounds, an assist, a steal and a block.
The relationship between Walsh and Smith has grown since this past summer.
"Me and Nick were never really close until we committed to Arkansas," Walsh said. "He kind of introduced me to Coach Muss, the Arkansas culture and the fan base and I fell in love with it, so I knew that was where I was going to go.
"Me committing there just solidified that relationship between me and him and we just started building from there. Now we are playing in the McDonald's (All-American) Game and we will be playing in other events and we are going to spend years in college.
"We are gong to do all this stuff together to get ready for that college level, for sure."
Discussion
Have a comment on this story? Join the discussion or start a new one on the Forums.