Arkansas signee Dunning named Alabama's Mr. Basketball
Published: Thursday, March 31, 2022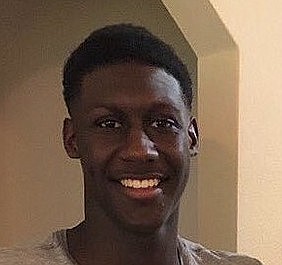 One of Arkansas' six heralded 2022 high school basketball signees was named the best player in Alabama on Thursday afternoon.
Mobile (Ala.) McGill-Toolen star and future Razorback Barry Dunning (6-6, 185) was named Mr. Basketball by the Alabama Sports Writers Association at a ceremony in Montgomery.
Dunning became the 40th person named Mr. Basketball after a senior season in which he averaged 25.3 points, 12.9 rebounds, 3.3 steals, 2.6 assists and 1.7 blocks.
"First of all, I want to give God the credit for giving me the talent to play the game I love," Dunning said. "I also want to give thanks to my family and my support system, my coach believing in me and my game.
"It just shows that all the hard work I have put in through all the years and the sacrifices my parents made to let me focus on the game of basketball were worth it. I am very grateful and it is very humbling to get this award."
Dunning, who said he has gone from over 200 pounds down to 185 this past year, becomes the fifth straight Mr. Basketball winner to initially sign with an SEC school following J.D. Davison (Alabama), Trenton Watford (LSU), John Petty (Alabama) and Dazon Ingram (Alabama).
Petty and Watford were two-time winners of the award.
Dunning, 4-star prospect and the nation's 79th-best player per ESPN, was also named the Alabama Gatorade Player of the Year for the second straight season.
He is thrilled to be a part of an Arkansas' recruiting class that is ranked second nationally and also includes 5-star prospects Nick Smith (6-5, 185), Jordan Walsh (6-7, 200) and Anthony Black (6-7, 198) and 4-star prospects Derrian Ford (6-5, 205) and Joseph Pinion (6-6, 180).
Coach Eric Musselman and the Razorbacks also officially added Missouri transfer Trevon Brazile (6-9, 215) on Thursday.
"It is a very, very deep class," Dunning said. "I talked to some of the guys and they are all great guys. I am grateful that Coach Muss has a plan and we are all going too come in late May or early July and work hard.
"The expectation is not only to the Elite Eight, but the Final Four and really the ultimate goal is to win a national championship. I wouldn't want to be part of any other group."
Dunning was named the MVP of the 32nd annual Alabama-Mississippi All-Star game on March 12 after having 22 points, 12 rebounds and 7 assists in his team's 96-89 win.
He closed his high school career with three consecutive games of at least 25 points and 18 rebounds.
McGill-Toolen head coach Phil Murphy raved about his star to AL.com after the ceremony.
"If he continues on the trajectory we've seen, he is going to do amazing things," Murphy said. "He can play the 1-4 positions. He can guard 1-4. That versatility is going to get him on the court early. There is no question about that."
Dunning feels like his game has developed immensely in the last two seasons.
"Over the last two years, some people said I had a problem with my physicality, but I got my body right by being in the weight room, working out," Dunning said. "I also feel like my shooting ability greatly improved, including my range out to the three-point line. I also became more aggressive on offense and defense."
Discussion
Have a comment on this story? Join the discussion or start a new one on the Forums.