NWADG Editorial:
Vanover set a great example
By: Northwest Arkansas Democrat-Gazette
Published: Friday, May 6, 2022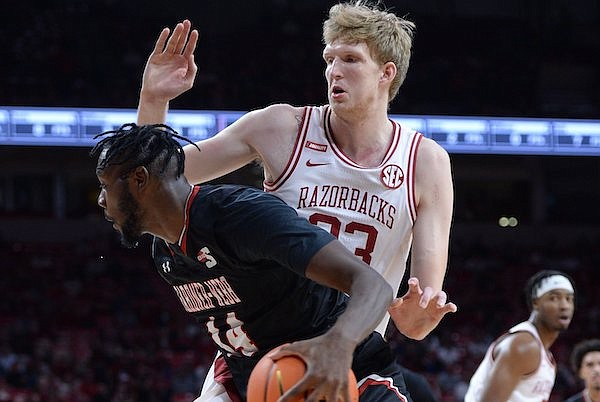 (
Andy Shupe
)
Gardner-Webb forward Kareem Reid (14) makes a move to the basket Saturday, Nov. 13, 2021, as Arkansas forward Connor Vanover (top) moves to block out during the first half of play in Bud Walton Arena.
Simply put, bad behavior attracts more attention than good behavior does. That's why Netflix's "Ozark" isn't about a fun family vacation and why an aggressively foul-mouthed spitfire named Ruth is the most popular character on a show featuring murder, drug-running, money laundering, lies and deception.
We see plenty of it in sports, too. Some highly skilled athletes can behave like spoiled children when things don't go their way. It's not a good look, but it draws a lot of eyeballs.
It's fair to say things last basketball season didn't go the way now-former Razorback Connor Vanover had wanted. The 7-3 Arkansan transferred from California in Coach Eric Musselman's first season but had to sit out a year. This past season, his second on the court, saw his playing time from year one to year two drop significantly. In fact, Vanover sat the bench in the final 19 games of the 2021-22 season.
This week, to no one's surprise, Vanover transferred to Oral Roberts University's basketball program in Tulsa to finish out his final two years of eligibility.
Vanover had every reason to be disappointed in the last season. And maybe people would have forgiven him if he chose to gripe about his time on the bench. Nobody, after all, transfers to ride the bench.
But we feel it's worth noting a particularly good aspect of Vanover's response to his situation: He didn't throw a fit. His teammates and coaches found that Vanover remained an enthusiastic member of the team in practices and as he was sidelined. He didn't mope around or behave poorly. Too the contrary, he still contributed to the team in positive ways.
"I felt like no matter what was happening personally with myself and my playing time, I'm still part of the team and I've got to contribute some way," Vanover said recently. "So I wanted to be uplifting to the other players and stay engaged the whole time. I wanted to always be there for my teammates and support them."
That's great sportsmanship. For some athletes, responding so admirably is a tall order.
"He always had a great attitude and was a pleasure to be around and coach every day," Musselman said. "He's loved by his coaches, loved by his teammates."
That goes well beyond what one hears about some transfers, when coaches simply say something like "We agreed to part ways and we wish him well in the future." That Musselman's comment goes further that says something about Connor Vanover, and it's something good.
It didn't work out at Arkansas, but clearly Vanover's choices while he was a member of the Razorbacks reflect well on him as a player and as a person.
That's behavior worth noticing.
Discussion
Have a comment on this story? Join the discussion or start a new one on the Forums.