Tigers experience first game as the hunted
By: Ethan Westerman
Published: Saturday, November 12, 2022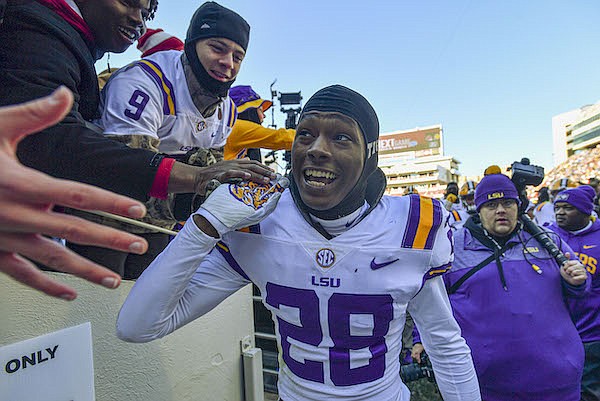 ( Hank Layton, NWA Democrat-Gazette )
LSU safety Major Burns (28) celebrates with fans following a 13-10 victory over Arkansas on Saturday, Nov. 12, 2022, in Fayetteville.
FAYETTEVILLE — When LSU seized control of the SEC West after downing Alabama last week, Brian Kelly knew his team earned a new target on its back.
His team got quite the test on a cold Saturday afternoon in Fayetteville. The Tigers ran into Arkansas' most complete defensive performance of the season, but were able to claw out a 13-10 victory at Reynolds Razorback Stadium.
"I'm excited that we won the football game in a very difficult environment," Kelly said. "We're in a different realm now. We're being hunted and we're going to get everybody's best shot."
The nation's seventh-ranked team was on alert for much of the game. Arkansas sacked LSU seven times and held the Tigers to their second-fewest yards (284) in a game this season.
"I thought (Arkansas defensive coordinator) Barry Odom called a great game," Kelly said. "Defensively, their team was prepared, and they were a great challenge for us today."
Fortunately for the Tigers, their defense also came to play. The unit was highlighted by a star performance from a true freshman.
LSU linebacker Harold Perkins lived in the Razorbacks' backfield, dumping Arkansas quarterbacks four times. He had two forced fumbles to go along with eight tackles.
"I don't think there's enough superlatives to talk about this young man," Kelly said. "A true freshman coming into his own. You can imagine he was he was awarded the game ball."
Arkansas had three possessions in the fourth quarter with a shot to tie or take the lead, but the Tigers came up with stops each time. The final one, which put an end to the Hogs' upset bid, came when Perkins got just enough of back-up quarterback Cade Fortin's arm to cause a fumble with 1:19 to play. LSU recovered the ball and ran out the clock.
"All over the field," Kelly said of Perkins. "Impacted the game, obviously, to the level where we win the game, because of his final play."
Perkins played with the flu.
"He got sick before the game," Kelly said. "He threw up as we were going into our team meal, team meeting. I said, 'Hey, you know, (Michael Jordan) threw up when he had his greatest game.'"
The Tigers' lone touchdown came on a 1-yard run from Josh Williams in the third quarter. He was a bright spot for LSU offensively, rushing for 122 yards off 19 carries.
"You look up 'strain' in the dictionary, I mean, he's the guy," Kelly said. "He just strains for everything and has just a great effect on everybody when he's out there."
The Razorbacks played without starting quarterback KJ Jefferson, who was out with an injury, and gave the starting nod to Malik Hornsby. Arkansas' offense struggled to manufacture points with Hornsby, so midway through the third quarter the Razorbacks made a change.
Fortin, a transfer walk-on, entered the game and delivered the Razorbacks' only touchdown when he connected with Matt Landers on a 40-yard pass down the visiting sideline early in the fourth quarter.
"I thought he did really well coming in," Kelly said. "He threw a great ball down the sideline. I thought he gave them some great energy throwing the football. Forced us, matter of fact, to do some things that maybe we didn't practice as much as some of the other things. He was a catalyst for them."
The first LSU player to rush across the field and grab the Golden Boot trophy following the win was former Razorback Joe Foucha, a safety. The senior started all 13 games for Razorbacks in 2021 and was fourth on the team with 75 tackles. Tigers defensive back Greg Brooks also transferred from Arkansas during the offseason. In three seasons with the Hogs, he started all but three games.
Brooks and Foucha had four tackles apiece Saturday.
"They were in a really good program here at Arkansas, where they do the right things," Kelly said. "They came in and were good models for doing things the right way. They really helped me early on and making sure we had guys doing things the right way."
Discussion
Have a comment on this story? Join the discussion or start a new one on the Forums.