Razorbacks renew acquaintances with UALR
By: Ethan Westerman
Published: Sunday, November 20, 2022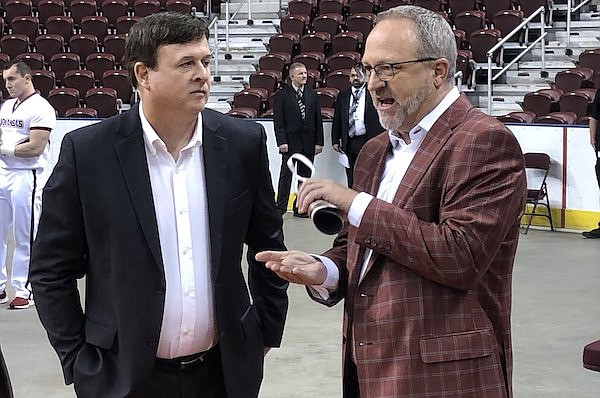 Arkansas coach Mike Neighbors (right) and Arkansas-Little Rock coach Joe Foley speak prior to a game Saturday, Dec. 21, 2019, in North Little Rock. (Photo courtesy Patrick T. Walsh/Little Rock Athletics)
FAYETTEVILLE — Arkansas-Little Rock women's basketball Coach Joe Foley wears many hats in the life of Arkansas Coach Mike Neighbors.
"He's a friend," Neighbors said. "He's been a mentor. He's given great advice. He's a golf partner. He's a storytelling buddy. So many things"
For a day, Foley will wear another hat: Opposition. His Trojans (1-1) welcome the undefeated Razorbacks at 1 p.m. today inside the Jack Stephens Center in Little Rock.
"Tremendous challenge for us," Neighbors said. "Short turnaround and not much time to prepare for a team that's really hard to prepare for. You know if they're on his bench, they're tough. They've been coached. They're going to execute."
Arkansas (4-0) is the second team UALR will face on its newly-named Joe Foley Court. Ole Miss defeated the Trojans 58-40 a week ago after the court was dedicated during a pregame ceremony.
Foley is one of six women's basketball coaches in the nation with a court named after him. He ranks third among active Division I coaches with 834 career wins.
"He's on anybody's Mount Rushmore of Arkansas people that have empowered young ladies and kept the sport going during a time when not a lot of people were supporting it," Neighbors said.
The Razorbacks are 4-0 all-time against the Trojans. The teams met in 2019 for the first time since 1977 and have played each season since.
"I joke with him a lot that had this series been going for a number of years, it would probably be even," Neighbors said. "He had some great teams, and he still does. But I think the record would be very different had this series been going since the '90s."
It will be the second game in a row for UALR against a SEC opponent. Foley is challenging his team with five SEC games on its non-conference schedule.
Both teams defeated Arkansas-Pine Bluff in their season openers. The Razorbacks are winners of four in a row, one victory away from matching the best start to a season under Neighbors.
Erynn Barnum leads the Razorbacks, averaging 20.3 points and 8.5 rebounds per game. Samara Spencer (13.8 ppg.) and Makayla Daniels (11.5 ppg.) are also averaging double-digit scoring for the Hogs. Arkansas most recently put together its most complete game yet, handling Kent State 80-59.
"I saw a few things on the court and in the timeouts and in the huddles, and before and after the game," Neighbors said of the performance. "Things that are really pleasing as a coach to see some signs of gelling."
Junior guard Tia Harvey leads UALR at 12.5 points per game. At 5-6, Jaiyah Smith averages a team-high 9.5 rebounds.
Discussion
Have a comment on this story? Join the discussion or start a new one on the Forums.