Turning point: Milroe's run snatched momentum
By: Ethan Westerman
Published: Saturday, October 1, 2022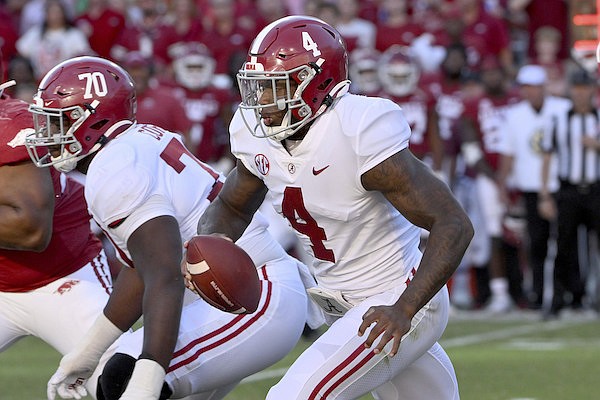 Alabama quarterback Jalen Milroe (4) runs the ball against Arkansas during the second half of an NCAA college football game Saturday, Oct. 1, 2022, in Fayetteville. (AP Photo/Michael Woods)
FAYETTEVILLE— After falling behind 28-0 in the first half, Arkansas scored 23 consecutive points to draw close to No. 2 Alabama on Saturday at Reynolds Razorback Stadium.
The "red-out" crowd was in a frenzy. Momentum had flipped to the Razorbacks' side and the Crimson Tide looked out of sorts. A false start penalty put Alabama in a third-and-15 situation from its own 20 early in the fourth quarter, and it looked like the wheels may be falling off for coach Nick Saban's team.
That's when Alabama back-up quarterback Jalen Milroe, who replaced injured starter Bryce Young (shoulder) in the second quarter, disheartened the Hogs with one play that sparked the Tide's 49-26 victory.
Milroe took the third down snap and looked for a receiver, but after feeling pressure decided to keep the ball himself. He made the spying Arkansas linebacker Bumper Pool miss a tackle and scampered 77 yards before he was knocked out by Khari Johnson at the 3-yard line.
"I was just trying to get the first down and then my eyes got big," Milroe said. "Then I said, 'All right, let me try and score.'"
The big play was needed by Alabama. It not only set the Crimson Tide up for a score, but also deflated the Hogs' energy.
"It stopped the bleeding, for sure," Saban said, "because that was third-and-long, in bad field position, and if we don't make a first down there, they're going to get the ball back, and they're down by five and they have all the momentum in the game. That was a huge momentum swing in the game, in my opinion."
Jase McClellan's 3-yard touchdown followed the quarterback keeper and gave Alabama a 35-23 lead. It snapped the Tide's scoreless streak, which had lasted 18 minutes and 42 seconds. Arkansas never came any closer to seizing the lead.
Prior to the big run, Alabama had negative yardage in the second half. Meanwhile, the Razorbacks found a groove offensively and scored 16 points in the third quarter.
"You know, after that, we played better, Saban said. "After that, I didn't think they played as well."
It opened the floodgates for Alabama's run game, which scored three touchdowns in the fourth quarter. Jahmyr Gibbs had touchdown runs of 72 and 76 yards in the final quarter.
"Really good blocking," Saban said. "I mean, they did a really good job up front. Now, one of them, Jalen scrambled on third down, a critical third down, for a big play. But, the couple of long runs that Jahmyr made was really well blocked. He does a great job of pressing the hole."
Alabama picked up 242 of its 317 rushing yards in the fourth quarter and outscored Arkansas 21-3.
"We did a really good job in the fourth quarter," Saban said, "finishing the game, scoring 21 points and making some big plays. You know, it's hard to win on the road."
The possession after Milroe's 77-yard run, Arkansas' drive stalled at its own 38. The next time KJ Jefferson and the Hogs touched the ball again, they were down 42-23 with the game out of reach.
Milroe's run took energy out of the stadium.
In less than two minutes, the stadium went from electric to flattened. Fans began heading for the exits after Gibbs' 72-yard touchdown run with 12:17 to play put Alabama up 42-23.
Alabama linebacker Will Anderson said the team was prepared to overcome a tough atmosphere.
"You come to 'Bama for games like this," Anderson said. "We have a long stretch (of games) coming up, but this is why you come to places like this. I think Coach Saban does a really good job of getting us prepared."
Discussion
Have a comment on this story? Join the discussion or start a new one on the Forums.