Arkansas' Week 7 depth chart vs. BYU
Published: Monday, October 10, 2022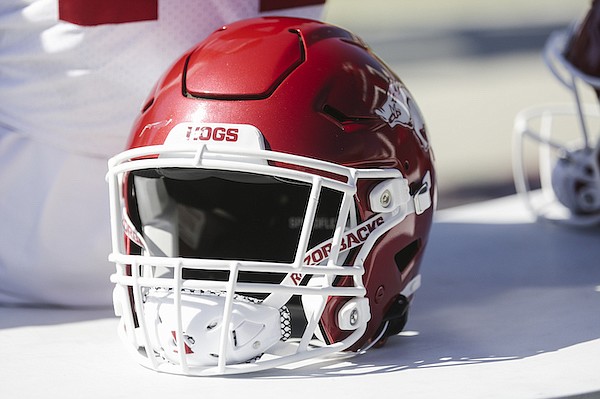 (
Charlie Kaijo
)
An Arkansas Razorbacks football helmet is shown on Saturday, Oct. 8, 2022, during a football game at Davis Wade Stadium in Starkville, Miss.
A look at Arkansas' depth chart for Saturday's Week 7 non-conference game at BYU:
Offense
QB: KJ Jefferson / Malik Hornsby / Cade Fortin
RB: Raheim Sanders / AJ Green / Rashod Dubinion / Dominique Johnson
TE: Trey Knox / Nathan Bax / Hudson Henry
WR: Warren Thompson / Jaedon Wilson
WR: Jadon Haselwood / Bryce Stephens
WR: Matt Landers / Ketron Jackson
LT: Luke Jones / Andrew Chamblee
LG: Brady Latham / Jalen St. John
C: Ricky Stromberg / Patrick Kutas
RG: Beaux Limmer / E'Marion Harris
RT: Dalton Wagner / Ty'Kieast Crawford
Defense
DE: Landon Jackson / Jashaud Stewart
DT: Eric Gregory / Terry Hampton
DT: Isaiah Nichols / Cam Ball
DE: Zach Williams / Jordan Domineck
WILL: Bumper Pool / Jordan Crook / Jackson Woodard
MIKE: Drew Sanders / Chris Paul Jr.
CB: Dwight McGlothern / Keuan Parker
CB: Malik Chavis / Hudson Clark
Nickel: Myles Slusher OR Jayden Johnson / Trent Gordon / Jacorrei Turner
S: Latavious Brini / Khari Johnson
S: Simeon Blair / Jayden Johnson
Special teams
Place kicker: Cam Little
Kickoff: Jake Bates
Punter: Reid Bauer / Max Fletcher
Long snapper: Eli Stein / Francisco Castro OR John Oehrlein
Holder: Reid Bauer
KOR: AJ Green / Rashod Dubinion
PR: Bryce Stephens / Harper Cole
Discussion
Have a comment on this story? Join the discussion or start a new one on the Forums.