Hog Calls:
Razorbacks face long odds at SEC meet
Published: Saturday, October 22, 2022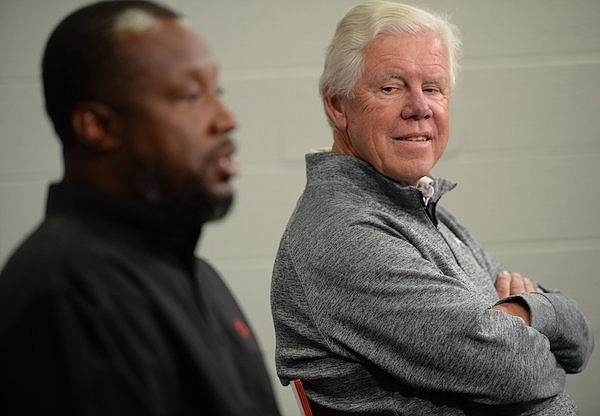 (
Andy Shupe
)
Lance Harter (right), head coach of Arkansas women's cross country and track and field, smiles Tuesday, Nov. 2, 2021, as he listens to Chris Johnson, associate head coach, during a press conference to announce Harter's 2023 retirement and that Johnson will succeed him as head coach at the Broyles Athletics Center in Fayetteville.
FAYETTEVILLE — Before winning their combined 31 SEC cross country championships, it seems Lance Harter and Chris Bucknam mostly cried wolf.
They often conjectured various menacing challenges inevitably falling short.
However, it just will be favorites crying if either Harter's Arkansas Razorbacks women or Bucknam's men — or both — somehow prevail at Friday's SEC Championships in Oxford, Miss.
Harter, retiring next July as head cross country and track coach with 22 SEC Cross Country crowns since 1991 after ushering the Arkansas women into the SEC, has coached nine consecutive SEC cross country championship teams, the last 10 SEC indoor track championship teams.
Bucknam piloted nine SEC cross country championship teams since his third season at Arkansas in 2010-11. His Hogs won the last two SEC cross country championships and the last two SEC triple crowns.
But entering Friday's meet, Alabama's women nationally rank seventh to Harter's team No. 21.
Bucknam's men tumbled out of the top 25.
The SEC men of Tennessee and Alabama rank 17th and 22nd.
Seems age, or lack thereof, caught up to the Razorbacks against a league determined to catch up.
Each return only one scorer from last year's SEC champions.
"If we're going to triple crown this is our stickler right here," Bucknam said. "We've lost (from last year) four of our top-five guys. I would say it's between Alabama and Tennessee. We're the third team looking up. We think we have a better chance of defending our indoor and outdoor."
Ditto, Harter's Razorbacks. They also should be a track powerhouse, but on paper aren't the cross country team that last year upset higher-ranked Alabama.
Alabama was and is led by national champion Mercy Chelengat, but its fifth runner last year finished too far back in the SEC scoring pack.
"'We've won nine in a row," Harter said. "Winning No. 10 is going to be a challenge, to say the least. We upset them last year, but we also had four veterans."
Only Isabel Van Camp remains as a 2021 SEC bellwether.
"Isabel Van Camp is running fantastic but this is a young, young team," Harter said. "We have as many as three freshmen (Sydney Thorvaldson, Mia Cochran and Heidi Nielson) in our top five. That's not ideal, but they are very talented. But that whole Alabama team is back and they've recruited well. We'll have to answer the challenge."
Bucknam said "we're definitely the underdog," but waves no white flag.
He's running a complete team in Oxford for the first time this season, noting Patrick Kiproc, Elias Schreml and Ben Shearer have posted "breakthroughs," while Myles Richter, Jacob McLeod and Josh Shearer "are veterans."
"To pull an upset it's going to take having five or six guys not taking 'no' for an answer," Bucknam said.
Discussion
Have a comment on this story? Join the discussion or start a new one on the Forums.