Special teams shine in Rattler's South Carolina debut
By: The Associated Press
Published: Sunday, September 4, 2022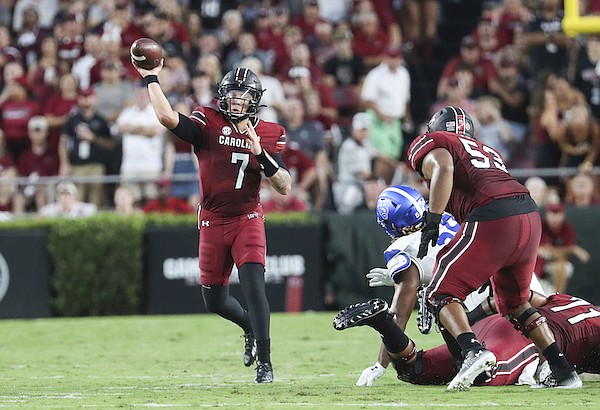 South Carolina quarterback Spencer Rattler (7) throws a pass against Georgia State during the first half of an NCAA college football game Saturday, Sept. 3, 2022, in Columbia, S.C.. (AP Photo/Artie Walker Jr.)
COLUMBIA, S.C. — South Carolina's special teams led the way toward a season-opening 35-14 victory over Georgia State on Saturday night.
Special teams have always been an emphasis for Gamecocks coach Shane Beamer, who watched his father, Frank, win game after game with "Beamer Ball," and its big special teams play.
The approach worked as the Gamecocks pulled away from Georgia State with 23 unanswered points in the second half.
The Gamecocks returned two blocked punts for touchdowns, new placekicker Mitch Jeter debuted by knocking two field goals of 50-plus yards and long snapper Hunter Rogers carried a fake field goal 5 yards for a first down that led to the Gamecocks' only first-half touchdown.
New quarterback Spencer Rattler took in a key two-point conversion in the third quarter to restore South Carolina's lead and it was just enough to squeak past a determined Panthers' squad that held a brief third-quarter advantage, 14-12.
The back-breaker also came in the third, when Rashad Amos blocked a Georgia State punt and DQ Smith retrieved the carom and ran it in for a touchdown.
Rattler, the former Heisman Trophy contender at Oklahoma, showed off his dynamic playmaking ability. He finished 23 of 37 passing for 226 yards, a touchdown and two interceptions.
Following a scoreless first quarter, South Carolina sent out Jeter to attempt a 25-yard field goal. But special teams coordinator Pete Lembo's gang took over.
Long snapper Rogers took the snap and ran for just enough room for the first down. The Gamecocks lined up versatile tight end Jaheim Bell as a fullback at the goal line, then pitched to MarShawn Lloyd on the end-around for a touchdown.
A Rattler interception on the second play of the third quarter set up the Panthers' second score, a Grainger 4-yard rush to take a 14-12 lead. The Gamecocks immediately responded as Rattler hit Marshawn Lloyd for a 16-yard scoring pass to take the lead for good, 20-14.
Just over two minutes later, Rashad Amos blocked the punt and DQ Smith ran it back 26 yards for a 28-14 lead.
Later, Gamecocks' Traevon Kenion blocked a fourth-quarter punt and Ahmarean Brown took it 10 yards for the final score.
Discussion
Have a comment on this story? Join the discussion or start a new one on the Forums.