After loss, Beamer calls Hogs 'a load'
By: Ethan Westerman
Published: Saturday, September 10, 2022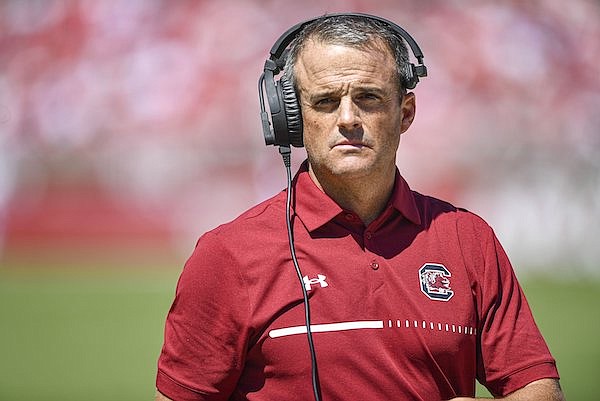 ( Hank Layton, NWA Democrat-Gazette )
South Carolina coach Shane Beamer is shown during a game against Arkansas on Saturday, Sept. 10, 2022, in Fayetteville.
FAYETTEVILLE— When addressing media members earlier this week, South Carolina coach Shane Beamer said simulating Arkansas quarterback KJ Jefferson was impossible.
Mimicking the Razorbacks' offensive line may have been equally as tough.
Arkansas ran the ball 65 times for 295 yards and five touchdowns. The Razorbacks went 2 for 3 on fourth down inside South Carolina territory and never opted to try a field goal in those situations, showing confidence in the offensive line.
The Razorbacks' line, which paved way for the SEC's leading rushing attack last season, was nothing short of what Beamer said he expected.
"I'm impressed with them," Beamer said.
The Arkansas offense, Beamer said, was a handful.
"They're a load," Beamer said. "Obviously, that quarterback (Jefferson) is, and you know, we've got to stop the run and get ourselves off the field."
Beamer gave props to Jefferson for being physical and resilient.
"He took a lot of hits today and kept bouncing up," Beamer said of Jefferson. "I thought our guys came up and attacked him, too.
"There's a lot of talk about Arkansas being a physical football team, and they are, but I think we're pretty freaking physical, too, and that was two physical teams going at it. "
Jefferson's touchdown pass to Warren Thompson that put Arkansas ahead 35-16 in the fourth quarter, Beamer said, was reminiscent of something Tennessee did against the Gamecocks in 2021.
"He was able to escape some pressure a couple of times when we had him hemmed up in the backfield and could have had some sacks, and weren't able to," Beamer said. "And then they ran that play on us late, similar to what Tennessee did against us last year with a quarterback rolling right and came back up and threw it. You know, we give him credit and he made plays when he needed to. He took a lot of shots today but kept bouncing back up."
In contrast to the Hogs' dominance in the run game, South Carolina had just 40 yards on 29 rushing attempts. The Gamecocks passed for 371 yards.
"We've got to be able to run the ball and stop the run to win football games, especially against a team like Arkansas," Beamer said. "They just line up offensively and just try and bludgeon you to death, then with tackling their guys as well, we've got to be able to help our defense out and stay on the field."
South Carolina quarterback Spencer Rattler highlighted the rushing yards discrepancy and said his team could have been better in the facet.
"You always want to establish the run. It makes it easier for the pass," Rattler said. "Arkansas did a great job of running the ball. We say, 'Run the ball, stop the run,' that's how you win the game, and we didn't do that today."
The Gamecocks looked to exploit the Arkansas pass defense in the absence of safety Jalen Catalon and nickel back Myles Slusher, who missed due to injury.
Beamer said those were big losses for the Razorbacks.
"Watching Cincinnati last week, Cincinnati had some opportunities in the passing game that they weren't able to capitalize on as well," Beamer said. "We felt like we could certainly take our shots downfield, which is what we did."
Rattler said he "had a great time" against the Arkansas defense. His lone interception, by Dwight McGlothern in the fourth quarter, was the "one ball I wanted back."
Rattler was 5 of 11 on deep-ball passes (15-plus yards).
"I thought I laid it all on the line," Rattler said. "We threw for 370 (yards) against a three-high team. That's hard to do. Obviously, there wasn't like five touchdowns, but there were four plays that got us to the 1 (yard line). My job is to get the ball down the field, with the help of the O-line. I feel like I was processing well today, checking the ball down a lot today, getting big yards to these guys that can make plays. And overall, I had a great time out there. It was a tough game and they played a good game."
South Carolina receiver Antwane Wells, who had 185 receiving yards — including a 62-yard touchdown in the third quarter — said the Gamecocks practiced this week in anticipation of no Catalon or Slusher.
"We were definitely trying to take advantage of that, for sure," Wells said.
Discussion
Have a comment on this story? Join the discussion or start a new one on the Forums.