'They wore us down': Petrino puts scare into Hogs
By: Ethan Westerman
Published: Saturday, September 17, 2022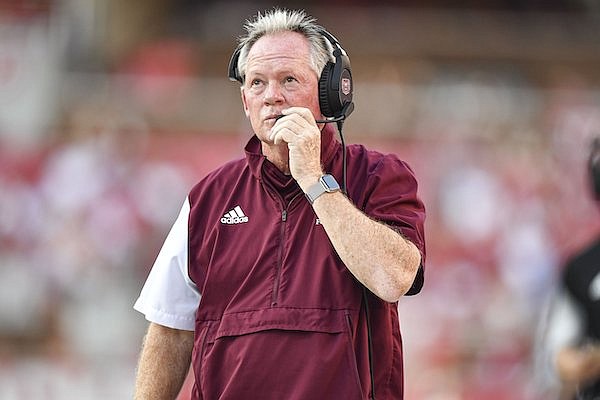 ( Hank Layton, NWA Democrat-Gazette )
Missouri State coach Bobby Petrino is shown during a game against Arkansas on Saturday, Sept. 17, 2022, in Fayetteville.
FAYETTEVILLE— Bobby Petrino's first game in Fayetteville since 2011 had the home crowd of 74,133 sweating inside Reynolds Razorback Stadium on Saturday.
Missouri State led by as many as 17 points and didn't trail 10th-ranked Arkansas until 9:16 remaining, but couldn't withstand a late rally from the Razorbacks, who won 38-27.
Petrino's team gave the Hogs a scare, leading for a combined 34 minutes, 13 seconds of game time before Arkansas scored 21 unanswered in the fourth quarter.
"We came in and competed extremely hard," Petrino said. "We had a good plan and were able to jump up and get a lead. And (we knew) it was going to be hard to hold on to it. They've got really good players and really good coaches, so we knew they were going to make a run back. I was encouraged when we answered and went back and got another touchdown, but eventually they wore us down, made a lot of plays and ended up beating us."
After Arkansas hit a game-tying 27-yard field goal in the third quarter it only took five plays for Petrino to give Razorback fans flashbacks, dialing up a gutsy play call to perfection.
On a fourth-and-1 just across midfield, Missouri State quarterback Jason Shelley faked a handoff and tossed a dime to his star receiver Ty Scott, who was wide open at the Arkansas 29. Scott streaked down the numbers for a 47-yard touchdown. The play gave Missouri State the lead back and stunned the home crowd.
It was a play the Bears had been saving and was similar to a play Petrino called "Cowboy" while he was the Razorbacks' head coach.
"We worked on it for a while," Petrino said.
Shelley said the team had been waiting on the right time to give the play a shot.
"That's what we've been working on," Shelley said. "I think we got into the right situation, so we called the play and it was money. It worked right to perfection how we drew it up,"
Six minutes later, Missouri State team tacked on a field goal to go ahead 27-17.
It wasn't a lasting advantage, though, as Arkansas avoided the upset bid. Petrino was proud of his team's effort despite the loss.
"The only thing I was thinking about is how proud I am of our players," Petrino said. "You know, they came in and did the best they possibly could do, competed as hard as they possibly could compete, put it all out there on the field…I think they all can look in the mirror and really be proud of how hard they played and how hard they competed."
Petrino said he was so focused on trying to win the game that emotions from being back at Razorback Stadium didn't faze him until he was walking off the field.
"I did very good at blocking everything out till probably after the game," Petrino said. "It just hit me a little bit."
He was able to catch up with several former players on the sideline after the game, including 2010 Mackey Award-winning tight end D.J. Williams.
"That was fun," Petrino said. "Those are guys I battled with before and won a lot of games with, and they put a lot of sweat and blood tears on the field. So it was great to see them."
Prior to Petrino's arrival to Missouri in 2020, the Bears hadn't been to the FCS playoffs in 30 years and were coming off a one-win season. Missouri State has made back-to-back playoff appearances and took Oklahoma State down to the wire last year.
"It's been really fun to watch the players' beliefs change, how much more they believe in themselves now," Petrino said, "and how much their expectations have changed."
Petrino said his main wish is to teach his team how to respond.
"We just wanted to focus on being tough, being physical," he said. "I think the No. 1 lesson that football teaches players is how to be tough, how to overcome obstacles, how to overcome setbacks, how to take a hit and not blink and come back.
"It's going to pay off for when they have to drive 12 hours with no sleep to take care of their sister who just went into the hospital."
Discussion
Have a comment on this story? Join the discussion or start a new one on the Forums.