Hog Calls:
Vintage Petrino in upset bid
Published: Tuesday, September 20, 2022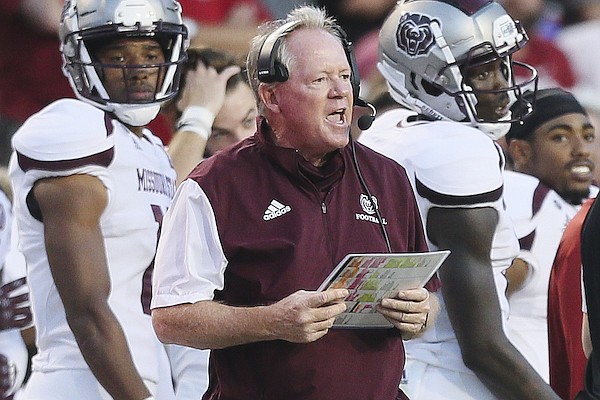 (
Charlie Kaijo
)
Missouri State coach Bobby Petrino is shown during a game against Arkansas on Saturday, Sept. 17, 2022, in Fayetteville.
FAYETTEVILLE — Last Saturday this column devoted to the pros and cons of Bobby Petrino's 2008-11 Arkansas coaching tenure.
Today's space devotes all pros. Consider Petrino's 26-point underdogs leading No. 10 Arkansas by 17 and 10 points before finally falling 38-27 at Reynolds Razorback Stadium.
"I want to congratulate Missouri State and Coach Petrino on a great game plan," Arkansas Coach Sam Pittman said for post-game openers. "He had his kids better prepared than I did. He did a wonderful job."
Missouri State's last touchdown was vintage Petrino. On fourth-and-1 with Arkansas' defense all run conscious, quarterback Jason Shelley threw a wide-open 47-yard TD pass to receiver Tyrone Scott.
Veteran Arkansas fans have applauded this before.
In Petrino's second Razorbacks game in 2008, Louisiana-Monroe perched on an upset bid when Arkansas faced fourth-and-1 at the ULM 32. Quarterback Casey Dick faked a handoff and threw a 25-yard pass to freshman tight end Chris Gragg. Dick connected with tight end D.J. Williams for a 7-yard TD with 1:22 left.
The Hogs' survived ULM missing a field goal to escape 28-27 in Little Rock.
Petrino's Bears did not run the ball well, 52 yards, but they ran it enough with 357 yards passing and a 3-0 turnover margin to control the clock 35:51.
"I'm so glad we won," Pittman said. "There were several times it looked like we weren't going to. Our kids kept fighting and clawing. To come out with an 11-point win says a lot about our culture and our kids."
A loss to Missouri State easily could have redefined these 3-0 Hogs heading into Saturday's SEC game with the Texas A&M Aggies at the Dallas Cowboys' AT&T Stadium.
John L. Smith's 2012 Razorbacks ranked eighth in the country when they lost to Louisiana-Monroe in overtime. It subsequently took 4-8 and 3-9 Razorbacks seasons before remotely recovering.
But surviving games like Saturday can prove a program's impetus. Back in 1979, then-Southwest Conference patsy TCU — winless since 1958 in its annual Arkansas game — had the Hogs dead to rights in Fort Worth until Arkansas linebacker Mike Massey's game-tying, pick-six interception.
Ish Ordonez's field goal, set up by a Kevin Scanlon to Darryl Mason pass, enabled Arkansas escaping 16-13.
Lou Holtz's '79 Hogs finished 10-2 SWC co-champions.
Arkansas has much to learn from the Missouri State video, but expect raised Aggies eyebrows reviewing Arkansas punt returner Bryce Stephens.
Stephens, off Sam Mbake's key block, broke an 82-yard touchdown punt return. It provided Arkansas' first lead, 31-27 with 9:16 left in the game.
Forgotten, though it won't be by the Aggies' staff, is Stephens broke 34- and 10-yard runs his first two returns vs. the Bears, but they were negated by penalties.
Expect some nervously shanked punts if Stephens enjoys many happy returns.
Discussion
Have a comment on this story? Join the discussion or start a new one on the Forums.