Langerman transferring from Arkansas basketball team
By:
Ethan Westerman

Published: Monday, April 17, 2023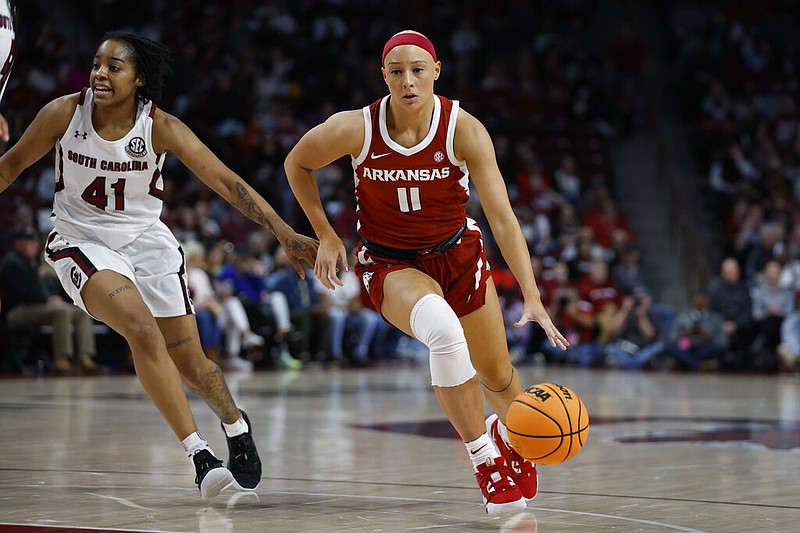 (AP / Nell Redmond )
Arkansas guard Rylee Langerman (11) drives past South Carolina guard Kierra Fletcher during the second half of an NCAA college basketball game in Columbia, S.C., Sunday, Jan. 22, 2023. (AP Photo/Nell Redmond)
FAYETTEVILLE — Arkansas women's basketball junior guard Rylee Langerman has entered the NCAA transfer portal.
Her transfer was first reported by Gabriella Lewis of The Next, and later confirmed by a team spokesperson.
The Norman, Okla., native was a key piece to the Razorbacks' last two teams. She played in 37 games in 2022-23 and averaged 2.3 points and 3.5 rebounds.
As a sophomore she scored a career-high 17 points in a home victory over Missouri on Jan. 9, 2022. Langerman had a career-best 10 rebounds during Arkansas' WNIT win over Stephen F. Austin on March 20.
She made her impact felt beyond the court as a two-time SEC Community Service Team honoree.
She is the second Arkansas player to transfer since the season ended. Forward Erynn Barnum entered the portal March 31.
Discussion
Have a comment on this story? Join the discussion or start a new one on the Forums.