Happier and healthier: Goforth returns after year away from basketball
By:
Ethan Westerman

Published: Saturday, April 29, 2023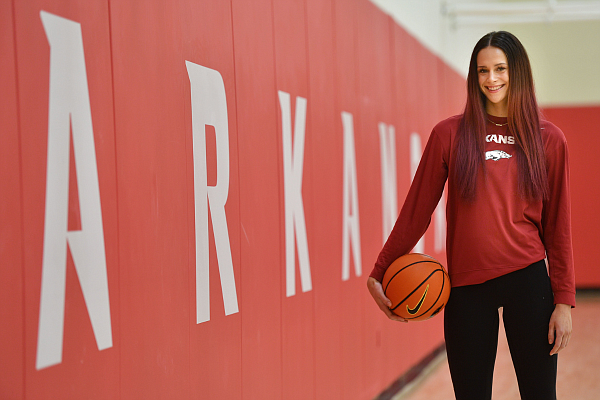 (
Andy Shupe
)
Former Fayetteville and current Arkansas guard Sasha Goforth plans to return to playing for the Razorbacks after missing time because of health reasons.
FAYETTEVILLE – Sasha Goforth had reached a breaking point midway through March 2022.
A star player on the University of Arkansas' women's basketball team, from the outside it seemed Goforth had everything together.
After transferring back home following her freshman year at Oregon State, the 6-1 prized recruit from Fayetteville was statistically assembling one of the better defensive seasons in program history.
The Razorbacks were soon to play in the NCAA Tournament, and Goforth was a big piece of the equation. She was often assigned to guard the other team's best player, and it was an assignment in which she took a lot of pride.
Goforth's unique physical gifts of length and athleticism took the SEC by notice. Her 66 blocked shots in 2021-22 were the most among the league's guards.
To outsiders, it may have looked as if the hometown star was living her best life.
In reality, Goforth was literally deteriorating on the inside.
"People really do only see the tip of the iceberg of what is going on," Goforth said. "They have no idea what is going on behind the scenes, and that's why I try in life to just be kind and loving to everybody. Because you have no idea what somebody else's situation is."
Her play on the court masked the illness few knew about. Goforth has battled gastroparesis since her junior year of high school.
The condition delays her stomach's ability to empty on time and often results in nausea, vomiting and severe abdominal pain. The side effects intensify with stress and anxiety.
In Goforth's case, playing college basketball exacerbated the issue. She was pushing her body to the limit to keep up with the rigors of SEC competition, and the game was causing her mental health to suffer.
"I remember feeling like, 'I don't know where to go from here,'" she said. "Like, I don't know what to do. I can't put myself through this anymore."
HIDING THE PAIN
A select few knew about the severity of her condition. Not wanting to let people down, Goforth kept it largely hidden. She did a good job of it for a long time.
The then-sophomore was playing at an elite level all while vomiting almost around the clock. It led to sleep deprivation and her body not absorbing nutrients correctly.
One person who began picking up clues about the extremity was teammate and travel roommate Makayla Daniels. She would hear Goforth waking up in the middle of the night during the team's road trips to vomit.
"You just don't know the severity of stuff," Daniels said. "In my head, I was like, 'She's just sick, or you know, people get anxious before a game so she's nervous. Like, that's normal stuff.'
"But in reality, it's not normal. Everyone gets nervous, but not like what I was seeing happen to Sasha."
Goforth somehow continued to rise to the occasion when the arena lights came on. The only Razorbacks who have ever assembled more blocked shots in a season are a pair of decorated post players, Delmonica DeHorney and Lauren Ervin.
Goforth's former high school coach Vic Rimmer was among the few who knew about the condition for his standout former player.
"Watching her play at an SEC level and knowing what she was going through was unbelievable," Rimmer said. "They always gave her the toughest defensive assignment and she stood up and did what was asked of her. And she did an unbelievable job at the same time."
But by the time the 2022 NCAA Tournament rolled around, her physical and mental health had reached urgent status. Goforth decided it was time to pick up her phone and shoot her father, Calvin, a video call.
"He's my biggest go-to," Goforth said. "He's my biggest supporter and he's always there for me. With any decision I've made, he's never made me feel dumb about it or like it's not real. He has just been in complete support if I need anything."
Opening up to her father was the first of a series of hard conversations about her deteriorating health and her basketball career.
After hearing fully supportive words and advice to put her health first, it wasn't long before she let Arkansas coach Mike Neighbors know the extent of what she was going through.
"You don't have to be trained in any high level of science to know that she was serious," Neighbors said. "My quick trigger went from, 'How can I help you?' to, 'I'm just going to listen. I'm not an expert in this. Let me just listen and be very, very patient. What can I do to get out of your way and how can I help you?'
"We all tried to be nothing but supportive from the very first second all the way through."
STEPPING AWAY
Two weeks removed from the NCAA Tournament, Goforth knew she needed a break from basketball. The first stage of the healing process meant walking away from the court, leaving a sport that she had poured most of her life into.
"That was kind of the only option at that point," she said. "I realized that I was really going to have to make a change."
On April 2, 2022, Goforth announced she was stepping away from the sport. She could no longer ignore her health, but instead needed to address it head-on.
"It was a relief for me to hear her finally say she needed to take some time off," Rimmer said. "I could see in her eyes that her spirit was broken. Her mind was waning because physically she was struggling so much. And I was relieved for her."
The ensuing months looked different for Goforth than the previous 15 years of her life. Her life no longer revolved around practices and games.
"For six months, I did not touch a ball," she said. "The biggest thing for me was just to focus on me — to try and find who I am outside of basketball, which was very hard because my whole life it had just been about basketball."
She picked up a part-time job at a local spa, went to therapy, practiced meditation, focused on her nutrition and lifted weights.
Unsure if basketball would ever become part of her life equation again, Goforth was determined to make decisions geared toward a healthy lifestyle.
"I really did carry the weight of the world on my shoulders," she said, "or that's what it felt like to me, at least. This past year's really been just focusing on feeling right in general — being confident, being less anxious, less depressed. I really feel so thankful for this past year."
Though sometimes it was just once a week, Goforth still would attend the Razorbacks' practices. She sat on the bench at all home games. But things were different.
Basketball, for the first time ever, made her feel out of place.
"She felt like she quit on us," Daniels said. "And we were like, 'No one feels like you quit on us. Like, we're glad you're taking that time.'
"I just felt like it was important for her to still feel like she was a part of the team in case she did want to come back, so she didn't feel like an outsider coming back in."
ITCHING TO RETURN
While Goforth continued to dedicate her time to improved health, the hunger for basketball slowly but surely began to grow.
Through a technology he uses to track film study, Arkansas video coordinator Jeff Brazil noticed the sidelined Goforth was among the team's top-three film-watchers.
As the 2022-23 season began to dwindle down, she asked assistant coach Todd Schaefer to begin putting her through some individual workouts. Then following the season Goforth approached Neighbors and gave him news he was not sure he'd ever receive.
"She came and said, 'I'm going to start amping up. I want to be there when we start with the new team,'" Neighbors said. "The incomers won't be here until we start getting ready for the foreign trip [to Croatia and Greece in August]. But she said, 'I want to be ready by then.'"
Neighbors and the team kept things quiet as she spent three weeks working back into practices.
On the afternoon of April 22, Goforth announced on social media she was ready to return to the court.
While she will likely always have to deal with gastroparesis, Goforth believes the measures she's taken to improve her health — and in specific, her mental health — have prepared her for the grind of playing college basketball again.
"I feel like I have just a much different mindset now and perspective on things because of that year off," Goforth said. "Truly, this is the best I have felt in six years."
Rimmer said he already sees the evidence.
"To see her now have a smile on her face, to have those bright eyes, to have a little swagger about her, some confidence in herself — just the beautiful person that she is, you can see that is coming back to life in her now," Rimmer said.
"She knows now who she is as Sasha."
Goforth hopes her story can help others who may have a similar experience.
"I want to show kids or anybody who's dealing with a chronic illness or mental health issues, or both of them, that it's OK to take a step back," she said. "It is OK to just take a step back and do what's best for you sometimes."
Discussion
Have a comment on this story? Join the discussion or start a new one on the Forums.