SEC Football:
Florida falls, Mizzou wins on first night
By: The Associated Press
Published: Thursday, August 31, 2023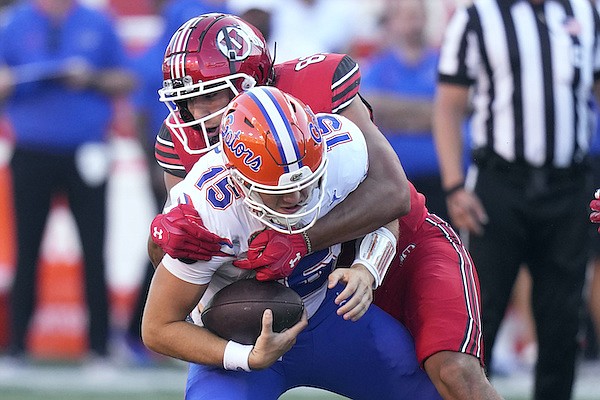 Utah defensive end Jonah Elliss (83) sacks Florida quarterback Graham Mertz (15) during the first half of an NCAA college football game Thursday, Aug. 31, 2023, in Salt Lake City. (AP Photo/Rick Bowmer)
SALT LAKE CITY — Bryson Barnes threw a 70-yard touchdown pass to Money Parks on Utah's first play of the game, rushed for another score and the No. 14 Utes beat Florida 24-11 on Thursday night in the opener for both teams.
Nate Johnson split time at quarterback with Barnes for the Utes with usual starter Cam Rising still recovering from a knee injury in the Rose Bowl. Utah clamped down on defense in Rising's absence, forcing a turnover and getting five sacks.
Graham Mertz threw for 333 yards, a touchdown, and an interception in his first start for the Gators. Ricky Pearsall had 92 yards on eight catches. Florida drove inside the red zone four times but totaled only 10 points on those drives.
Making his second career start, Barnes wasted no time making an impact with the scoring strike to Parks. Barnes completed his first four passes and had 150 yards passing by halftime. He finished with 159 yards.
Johnson also put Florida's defense on its heels when he checked in during the second quarter. He faked a handoff to Micah Bernard and raced 27 yards to extend Utah's lead to 14-3 midway through the second quarter.
Special teams mistakes set up both second-quarter scoring drives for the Utes. The Gators committed a fourth-down equipment infraction penalty to negate a punt and keep the Utes' second touchdown drive alive. Then, a 21-yard Florida punt to set up a 51-yard field goal from Cole Becker.
Sione Vaki tipped an interception to himself inside the Florida 15 to set up Utah's third touchdown. Barnes capped the 3-play drive with a 5-yard run to put the Utes up 24-3 early in the third quarter.
Mizzou downs FCS foe
COLUMBIA, Mo. — Brady Cook threw for 172 yards and a touchdown while running for another score in only one half Thursday night, leading Missouri to a pedestrian 35-10 victory over South Dakota in the season opener for both teams.
Cody Schrader ran for 148 yards and a touchdown, and Nathaniel Peat also scored for the Tigers, who are trying to take a step forward after three consecutive bowl bids but failing to finish over .500 in coach Eli Drinkwitz's first three seasons.
The Coyotes' Aidan Bouman had 156 yards passing with a fourth-quarter touchdown toss to Mike Mansaray.
The Tigers were inconsistent for new offensive coordinator Kirby Moore, who also called plays after Drinkwitz gave up the job midway through last season. They punted on fourth-and-short on their initial drive, then proceeded to score on four of their next five, capping an efficient 2-minute drill with Cook's touchdown run for a 28-3 halftime advantage.
Missouri's offense fizzled in the second half, though, when backup quarterback Sam Horn got his shot. The redshirt freshman and standout baseball player threw for 54 yards with a touchdown pass and an interception.
Cook was efficient in his own right, though. The incumbent starter, who held onto the job after a challenge from Horn during fall camp, completed his first 11 passes with a TD throw to Mekhi Miller that staked Missouri to an early lead.
The Tigers' ground game got going after that. Peat pounded into the end zone from 1 yard out to make it 14-0, and Schrader added a short TD plunge of his own — his sixth consecutive carry on the drive — to make it 21-3.
It didn't help the Coyotes that they played most of the game without safety Dennis Shorter, one of their leading tacklers a year ago. He was ejected for targeting on a helmet-to-helmet blow to Luther Burden III after a catch over the middle.
South Dakota's new-look offense of coordinator Josh Davis showed signs of life in the second half.
The Coyotes had gone three-and-out on their first three possessions, had five yards total offense in the first quarter and mustered one sustained first-half drive that ended in a field goal. But they put together a 17-play drive to begin the second half — it ended with a failed fourth down — and then took advantage of an interception to score a touchdown with 12:14 to go.
Discussion
Have a comment on this story? Join the discussion or start a new one on the Forums.