Neighbors: Razorbacks 'found a way' to win at Auburn
Published: Sunday, February 5, 2023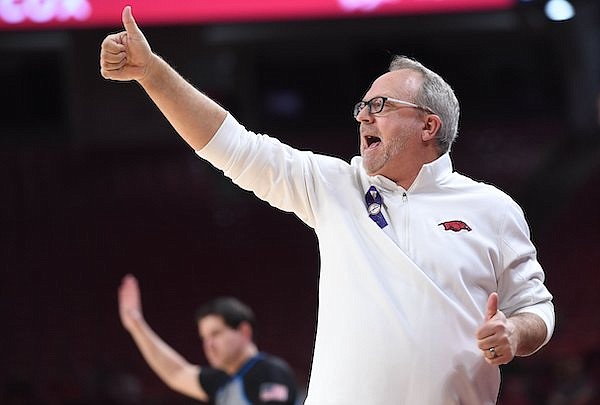 (
Andy Shupe
)
Arkansas coach Mike Neighbors directs his players Thursday, Jan. 26, 2023, during the second half of the Razorbacks' 69-66 loss to Alabama in Bud Walton Arena in Fayetteville.
After a 15-point lead slipped away, the Arkansas women's basketball team escaped Auburn with a 54-51 win Sunday to snap a four-game losing streak.
Ahead 52-51 with seven seconds left, Arkansas' Saylor Poffenbarger was called for an intentional foul that gave Auburn two free throws and the ball. Jakayla Johnson missed both shots then the Razorbacks forced a five-second violation on the ensuing inbound.
Makayla Daniels hit a pair of free throws with four seconds left, then Auburn's Aicha Coulibaly missed a deep shot as time expired, preserving a three-point victory for Arkansas at Neville Arena.
"Finally," Arkansas coach Mike Neighbors said of escaping with a win. "(It was) the exact opposite of the other night. Unless you play a team sport, you don't understand the lows and the highs.
"As low as we were the other night, we're equally as high."
It was the Razorbacks' first win in three weeks, and they ended a three-game win streak for the Tigers. Arkansas (18-7, 5-5 SEC) lost 3 one-possession games during the losing skid.
More from WholeHogSports: Diamond Hogs have best offensive day of preseason on Sunday
"Last time we were all together, I was as devastated as a coach as you've ever seen for his team and players," said Neighbors, recalling Arkansas' overtime loss to Ole Miss last Sunday. "And I'm on the other side of that. I'm so ecstatic, so happy, so thankful, grateful to coach them all.
"They found a way to win one that looked like it could have gone the other direction, like so many of these have."
Auburn (13-9, 3-7 SEC) trailed all game, but looked primed to change those fortunes when Poffenbarger was called for a foul after grabbing Coulibaly's jersey. After video review, officials decided the foul warranted an intentional upgrade.
This allowed Auburn coach Johnnie Harris to select Johnson, who entered as an 85% free-throw shooter, to attempt the foul shots. She missed both, giving the Razorbacks an unlikely break.
"It just changes the way the food tastes," Neighbors said of the feeling after winning a nail-biting game. "The plane won't be late, the pizza will be hot, the Cokes will be cold, the water will be cold, my boys will take a nap on the plane, it won't be bumpy. That's just the way sports is, and I'm so thankful we got a break."
Neither team was able to get in an established flow during the game, which was halted 54 times for foul calls. Each team had 6 players with at least 3 fouls, with Poffenbarger and Auburn's Honesty Scott-Grayson, who led the Tigers with 11 points, both fouling out.
The teams attempted a combined 66 free throws.
Despite shooting 59% from the foul line, Arkansas made 9 more than Auburn, finishing 23 of 39. However, 11 second-half misses from the stripe allowed room for the Tigers to crawl back into the game after trailing by 15 points with 7:55 left in the third quarter.
More from WholeHogSports: Our coverage of Arkansas' 65-63 win at South Carolina on Saturday
"This game could have been over a long time ago if you don't miss 16 free throws," Neighbors said. "(We have) got to do better than that — got to do better than 59% on the road."
Poffenbarger was given the defensive assignment on Coulibaly, who entered fourth in the SEC in scoring at 17.5 points per game. She was limited to a season-low one point and had five turnovers.
"Saylor just has really stifled other opponents defensively all year," Neighbors said. "And she did it again. To hold that kid to one point on 0-for-8 (shooting), it was obviously a great individual effort by Saylor. But there was a lot of team help with (Samara Spencer and Makayla Daniels) in those gaps. Chrissy (Carr) was really active today in the gaps.
"It was a team thing, but it does start with Saylor."
Arkansas was led by Erynn Barnum, who scored 14 points and hauled in nine rebounds. Poffenbarger had a double-double with 10 points and 10 rebounds, and Daniels chipped in 11 points.
The Razorbacks exceeded their regular-season win total (17) from 2021-22.
Arkansas returns to play Thursday for a road game against Vanderbilt.
Discussion
Have a comment on this story? Join the discussion or start a new one on the Forums.