Razorbacks, Commodores meet again 3 weeks after heave
Published: Thursday, February 9, 2023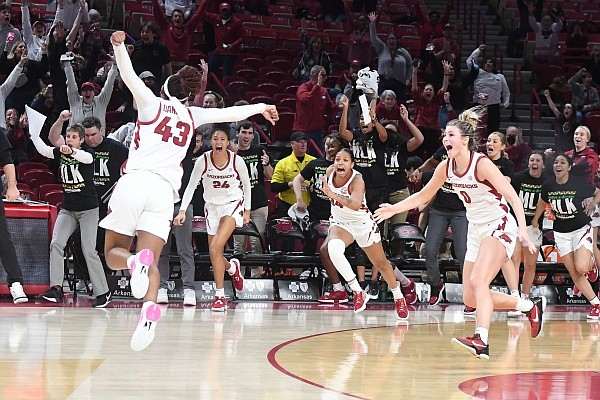 (
J.T. Wampler
)
Arkansas senior Makayla Daniels (43) celebrates with her teammates after sinking a three-pointer at the buzzer to beat Vanderbilt on Monday, Jan. 16, 2023, at Bud Walton Arena in Fayetteville.
FAYETTEVILLE — Mike Neighbors doesn't have to tell his Razorbacks that any team in the SEC can be overlooked.
Although Vanderbilt has won just one conference game this season, it pushed the University of Arkansas women's basketball team to the brink when the squads met Jan. 16 inside Walton Arena. It took a deep, tie-breaking heave from Makayla Daniels as the final buzzer sounded for the Razorbacks to walk away with an 84-81 victory.
"I think that would've been the message had we not already played them and had to hit a half-court shot to beat them," Neighbors said. "The bottom of our league is so much better than the bottom of other leagues. When you play the schedule that you have to … physically and mentally, I don't care who you play next. I don't care what their record is, it's a hard game. And they're all great coaches."
Arkansas (18-7, 5-5 SEC) tangles with Vanderbilt (10-14, 1-9) again today at 8 p.m. Central inside Memorial Gymnasium in Nashville, Tenn.
When the teams previously played, the Commodores strayed from their usual zone defense and held the Razorbacks to 27 first-half points. Neighbors' team adjusted and scored 57 points in the second half but could have won in convincing fashion had it not been for Vanderbilt's strong start.
"[Vanderbilt is] always a unique prep, not just because of the uniqueness of their gym," Neighbors said. "But just because since Coach [Shea] Ralph has been there, they're very, very unpredictable … Last game, we expected to see all zone. We didn't see one possession of zone … I do believe one thing that is true is they try to surprise you with some things. So, we'll do our best to eliminate as many surprises as possible."
One of the biggest surprises from the earlier meeting was Vanderbilt's shooting from deep. The Commodores knocked down 13 of 24 three-pointers, well above their 6.4 makes average. Senior guard Marnelle Garraud shot 7 of 10 from beyond the arc, including the tying shot with four seconds left.
It was a tough loss for Vanderbilt, which looked primed to knock off an upper-tier conference team, as it played one of its better games this season.
Since then, the Razorbacks have also experienced their fair share of hard losses. Arkansas went through a four-game losing streak prior to defeating Auburn on Sunday. The streak was marred by three different one-possession losses.
"I think those coaches going through it, we've all been there, we've all lost tough ones," Neighbors said. "It makes you stronger if you can handle it. If you don't, it'll grind you down. It'll polish you up if you can handle it, and you'll get some breaks to go your way. It all equals … I think it's just like everything else we tell these kids. The game is certainly a reflection of how you're going to live the rest of your life, how you choose to let it affect you."
Neighbors and his team began facing criticism during the losing streak, but the 10th year collegiate coach said he hopes facing "adverse conditions" helps his group navigate through situations beyond basketball.
"I've got kids who are starting their lives," Neighbors said. "They're starting to have babies, they're starting to have big jobs. And to get a text from them or a voicemail saying, 'Hey coach, I had a big moment at work today that reminded me of something you said before we played in the Final Four.' Yeah, that's why we do all this. So that makes up for all the trolls out there on social media."
Discussion
Have a comment on this story? Join the discussion or start a new one on the Forums.