Fourth quarter dooms Arkansas in loss at UGA
Published: Sunday, February 19, 2023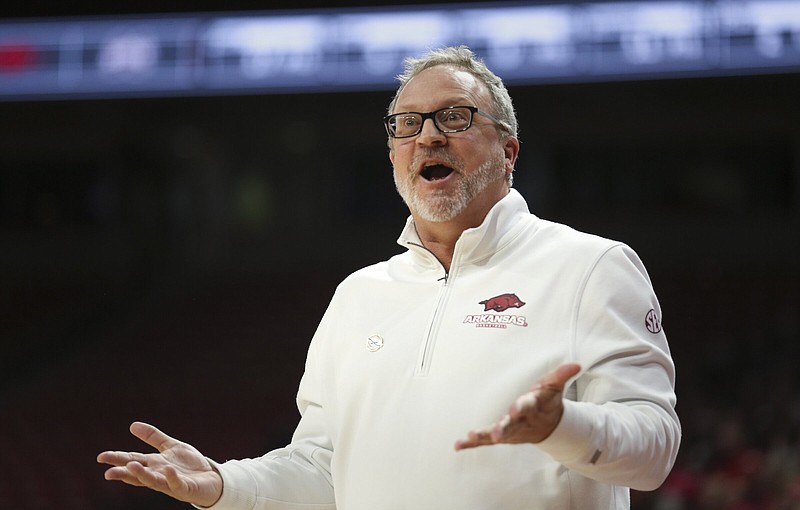 ( Charlie Kaijo )
Arkansas head coach Mike Neighbors reacts, Sunday, January 23, 2022 during the second half of a basketball game at Walton Arena in Fayetteville. Check out nwaonline.com/220124Daily/ for today's photo gallery. .(NWA Democrat-Gazette/Charlie Kaijo)
A fourth-quarter meltdown doomed the Arkansas women's basketball team Sunday in Athens, Ga.
Arkansas (19-10, 6-8 SEC) kept pace with Georgia for three quarters but was outscored 23-8 in the final 10 minutes in a 71-48 runaway victory for the Lady Bulldogs.
Midway through the period, Georgia (19-9, 8-6 SEC) used a 14-0 run in under two minutes to balloon a nine-point lead into a 23-point advantage, accelerated by a pair of technical fouls on Arkansas' bench. The Razorbacks scored two points in the final six minutes.
"It's frustrating for us as coaches and it's frustrating for the kids," Arkansas coach Mike Neighbors said. "We can't point to one little thing. It wasn't just that little three-minute (stretch). It wasn't one of the technicals. It wasn't one call.
"It was a culmination of things that led to a boiling-over point and it got away from us. But that's a lesson for us to learn."
A theme throughout the game was Arkansas' struggles from deep. The Razorbacks shot 5 of 33 beyond the arc, with senior guard Chrissy Carr making all five triples. The rest of the team was 0 of 20 from distance.
Neighbors said most of the Razorbacks' attempts were good looks, but the shots weren't falling.
"I thought 25 [were] good ones by shooters that we obviously want shooting," Neighbors said. "You know, Saylor (Poffenbarger), Sam(ara Spencer) and Mak(ayla Daniels) are kids that have made them historically and make them every day in practice at a higher rate than anybody we have.
"It just didn't translate. In warmups, we were on fire."
Arkansas kept things close most of the game and drew within 42-38 with 2:50 left in the third quarter when Erynn Barnum made a layup. Carr (21 points) and Barnum (16 points) accounted for 77% of the Razorbacks' scoring. The rest of the team went 4 of 28 from the floor.
Carr scored 10 straight points for Arkansas in the second quarter to keep the Razorbacks within 31-27 at half.
"She's been in a lot of big games," Neighbors said of Carr, who is a graduate transfer. "She'll be the first one to tell you that her offense was pretty good, but her defense wasn't. That's the maturity Chrissy has. But she played good offensively, handled the pressure, handled the contests and our kids started looking for her."
Javyn Nicholson, who entered the game averaging 8.7 points, was a force for the Bulldogs. She scored a game-high 22 points on 10-of-15 shooting, and Diamond Battles and Audrey Warren chipped in 13 and 14 points, respectively, for Georgia.
Coach Katie Abrahamson-Henderson's team frustrated the Razorbacks to the tune of 17 turnovers and 30.4% shooting.
"Georgia, I think they're a really, really good basketball team," Neighbors said. "I've been telling people since we saw them play down in the Virgin Islands (that) I think they're obviously a lock NCAA tournament team now. They're going to give a lot of people fits because you have to prepare like you've not prepared all year.
"There's not a lot of people that play defense like they do."
In the loss, Barnum became the 32nd Razorback to score 1,000 career points with a fourth-quarter basket.
Sunday's loss was damaging for Arkansas' NCAA Tournament hopes and makes Thursday's game at Mississippi State a must-win contest unless the Razorbacks make a deep run at the SEC Tournament next week.
Discussion
Have a comment on this story? Join the discussion or start a new one on the Forums.