Neighbors' team hasn't lost faith
Published: Thursday, February 23, 2023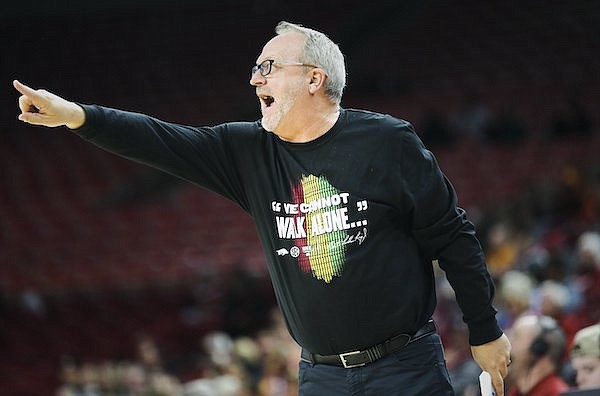 (
Charlie Kaijo
)
Arkansas coach Mike Neighbors is shown during a game against Tennessee on Thursday, Feb. 16, 2023, in Fayetteville.
For a second consecutive game, the University of Arkansas women's basketball team will be fighting for its bubble life when it travels to Starkville, Miss., tonight with major NCAA Tournament implications on the line.
Arkansas (19-10, 6-8 SEC) lost by 23 points Sunday at Georgia, a defeat which sent the Razorbacks into ESPN.com's "first four out" group in its latest bracket projection. Coach Mike Neighbors' team visits Mississippi State (19-8, 8-6), a team listed among the "last four in," for an 8 p.m. Central tipoff at Humphrey Coliseum.
Neighbors said he knows the magnitude of the game and said a top priority is showing his Razorbacks, who have dropped seven of their past nine games, that the staff has faith in them.
"We all know that the first game of the SEC is just as important as the last," Neighbors said. "But we also know that it magnifies at the end. Those pressures start to creep in … [We're] just trying to be really encouraging, make sure they hear it from us [and ] make sure they don't see one sight of us giving up, of us throwing in the towel [or] us quitting. … That's what we're going to make sure those kids know. We believe in them."
It's not only the sixth-year Razorbacks coach who knows the importance of tonight's game, but also first-year Mississippi State Coach Sam Purcell.
"They keep me up at night, honestly," Purcell said of the Razorbacks. "Mike Neighbors is a good friend of mine. … He's a great man with a brilliant mind, so he's going to have an unbelievable game plan. He's got a flow about them where he pours into his young women to play with pace, play fast, and then most importantly, just be free to shoot the ball at any time. So they're going to make us really get after it on the defensive end."
The two coaches' history goes back nearly two decades ago. Purcell began as an assistant coach at Tulsa in 2005 shortly after Neighbors left the Golden Hurricane staff for the same role at Colorado.
"To share a little backstory, when I got in this business 20 years ago, Mike Neighbors was an assistant at Tulsa," Purcell said. "I got my office, went in there, and it was Mike Neighbors' office. So we go way back. What he's done for the game [is] he's all about growing the game."
Tonight's game also has large SEC Tournament implications. With two regular-season games left, the Razorbacks can drop no lower than a No. 9 seed, but could ascend to the No. 7 seed should they defeat Mississippi State and Texas A&M on Sunday and the Bulldogs lose to fifth-ranked LSU on Sunday.
Whichever team is slotted in the 8/9-seed matchup next week in Greenville, S.C. would have a date with top-ranked and undefeated South Carolina looming in the next round. For two teams living on the bubble, a strong conference tournament run could solidify an NCAA tournament berth.
Neighbors said a goal down the final stretch is to ensure his players are feeling their best.
"I've never been a part of a team that played good if they didn't feel good," he said. "It's just that simple. In our sport, you have to kind of feel good to play good, and for a period of time now, it's been hard to feel good. We're doing everything we can do to feel the best that we can and make sure that the kids do know that we believe in them."
Discussion
Have a comment on this story? Join the discussion or start a new one on the Forums.