SEC Basketball:
Alabama faces questions after more details on fatal shooting
By: John Zenor, The Associated Press
Published: Friday, February 24, 2023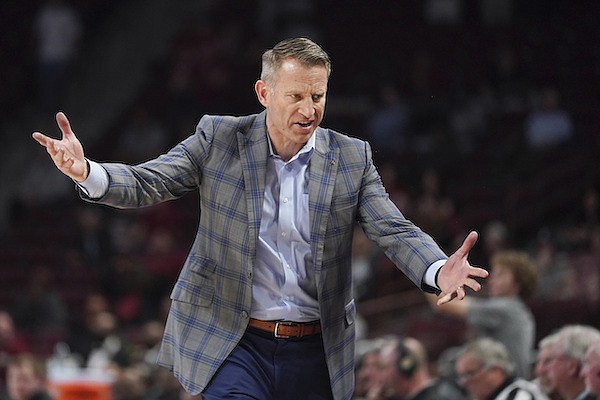 Alabama coach Nate Oats reacts to play during overtime in the team's NCAA college basketball game against South Carolina on Wednesday, Feb. 22, 2022, in Columbia, S.C. Alabama won 78-76. (AP Photo/Sean Rayford)
No. 2 Alabama is one of the top teams in the country and a favorite to win the national championship.
It is also facing intense scrutiny over three players' alleged involvement in the deadly shooting of Jamea Harris near campus early on Jan. 15. One-time reserve forward Darius Miles and another man are charged with capital murder.
And while Crimson Tide star Brandon Miller's name has surfaced in official testimony as a potential witness and as a person who allegedly brought a gun to Miles, he has not been charged — and there's no indication he will be. Police have said another player, guard Jaden Bradley, also was at the scene.
Despite this week's new testimony and details in court, Alabama has so far kept up its winning ways. Here is what to know about the case as March Madness approaches.
WHAT HAPPENED?
Miles, who was swiftly dismissed from the team, and Michael Davis face capital murder charges for the shooting death of 23-year-old Harris. Tuscaloosa Police investigator Brandon Culpepper testified Tuesday that Miles texted Miller to bring him his gun and that Miles did so. Bradley was also at the scene, police said, and Miller's and Bradley's cars blocked the one Harris was in.
An attorney for Miller said his client never handled or saw the gun and wasn't involved in getting it into the hands of Davis, who is accused of pulling the trigger. Miller's attorney also said Miller's car didn't block the one Harris was in. It wasn't immediately clear whether Bradley had an attorney.
WHO WAS JAMEA HARRIS?
Harris was from the Birmingham area and a mother of a 5-year-old son. Harris' mother, DeCarla Heard, told WBRC in Tuscaloosa this week that Jamea Harris was "high-spirited, always the life of the party."
"She was just always excited to be around family and friends and just have a good time," Heard said. "She was a great person. She was a great mother to her son."
Harris was killed early on a Sunday morning on the Strip, a popular student hangout near campus that features bars and restaurants. According to Miller's attorney, as reported by AL.com, Miles, Davis and Harris were all at a nightclub, and Miles and someone with Harris "apparently exchanged words."
Harris' stepfather, Kelvin Heard, told AL.com that "this season is stained in Jamea's blood ... Coach Oats crossed the line (Tuesday). He said they prayed at practice. They weren't praying for Jamea. They were praying for their own players."
WHERE DID THE GUN COME FROM?
The gun belonged to Miles and had been left in the back seat of Miller's car, according to Miller's attorney. Police say Miles did not fire the shots.
HOW HAS ALABAMA REACTED?
Alabama kicked Miles off the team and removed him from school shortly after the shootings. A day after Miles was charged, coach Nate Oats said the team was going through "kind of a grieving process."
The university and Oats said Miller is a cooperating witness and isn't considered a suspect. The school said the decision to keep playing him is "based on all the facts that we have gathered."
Oats walked back a comment from Tuesday, when he said Miller was in "the wrong place at the wrong time," and apologized again in Wednesday's postgame remarks for his choice of words.
"I'm not here to make excuses, but I want to make it clear that I didn't have the details from the hearing that morning since I was coming straight from practice," Oats said. "I used a poor choice of words making it appear like I wasn't taking this tragedy seriously, which we have throughout the course of it. I sincerely apologize for that."
WILL MILLER FACE CHARGES?
Tuscaloosa's chief deputy district attorney, Paula Whitley, told AL.com regarding possible charges for Miller: "There's nothing we could charge him with."
Birmingham defense attorney Richard Jaffe told The Associated Press that prosecutors would have to prove that Miller knew a crime would occur, and Jaffe hasn't seen anything to indicate that he had knowledge or intent.
"Without the element of knowledge and intent provable, there's not really any way legally that he can be held accountable," said Jaffe, a former Tuscaloosa prosecutor who is not involved in the case. "People cannot be held accountable for someone else's actions unless they know what they are and intend that criminal activity occur, specifically in this case that a weapon will be used."
WHAT'S NEXT
The case against Miles and Davis will go to a grand jury for a potential indictment, and their request for bond was denied.
On the court, Alabama is leading the Southeastern Conference and is a likely No. 1 seed in the NCAA Tournament, barring late-season struggles. The SEC Tournament runs March 8-12.
Miller hasn't missed a beat — or a start — for the Tide, even delivering his best game of the season on Wednesday at South Carolina with a career-high 41 points and the game-winning shot in overtime.
No players have been made available to the media since Tuesday's testimony that mentioned Miller and Bradley.
Discussion
Have a comment on this story? Join the discussion or start a new one on the Forums.