Mississippi State puts another dent in Arkansas' resume
Published: Friday, February 24, 2023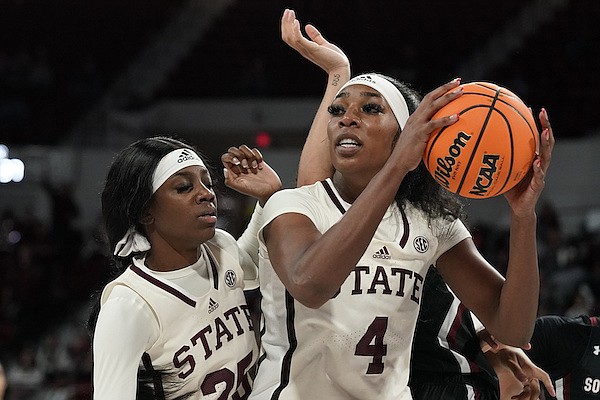 Mississippi State forward Jessika Carter (4) holds onto the ball as her teammate forward Denae Carter (25) bumps into her during the second half of an NCAA college basketball game against South Carolina in Starkville, Miss., Sunday, Jan. 8, 2023. South Carolina won 58-51. (AP Photo/Rogelio V. Solis)
The University of Arkansas women's basketball team could not overcome a slow start and fell 87-73 to Mississippi State on Thursday night in Starkville, Miss.
It was a critical loss for Arkansas (19-11, 6-9 SEC), as both the Bulldogs and Razorbacks entered the contest fighting to make the NCAA Tournament. The defeat made Arkansas' postseason hopes likely contingent on a run in the SEC Tournament next week.
Mississippi State set the tone in the opening three minutes, racing out to a 12-1 lead, making five of its first six shots. Arkansas cut the deficit in half, but a 13-3 run put Mississippi State up 25-9 at first quarter's end.
Arkansas showed signs of life in the second quarter, narrowing the score to 42-28 when Samara Spencer knocked down her third three-pointer of the first half. The sophomore guard did everything she could to keep the Razorbacks alive, scoring 16 of her game-high 25 points.
Mississippi State once again answered the bell, closing out Arkansas with a 7-2 spurt to enter intermission up 49-30.
The Bulldogs began the second half much like they did the first, blitzing the Razorbacks with nine unanswered points to balloon their advantage to 28 points. The 58-30 lead with 8:08 left in the third quarter was their largest of the game.
From there, Arkansas began finding its offensive rhythm, but it was too little, too late. Makayla Daniels capped a 19-point third quarter for the Razorbacks with a deep, banking three-pointer to trim the deficit to 68-49.
The momentum carried into the final 10 minutes, as the Razorbacks showed they wouldn't go down without a fight. Arkansas went on an 8-2 run to in the first two minutes of the fourth quarter. A three-pointer from Saylor Poffenbarger narrowed the Bulldogs' lead to 70-57, forcing a timeout from Mississippi State Coach Sam Purcell with 7:50 left to play.
The Bulldogs responded with a three-pointer of their own out of the break, extending the lead to 16. Arkansas fought tooth-and-nail with Mississippi State for the game's remainder, but the slow start doomed the Razorbacks en route to a 14-point loss.
Mississippi State was led by Jerkaila Jordan's 19 points, along with a double-double from Jessika Carter, who had 16 points and 13 rebounds.
The Bulldogs went 10 of 23 on three-pointers and shot at a 64% clip beyond the arc in the first half.
Arkansas has lost eight of its last 10 games heading into senior day against Texas A&M on Sunday inside Walton Arena.
Discussion
Have a comment on this story? Join the discussion or start a new one on the Forums.