SEC Baseball:
Tennessee suspends Vitello over NCAA violation
By: The Associated Press
Published: Friday, February 24, 2023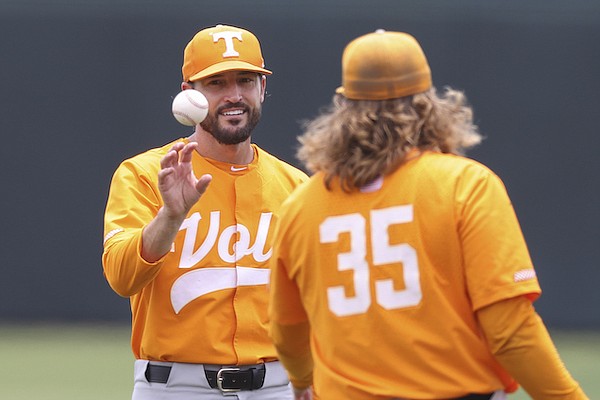 Tennessee head coach Tony Vitello, left, talks with pitcher Kirby Connell before an NCAA college baseball super regional game against Notre Dame, June 11, 2022, in Knoxville, Tenn. (AP Photo/Randy Sartin)
KNOXVILLE, Tenn. — Tennessee suspended baseball coach Tony Vitello on Friday for the Volunteers' weekend series with Dayton while university officials, Vitello and the NCAA handle a violation in the program.
Officials announced the suspension right before the Volunteers (3-2), ranked as high as No. 3 in one major poll, opened a three-game set with Dayton. Josh Elander is replacing Vitello as acting head coach, and the university said in a statement an update will be provided Monday.
"Coach Vitello has acknowledged his mistake and accepted full responsibility," Tennessee said in the statement. "We appreciate his cooperation in the process and his dedication to do right by the student-athletes in the Tennessee baseball program."
Tennessee cited NCAA bylaws for preventing any further details being released. But shortstop Maui Ahuna has yet to be cleared to play for Tennessee after transferring to the school last June.
Ahuna was an All-Big 12 player at Kansas who batted .396 with eight homers and 48 RBIs. The Vols were the No. 1 overall seed in the NCAA Tournament last year only to lose to Notre Dame in the Super Regional.
Vitello was suspended last season for four games by the NCAA for chest-bumping umpire Jeffrey Macias during a confrontation in a game against Alabama. Vitello teamed with a fraternity to raise money for the Wounded Warriors Project with a chest bump for a $2 donation.
Vitello was also suspended two games in 2018 for excessive arguing.
Vitello was an assistant coach at Arkansas from 2014-17 before taking the Tennessee job. Elander was the volunteer coach at Arkansas in 2017.
Discussion
Have a comment on this story? Join the discussion or start a new one on the Forums.