UA softball caps weekend with shutout win
By: Katie Parker
Published: Monday, February 27, 2023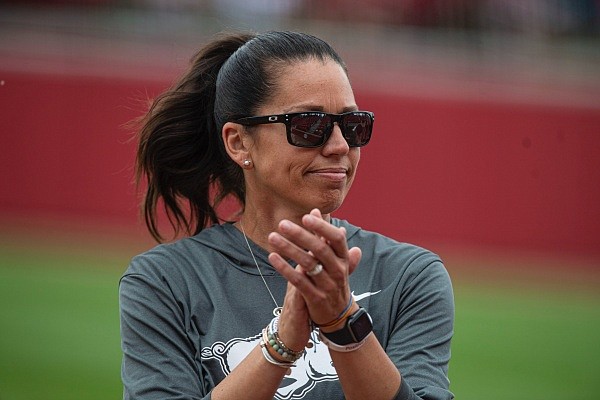 ( Hank Layton )
Courtney Deifel, head coach of Arkansas, claps her hands on Saturday, May 28, 2022, before the Texas Longhorns' 3-0 win in Game 3 of the NCAA Softball Super Regional at Bogle Park in Fayetteville. Visit nwaonline.com/220529Daily/ for the photo gallery.
FAYETTEVILLE — In its sixth game of the Razorback Invitational, the Arkansas softball team sealed a five-win weekend with an 8-0 shutout over Drake in front of 2,555 on a chilly Sunday at Bogle Park.
Arkansas (13-3) notched its fourth run-rule win of the season, which was powered by nine hits in five innings and a strong pitching performance from Chenise Delce.
Delce (6-1) worked the circle for her fourth game of the invitational and allowed no runs and struck out six. She single-handedly tripled the number of strikeouts from a trio of Drake pitchers, adding to her total of 48 for the season.
"I thought she was great for us this weekend," Arkansas coach Courtney Deifel said of Delce. "I thought today she just had a very veteran outing. Not even having her best stuff, but just fighting through it and kind of just letting it come back to her to set a really good tone. And you can see she got better each inning, and I think that's the maturity of just a seasoned competitor.
"She's been really steady for us and just really electric in the circle, which is huge."
It took Cylie Halvorson just one at-bat to blister a ball over the left field wall for a two-run home run. It was the Sioux Falls, S.D., native's third homer of the season.
A single from Kacie Hoffman placed just over the second baseman's head kept momentum going. With the bases loaded from a cluster of walks, Drake pitcher Mackenzie Hupke issued her fourth walk of the game and sent Hoffmann home.
The Bulldogs made a pitching change with Arkansas up 3-0, and sent Paige Bedsworth to the circle. She escaped the frame with no runs allowed.
In the third, Hoffmann added a home run of her own to right field, bringing Halvorson home. The two-run homer put Arkansas ahead 5-0 after three innings.
The bats kept moving through the fifth as Bentonville native Tymber Riley singled to left field for her first hit in Bogle Park and advanced to second on the throw. It bumped Rylee Cloud to third and scored Kristina Foreman.
"Everyone was so hype," Riley said of her hit. "It felt so good. It was a mixture of, like, we were excited that the game was coming to an end and then just everyone being excited for me just because they did know that was my first hit in Bogle."
Feeding off the momentum, Reagan Johnson doubled up the middle, scoring Riley and Cloud to cap the final game of the weekend with a five-inning run rule.
"I thought it was a pretty good weekend," said Johnson, who went 3 of 4 from the plate. "As a team, overall, I thought we definitely got better as it went on. I thought I had really good hits going throughout the weekend, too, as well."
The cloudy home-opening weekend ended with Arkansas winning five of its six games. The Razorbacks swept Drake and won two of three games against 13th-ranked Arizona.
"I thought we got better as we went through the weekend," Deifel said. "I wasn't super happy with how we competed early, so just kind of working through that in a short amount of time. I thought we progressed through that nicely, and hopefully it's what we're going to build off going into next weekend."
The Razorbacks return to Bogle Park this week for the annual Wooo Pig Classic. They will face Iowa State on Thursday at 4 p.m.
Four of Arkansas' six games in the event will be available on SEC Network-Plus.
Discussion
Have a comment on this story? Join the discussion or start a new one on the Forums.