Razorbacks look to end skid at Kentucky
Published: Sunday, January 1, 2023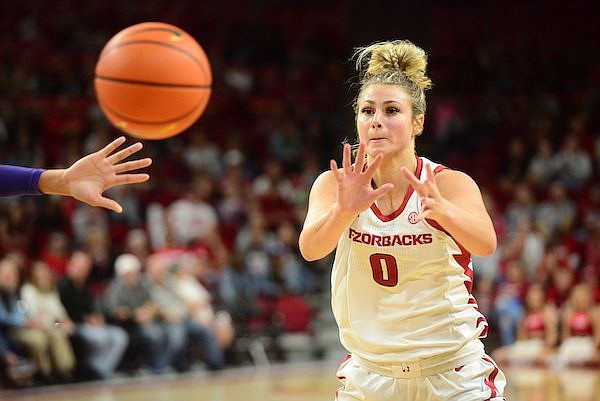 (
J.T. Wampler
)
Arkansas' Saylor Poffenbarger is shown during a game against LSU on Thursday, Dec. 29, 2022, in Fayetteville.
FAYETTEVILLE — The 24th-ranked University of Arkansas women's basketball team will look to end a three-game skid today at a place where success has been hard to come by.
Arkansas (13-3, 0-1 SEC) travels to face Kentucky (8-5, 0-1 SEC) at 1 p.m. inside the Wildcats' Memorial Coliseum. The Razorbacks have lost 11 straight when traveling to Lexington, Ky., with the last win coming in 2003. It is a month shy of 20 years since Arkansas has won there.
"It's always a hard place to play," Arkansas Coach Mike Neighbors said. "Around New Year's Day is always hard. It is a tough environment. It's is a tough place to play and travel [to]. And then you surround it with that type of a day. It's always a challenge."
The Wildcats dropped their first SEC game Thursday, a 74-71 loss to Missouri on the same night Arkansas was trounced by No. 9 LSU. Both teams are looking to avoid an early 0-2 hole in conference play.
Senior guard Makayla Daniels said the Razorbacks need to have short-term memory and put the LSU loss in the rearview mirror.
"For me, I've been here before," Daniels said. "I think last year we started off SEC play 0-2, and then we had a big game against Mizzou. So I think us just having that mindset like, 'OK, we're 0-1. You can't do anything about it now.' So just having that confidence in ourselves, and having to flip the switch like, 'OK, that's in the past. Don't let LSU beat us twice.' "
Following the Tigers' 69=45 beatdown of Arkansas, a game in which the Razorbacks were outrebounded 62-30, Neighbors echoed Daniels' message of responding from the loss.
"Y'all will hear me say it too many times, but whatever happened tonight can't carry over to practice tomorrow," he said. "After we watch and move on, we've got to really get focused in on Kentucky."
Kentucky, coached by Kyra Elzy, has had to adjust to life without Rhyne Howard, who was the Wildcats' first top overall pick of the WNBA Draft. She was selected by the Atlanta Dream with the opening selection of the draft in April.
While at Kentucky, Howard was a two-time SEC player of the year. Last season she led the Wildcats to an unexpected SEC Tournament title, which included knocking off eventual national champion South Carolina in the final. As a seven seed, Kentucky upset the league's top-three teams en route to the tournament championship.
Robyn Benton, who is in her fifth season in the SEC after beginning her career with two seasons at Auburn, leads the Wildcats with 16.5 points per game, which is fifth-most in the SEC. Maddie Scherr tops the league with 5.3 assists per game, as Kentucky is third in the conference averaging 16.8 assists.
"They don't have a Rhyne Howard, you know, for the first time in a number of years," Neighbors said. "But I think they're doing it more as a team and they're spreading it around, which makes them, you know, as dangerous, but just in a different way."
Kentucky returns home for the first time since Dec. 21, after playing its first league game at Missouri. The Tigers were able to fend off a late Wildcat rally in that game, as Elzy's team hung around by scoring 36 points off 25 forced turnovers.
Despite Kentucky coming up short, the team has Arkansas' respect, Neighbors said, especially playing in a place the Razorbacks haven't won in nearly 20 years.
"They'll have our full attention starting tomorrow at practice and for us as coaches later tonight," Neighbors said of Kentucky after the LSU loss.
Discussion
Have a comment on this story? Join the discussion or start a new one on the Forums.