Razorbacks rout Kentucky to snap skid
Published: Monday, January 2, 2023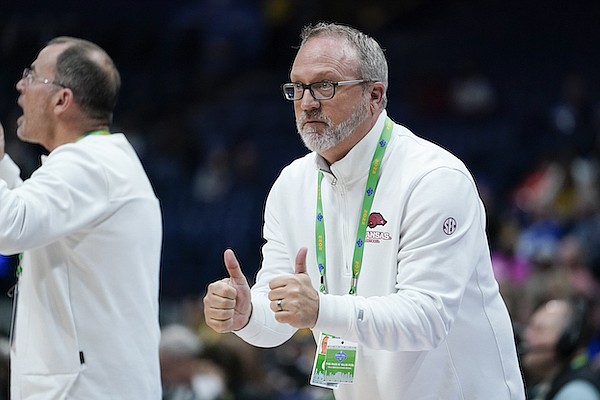 Arkansas head coach Mike Neighbors, right, watches from the sideline in the first half of an NCAA college basketball game against Missouri at the women's Southeastern Conference tournament Thursday, March 3, 2022, in Nashville, Tenn. (AP Photo/Mark Humphrey)
For the first time since 2003, the University of Arkansas women's basketball team left Memorial Coliseum in Lexington, Ky., victorious.
No. 24 Arkansas led by as many as 27 points and ended a three-game losing streak with a 71-50 win Sunday at Kentucky.
It snapped an 11-game losing streak for the Razorbacks (14-3, 1-1 SEC) when facing the Wildcats (8-6, 0-2 SEC) on the road.
"It's not the easiest environment," Arkansas coach Mike Neighbors said. "There's a reason that we hadn't won here in 20 years. It's a tough shooting environment, so getting easy half-court layups, Erynn [Barnum] being able to find her way to the basket some, and a few stick backs, those are massive on the road."
Neighbors' team forced 23 turnovers. The Wildcats entered the game forcing the most turnovers (22.9 per game) in the SEC, a mark which ranked 11th in Division I.
Arkansas outscored Kentucky 33-10 in points off turnovers. The convincing win came three days after suffering a 24-point loss to No. 9 LSU.
"We got our butts kicked on Thursday — it seems like forever ago — by LSU," Neighbors said. "I was really interested to see how we would travel. In this league, if you let your loss on Thursday affect you on Sunday, you're in trouble. I didn't think we did that."
Barnum had one of her most balanced performances as a Razorback, scoring 17 points while hauling in 8 rebounds, dishing out 7 assists and blocking 3 shots. Saylor Poffenbarger, who had a large crew of family members in attendance, also scored 17 points to join Barnum as game-high scorers.
"We've been talking to her about finding some shots that she doesn't have to create for herself," Neighbors said of Poffenbarger. "Let her cuts create the shots, let her positioning create the shots."
Five of Poffenbarger's eight baskets came off assists from Barnum and Maryam Dauda. The seven assists were a career-high for Barnum, and Neighbors credited his forwards for finding Poffenbarger slashing to the goal.
"Maryam and Erynn are both unbelievable passers," he said. "I mean, Erynn had seven assists today. I think what it says about Saylor is that she's versatile. We already know that we don't have to have her to score for us to be a good team, but when she does start scoring, I think that gives you an extra pep to your step."
The Wildcats were hampered without leading scorer Robyn Benton, who missed her first game of the season due to a hand injury.
Kentucky took an early 8-6 lead, but it was the last advantage it would hold. Poffenbarger scored seven in the first quarter, and the Razorbacks didn't allow any points over the period's final 5 minutes, 33 seconds to claim a 16-8 lead.
Rylee Langerman came off the bench and provided a spark with a steal, three rebounds and knocked down Arkansas' first three-pointer.
"When she made that first one, I was really happy for her," Neighbors said. "She's a kid that anybody that watches us, knows the value is not on the stat sheet, it's in the lineup efficiencies. She, and I thought Jersey's [Wolfenbarger] defense early on when she came in, we didn't lose anything when we went to the bench."
Arkansas went on a 16-0 run spanning into the second quarter, capped with three consecutive layups by Barnum. Kentucky stopped the bleeding and went on a 7-2 run in the final two minutes of the quarter, but trailed 34-19 at halftime.
The Razorbacks got hot from behind the arc in the third quarter, and senior Makayla Daniels went 3 of 4 from three to blow the game open. Her third triple put Arkansas ahead 52-25—the largest lead of the game—and forced a Wildcats timeout.
Neighbors' team finished the job in the fourth quarter and went 7 of 8 from the foul line during the process. Arkansas finished 81.8% on free throws, bouncing back from a 41.7% performance against LSU. The Razorbacks led for all but 3 minutes, 51 seconds of action, and held Kentucky to 26.2% shooting.
Arkansas is scheduled to return to Bud Walton Arena on Thursday to face Florida (12-3, 1-1) at 7 p.m.
Discussion
Have a comment on this story? Join the discussion or start a new one on the Forums.