Gators up next for Razorbacks
Published: Thursday, January 5, 2023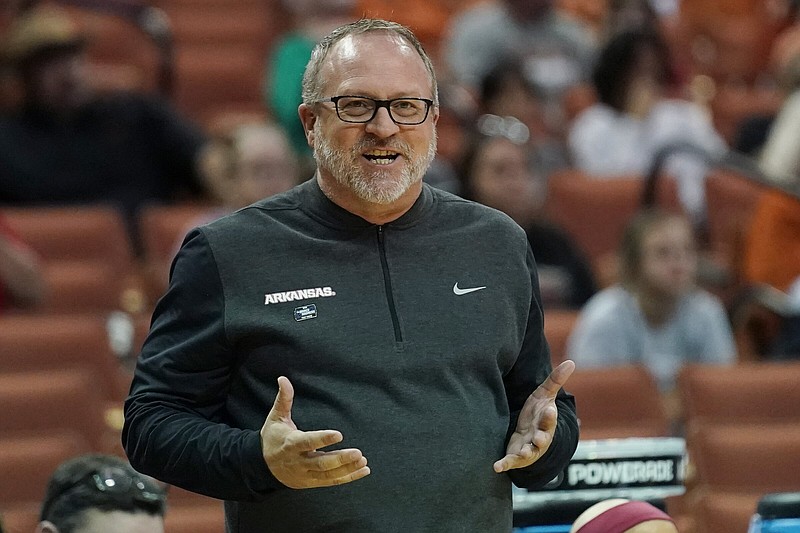 (AP / Eric Gay )
Arkansas head coach Mike Neighbors reacts to a play during the first half of a college basketball game against Utah in the first round of the NCAA women's tournament, Friday, March 18, 2022, in Austin, Texas. (AP Photo/Eric Gay)
FAYETTEVILLE — The University of Arkansas women's basketball team has a chance today to start SEC play 2-1 for the first time since 2018-19.
Arkansas (14-3, 1-1 SEC) returns to Walton Arena to host Florida (12-3, 1-1) at 7 p.m.
The Razorbacks are coming off a convincing 71-50 road win at Kentucky. It was a bounce-back performance from Arkansas, coming three days after a 24-point beatdown at the hands of LSU.
"I thought we took the best shot selection that we've had all year, not just lately," Arkansas Coach Mike Neighbors said of the Kentucky win. "It was our best shot-decision making. I think sometimes you have to get punched in the mouth to see it."
The Jan. 1 victory over the Wildcats snapped a three-game losing skid, putting Arkansas back in the win column for the first time since Dec. 17. Despite the win, the Razorbacks dropped out of The Associated Press top 25, released Monday, after spending four weeks in the poll.
"This is the time of the year where we start to kind of strip away rather than add," Neighbors said. "All preseason we're adding things and adding things, and now you kind of start to strip things away and do less better. We had more focus in practice on fewer things, and I think that carried over. That's going to continue to be the case as we go through the year, and hopefully it shows like it did."
Florida is in its second season under Kelly Rae Finley, who served as the team's interim head coach during 2021-22. The Gators shattered expectations in her first year, finishing fourth in the SEC and posting their best record in six seasons. Finley had the interim tag removed prior to the 2022 NCAA Tournament.
"She was a head coach in waiting already," Neighbors said. "If you would've polled coaches with maybe 10 years' experience, I think Kelly's name would've been at or near the top as ready. And she's made the most of her opportunity. She's continued to put her own stamp on things."
Finley began her coaching career as a volunteer assistant at Harvard in 2008. She was promoted to paid assistant with the Crimson for three seasons, then worked in the same capacity at Colorado, Arizona and Florida over a decade-long span. She spent four seasons as Florida's assistant coach prior to last year's interim role.
"She's truly got an identity that is hers," Neighbors said. "They do take on her personality, which is very calm. I wish I was as calm as she [is] in my second year. I think she portrays a confident, calm way about her, and I think her teams play that way as a result."
The Gators' senior guard tandem of KK Deans and Nina Rickards lead the team in scoring, each with 13.7 points per game. Deans transferred to Florida in the offseason after spending three seasons at West Virginia, while Rickards has been a Gator since 2019.
"Florida's had a chance to kind of build their identity around their players and for the most part have had the same core nucleus of kids all season," Neighbors said. "They always present us challenges with their combination of athleticism and size. They'll start two kids between 6-3 and 6-6, and have got athletic guards. KK Deans is new to the league, but playing very, very, very well. [Alberte] Rimdal is back. Rickards is back and knows what it's all about."
Arkansas and Florida both like to shoot three-pointers. The Razorbacks lead the SEC with 26.8 attempts per game from behind the arc, while Florida is fourth with 18.8.
The teams are also similar in doing damage from the free-throw line. Arkansas shoots the third most free throws in the nation (24.9 per game) while Florida (22.4) attempts the 24th-most. Those marks are second and third in the SEC, respectively.
Florida started SEC play with a 10-point loss to Tennessee then responded with a 55-48 win over Texas A&M on Sunday. The Gators' two non-conference losses were to Florida State and Oklahoma.
Discussion
Have a comment on this story? Join the discussion or start a new one on the Forums.