Razorbacks rout Florida with 28-point victory
Published: Friday, January 6, 2023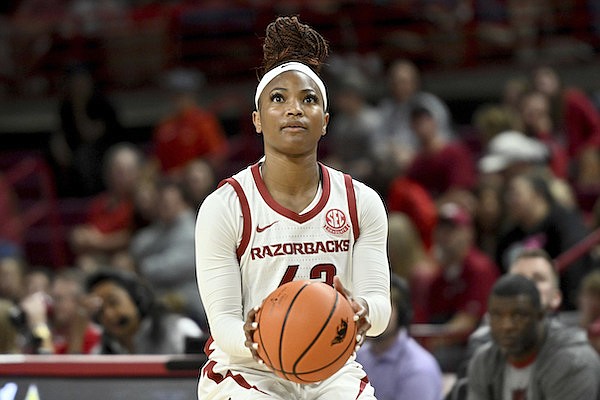 Arkansas guard Makayla Daniels (43) shoots against LSU during an NCAA basketball game on Thursday, Dec. 29, 2022, in Fayetteville. (AP Photo/Michael Woods)
FAYETTEVILLE — The University of Arkansas women's basketball team reached triple figures for the first time since 2020 behind a hot shooting night, and defeated Florida 102-74 on Thursday inside Walton Arena.
All five Arkansas starters scored at least 15 points, and as a team the Razorbacks shot a 49.2% clip. Seven Razorbacks knocked down a three-pointer en route to the 28-point victory.
Saylor Poffenbarger, Makayla Daniels, Samara Spencer and Chrissy Carr each scored 16 points, and Erynn Barnum added 15.
"We drill in our offense to take good shots," Poffenbarger said. "To score 102 points means we took pretty good shots. I think it was really fun to be able to execute what we talked about before the game."
The win came in front of an announced home "white out" crowd of 4,524.
"We'd like to announce that all games will for this point on be white outs as well," Arkansas Coach Mike Neighbors said jokingly to begin his post-game news conference. "Until further notice, we'll just wear white, keep everything the same. I'm not superstitious, but I am a little stitious."
The hot shooting night was the second game in a row Neighbors has credited his team for taking its best shot selection of the season.
"We wrote it on our cards and on the board," Neighbors said. "We wanted our first 10 possessions to be shots that we've made in practice all year long. And we didn't turn it over one time. We took 10 great shots."
Poffenbarger scored Arkansas' first five points, but picked up her second foul just five minutes into the contest, which made her sit the remainder of the half. It forced the Razorbacks (15-3, 2-1 SEC) to change their rotation, but the production didn't halt with reserves in the game.
"As long as we were extending the lead, I wasn't going to risk putting her back in," Neighbors said. "And I thought she managed it really, really well."
Daniels and Carr hit consecutive threes to give the Razorbacks a 13-11 lead entering the first media timeout. A three-pointer from Florida's Alberte Rimdal gave the Gators an 18-17 lead, but it was their last of the game.
Arkansas outscored Florida 7-1 over the first quarter's final 1 minute, 19 seconds to take a 24-19 lead and snatch momentum. The run started with a contested Barnum layup off an inbound pass from Spencer with one second left on the shot clock.
"It was unbelievable," Neighbors said of the play. "I was too busy arguing the out-of-bounds play and Coach Todd [Schaefer] told Erynn to go down there and post up. Sam throws a laser and we sneak it in at the buzzer. It's just momentum. That's how one play can change a lot of things. I thought from that point on our energy was really good."
The momentum carried into the next period, as Rylee Langerman began the frame with a three-point play. Arkansas scored the period's opening six points to force a Gators timeout less than three minutes into the second quarter.
The Razorbacks couldn't be slowed down, as they outscored the Gators 24-8 to take a commanding 48-27 lead into the half.
Florida (12-4, 1-2) came out stronger in the third quarter, using a quick 9-3 spurt to pull within 15.
During that stretch Daniels, hit a three-pointer to move her past Amber Shirey, the current Director of Women's Basketball Operations, as the program's No. 22 all-time scorer.
The Gators outscored the Razorbacks 28-24 in the third quarter, but never got within 15 points.
The Razorbacks scored 30 points in the final period, highlighted by a three-pointer and pair of free throws from Emrie Ellis to put the team over the 100-point mark. She was the seventh Arkansas player to hit a three-pointer in the contest.
Florida was held to just four made triples, while the Razorbacks' 12 exceeded their average of 8.4
"Nothing different than they do every game," Florida Coach Kelly Rae Finley said of the Razorbacks' three-point shooting. "It's pull and kick, you know, something that we had talked about in scout, and we didn't defend it very well."
Arkansas will return to action Sunday at 2 p.m., traveling to Missouri to face a Tigers team that has started SEC play 3-0.
Discussion
Have a comment on this story? Join the discussion or start a new one on the Forums.