Razorbacks familiar with Mizzou
Published: Sunday, January 8, 2023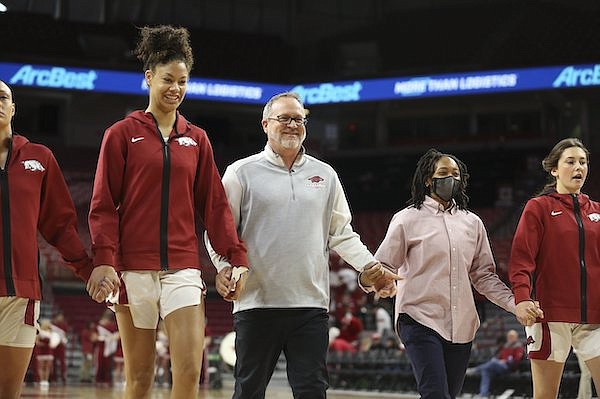 (
Charlie Kaijo
)
Arkansas coach Mike Neighbors (center) walks onto the floor with his team prior to a game against Missouri on Sunday, Jan. 9, 2022, in Fayetteville.
FAYETTEVILLE — For the University of Arkansas women's basketball team to post its best start in SEC play since 2005-06, it will require handing Missouri its first conference loss today.
Arkansas (15-3, 2-1 SEC) has responded from a blowout loss to LSU in the SEC opener and rattled off back-to-back wins over Kentucky and Florida. The Razorbacks have a chance to begin conference play 3-1 for the first time in 17 years, a feat they will try to accomplish when the two bordering teams tangle at 2 p.m. Central today inside Mizzou Arena.
The Razorbacks have been a thorn in the side of Missouri (14-2, 3-0 SEC) recently, with Arkansas winning the last seven games of the series. It's Arkansas' longest win streak against any SEC opponent, with their last loss coming to the Tigers in 2019. However, three of those games were decided by two possessions or fewer, and the teams' most recent outing went into overtime.
"It's going to be a typical Arkansas-Missouri battle," Arkansas Coach Mike Neighbors said. "We know each other probably as well as anybody cause we've played each other two times a year for as long the schedule's been done this way."
Missouri has been able to rely on fifth-year forward Hayley Frank this season, whose 48.6% shooting is fifth best in the conference and her 15.4 points per game ranks 10th. She was listed on the media's SEC preseason second team following her impressive 2021-222 season, which included being tied with former Razorback Amber Ramirez with 2.6 threes made per game for second-most in the SEC.
"Hayley Frank is one of the best makers in our league," Neighbors said. "She makes tough shots."
Her supporting cast is highlighted Lauren Hansen, who is the only other Tiger averaging double-figure, scoring 13.8 points per game, and Haley Troup. The trio combine to make six three-pointers per game and are each shooting 35% or better from behind the arc. Both teams rely heavily on three-pointers, as Arkansas (8.6) and Missouri (7.8) rank second and third in the SEC in threes made.
"With Lauren Hansen and with Hayley Frank and Haley Troup, they've really built it around those three guys," Neighbors said. "And then the other players have been really, really good in their role. I think they've only lost a couple of games. I mean, they're confident. They've had a good year in the NET [NCAA Evaluation Tool]."
The Tigers claimed a one-point road victory over Alabama on Thursday and are one of five SEC teams to start its conference schedule 3-0. It was Missouri's second consecutive victory in the Yellowhammer State, coming four days after a win at Auburn.
Missouri Coach Robin Pingeton highlighted the importance of winning conference games on the road, something Arkansas will look to accomplish today.
"Big picture, if you can get a couple on the road, that's huge," Pingeton said after beating the Crimson Tide. "This league is so dang tough."
Arkansas is fresh off a resounding 102-74 win over Florida on Thursday, a game in which each Arkansas starter scored at least 15 points. Samara Spencer, who is ninth in the SEC with 15.7 points per game, was one of four Razorbacks to post 16 points in the game. She was joined by Makayla Daniels, Saylor Poffenbarger and Chrissy Carr to lead the team in scoring, while senior forward Erynn Barnum had an impressive 15 points, 8 rebounds and 6 assists.
The teams have played twice each season since Missouri entered the conference in 2013. Last season, the Razorbacks faced the Tigers three times, with the third meeting in both teams' opening game of the SEC Tournament. It was a game Arkansas won 61-52 in overtime, highlighted by Daniels' first-career double-double with 13 points and 14 rebounds.
Last season's game played in Mizzou Arena was a tale of two halves. The Razorbacks trailed 41-34 at intermission but dominated the second half en route to an 88-71 win. It was Spencer's marquee performance of her SEC Freshman of the Year campaign, posting a season-high 22 points.
"It'll be a good matchup," Neighbors said. "We've always had great games with them up there at their place."
Discussion
Have a comment on this story? Join the discussion or start a new one on the Forums.