Hog Calls:
Hogs need to steal one on the road
Published: Saturday, January 14, 2023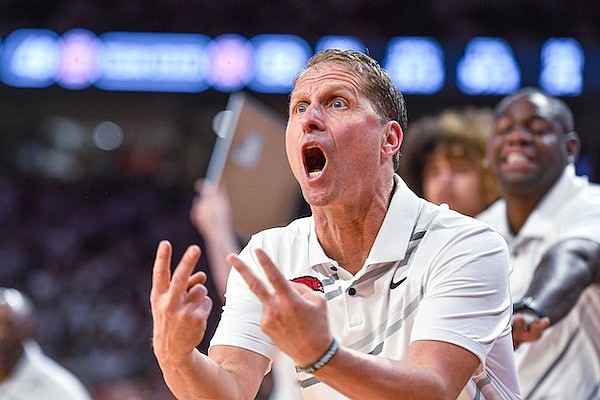 ( Hank Layton, NWA Democrat-Gazette )
Arkansas head coach Eric Musselman reacts, Wednesday, Jan. 11, 2023, during the second half of the Alabama Crimson Tide's 84-69 win over the Razorbacks at Bud Walton Arena in Fayetteville.
FAYETTEVILLE — Coaches in tough basketball leagues constantly talk of "needing to steal one on the road."
Seems these Razorbacks need to take that literally. Arkansas visits the Vanderbilt Commodores in today's 1 p.m. game at Vandy's Memorial Gym in Nashville, Tenn.
The Hogs' lack both of ball security and defensive thievery manifests in their SEC games.
"I'm extremely disappointed in our lack of steals," Arkansas Coach Eric Musselman said. "We've got to take better care of the ball, too."
Rated 15th in this week's AP's rankings but bound to drop with its 12-4 overall record marred by a 1-3 SEC start, Arkansas in its SEC games finds itself collectively outscored 83-25 in points off turnovers.
Live turnover miscues and an inability to score off the turnovers it secured doomed Arkansas to an opening 25-8 scoreboard deficit against the Missouri Tigers on Jan. 4 at Walton Arena. Despite Mizzou's 21-8 advantage in points off turnovers, the home crowd rallied the Razorbacks to a 74-68 victory.
The crowd will be almost all Tigers when Arkansas and Missouri rematch Wednesday at Mizzou Arena in Columbia.
For the losses at LSU and at No. 22 Auburn, Arkansas was outscored13-4 and 25-6 off turnovers.
Even the comforts of Walton Arena couldn't save Arkansas from No. 4 Alabama. The Crimson Tide rolled 51 second-half points wielding a 24-7 advantage in points off turnovers to an 84-69 triumph.
Auburn at home and this Alabama team anywhere are flat better than these Razorbacks minus injured forward Trevon Brazile and guard Nick Smith.
Thieving hands need to compensate for a shorthanded, cold-shooting team desperately needing fast-break, easy baskets.
Arkansas three-pointers — 2 of 16 at Auburn and 2 of 10 vs. Alabama — aren't falling. Arkansas misses negate superior offensive rebounding.
Arkansas out-rebounded its first three SEC foes, especially 45-32 over Auburn and 40-23 over Mizzou, and matched Alabama board for board.
The rebounding denotes effort, but can't cover all bases.
"Our team is playing hard," Musselman told Wednesday's radio post-game audience. "But you give up 9 threes that's too much to overcome. To beat the fourth-ranked team in the country you have to shoot way better than we did. We're a deficient free-throw shooting team and certainly (deficient) from three. We're offensively challenged."
Especially challenged when seldom deriving cheap baskets off turnovers.
Arkansas started the last two seasons 1-3 in the SEC, then surged finishing in the NCAA's Elite Eight.
But the injury severity and other factors differed then even with freshman McDonald's All-Americans Anthony Black and Jordan Walsh on hand now with two-year starter Devo Davis and talented transfer Ricky Council.
"We have a much more uphill battle than we did the last two years," Musselman said. "I know that for sure."
Discussion
Have a comment on this story? Join the discussion or start a new one on the Forums.